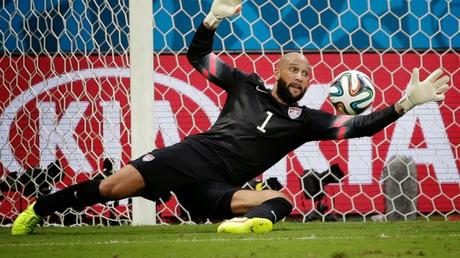 The US went down to defeat at the hands of Belgium in the second World Cup yesterday, but left with their heads held very high.
I remember the World Cup draw from last December, and the groans from critics and fans alike from the draw the US got: Germany, Portugal and Ghana. Very few gave the United States much a chance to advance out of the Group Stage, and the group was deemed the infamous "Group of Death."
The first match was a win over Ghana, 2-1, and combined with Germany's rout of Portugal, 4-0, gave fans hope that the US could pull off at least a second place finish.
The US outplayed Portugal in their second match, but a last minute goal by Portugal in stoppage time gave the Portuguese a 2-2 draw and kept the US from advancing. No one gave the US much chance of beating the Germans, but they nearly did to them what Portugal did in the previous game: a draw with a goal in stoppage time. It was 1-0 defeat, but the US played well enough to advance by gaining second place, by beating Portugal on goal difference. (And a word about that. I found it absolutely laughable that some knuckleheads in the media couldn't understand the concept of a "round robin tournament." They simply couldn't grasp that you didn't need to win the last game, just finish in second place in a four-team group to move on to knockout rounds. I even read where some morons even accused the US of "backing in" to the second round. Ugh.)
Belgium won all three of their Group Stage matches, and were an underrated opponent. It was a tough match yesterday, but Tim Howard, the US goalkeeper, was unquestionably the "man of the match." He made 16 saves, the most by a World Cup keeper since 1966. Belgium could have had at least 5 goals easy, but Howard kept the US in the match. The US had their best chance in injury time, as substitute Chris Wondolowski shot a ball wide where he had an open goal to shoot at, and will probably see that in his dreams forever. It stayed scoreless for the first 90 minutes.
The Belgians scored two goals in extra time, one in each 15-minute period. It was all over until Julian Green scored in the 107th minute to make it 2-1. The US basically emptied all their guns, but ultimately came up short. Clint Dempsey had a glorious chance late, but was denied.
The US goes out having reached the Round of 16, but they leave having opened a lot of eyes. This team will be a force to be reckoned with in Russia in 2018, and brought some new fans to soccer with their run. They did their country proud yesterday, and we thank them.