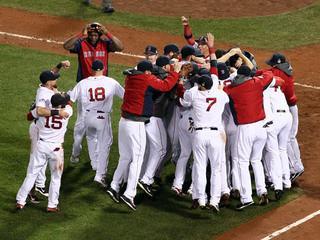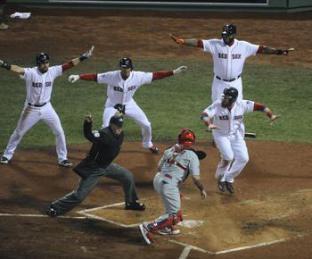 That was awesome, amazing, fantastic and just a whole lot of fun.  Not many people expected this to happen, but it did.  If you're a Red Sox fan, winning three World Series since 2004 is an amazing feeling.
I've been in Baltimore since 2006 and in that time the Red Sox have won 2 World Series and the Celtics have 1 Championship. To all my Baltimore people out there, you guys have had a lot of fun ripping on the Red Sox for the last two years.   What's up now?  Glad you guys made the Playoffs in 2012, but the World Series is what it's all about.  Get ready for the Sox fans to be even more insufferable next year at Camden Yards (and it's going to be great!)
Hold on, I'm about to be nostalgic here, I'm going all the way back for this one.  Needed to figure out how I got here in the first place.
I went to my first Red Sox game when I was pretty young.  I don't remember who won, what the score was or even how old I was, but I remember the game.  My dad and I drove out to Fenway from Western Mass and the thing I remember most is spilling my dad's coffee on the first Red Sox shirt I had ever got a Fenway Park.  It was the start of my Red Sox rooting career.
I went to my first Red Sox/ Yankees game a few years later.  Again, I couldn't tell you who won but I can tell you I almost got run over by a bus in the middle of New York City.  I remember Yankee Stadium feeling larger than life compared to Fenway.
When I would go to my dad's house on the weekends, I rented the same VHS every weekend.  It was a recap of the 1986 Boston Red Sox season.  I knew how it ended, but I didn't care.  I watched that thing maybe 1000 times.  Clemens bursting on to the scene, the 20k game, the playoffs and Buckner.   It was all there and I just couldn't get enough of it.  Thinking back, we probably should have just bout the VHS because renting every week for two or three years probably cost a shit ton of money.
Then came the late 1990s and early 2000s when the Red Sox got good again but the Yankees were better.  We had Pedro and Manny but couldn't beat the guys in our own division.  Everyone started talking about curses and Babe Ruth and all these things that became all too real after every postseason loss.  I remember standing lifeless in the Rumbleseat in 2003 after Aaron Boone hit the ALCS Game 7 extra inning home run to win the series for the Yankees.  The bar was packed one second and the next we were wandering around outside wondering what had just happened.
And then 2004 happened.  Then 2007 happened.  And then, 2011-2012 happened and people said we needed to rebuild.  Chicken, Beer, Bobby Valentine, Adrian Gonzalez and a whole lot of payroll disappeared before our eyes.  Ben Cherrington was tasked with bring the Red Sox back from a 93 loss season.  In 2013 people said the Red Sox would finish fourth…in the AL East.  People said their personnel moves were weak and screamed rebuild.  Some people said those moves might work.  That maybe this season could be something more than just a bridge to the new guys.
And then the Boston Marathon Bombings happened.  As it seems with all great tragedies recently in the United States, people rallied around the sports teams and Boston was no different.  Papi came out and told the world that this was "Our Fucking City," and gave people hope.
The Red Sox gave people a genuine distraction from the pictures and videos that crowded the internet.  And you know what, they kept winning.  They kept being #BostonStrong as those effected by the tragedy slowly started to heal.
This was pretty cool from last night (s/o to Barstool.)
At some point you just feel good about this team.  I felt it in April as did Pedroia.
Only thing I ask is u believe now ! Don't jump on later . Boston doesn't have bandwagon fans ! It's going to be … http://t.co/PAdTfY4RpU

— Dustin Pedroia (@15Lasershow) March 28, 2013
And last night, John Farrell and Ben Cherrington held the World Series trophy above their heads.  Big Papi won the MVP by batting over .500 and basically scaring the shit out of the Cardinals in the last two games.  Jonny Gomes, Shane Victorino, Mike Napoli, David Ross and others came into town and left last night Champions.  Time to celebrate boys!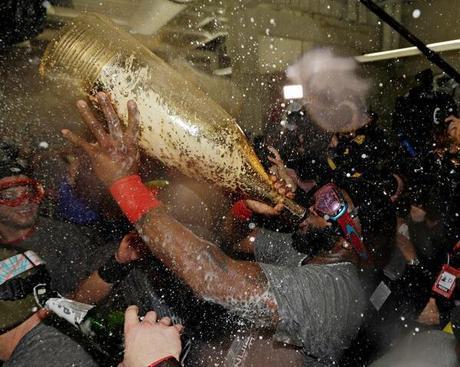 Sometimes the experts get it wrong and I'm so glad they did.  Congrats to the 2013 Boston Red Sox, World Series Champs.