Brunch is my favorite for many reasons. I love how special it feels, I love enjoying the breakfast variety (from pancakes and waffles to omelettes and quiche, and sometimes even salad), and I love the leisurely nature of the meal experience.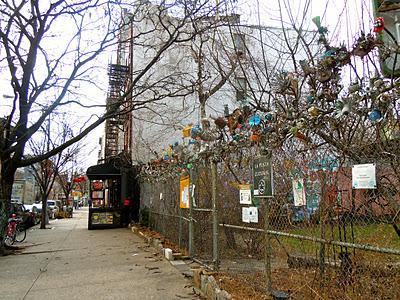 It's only in recent years, though, that I've come to appreciate brunch beverages as well. Coffee (or tea) is a wonderful thing. I could do without orange juice on its own... but add a few splashes of champagne (perhaps elderflower liquor, too), and I will have multiple mimosas, please. Then, of course, there are days when waking up before noon is a struggle; my dears, one or two bloody marys are the perfect "hair of the dog" antidote. Oh, and don't even worry about leaving the table tipsy. It's only Saturday/Sunday afternoon, remember?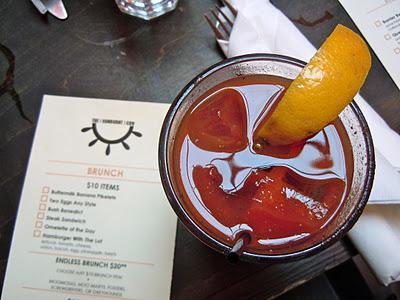 Yes, brunch is awesome. I look forward to it all week. And in this great city, dining options are seemingly endless. Since this "brunching" of mine has become a habit, I gravitate towards restaurants offering complimentary/unlimited drinks with each delectable brunch item. Even then, there are many to choose from.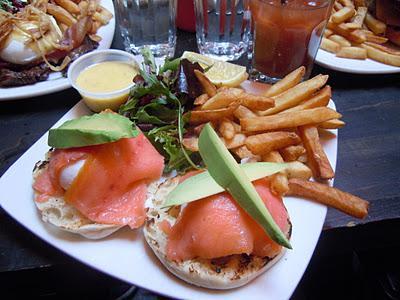 Gadling recently rounded up ten such places. 
Almost one year ago, I savored
this $19.95, 3-hour, Italian brunch at Tré. 
The Upper West Side's Arte Cafe is next on my list. As for my most recent boozy brunch...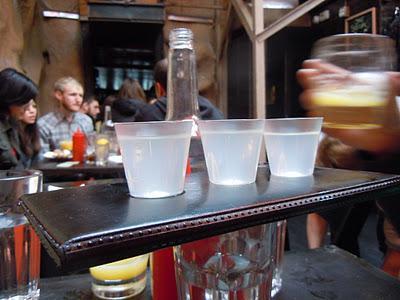 For $25, I enjoyed a bloody mary, the Queen Adelaide (poached eggs, salmon, avocado on an english muffin with hollandaise sauce), and a certain number of mimosas. And when the waitress had to ask us for our table, she greeted us with the shots you see above.
 In other words,
 for the ultimate boozy kind of brunch, look no further than 
The Sunburnt Cow. You can be productive tomorrow.