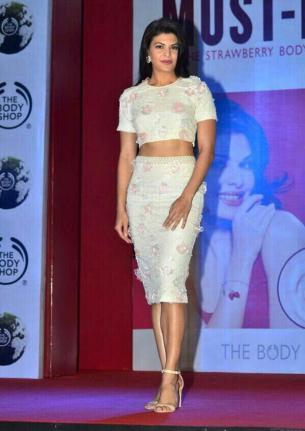 THE BODY SHOP INDIA NAMES JACQUELINE FERNANDEZ as its new brand ambassador
The Body Shop® India announces today that Jacqueline Fernandez will be representing its range of naturally inspired and ethically produced cosmetics products as its new brand ambassador. In line with The Body Shop's values "business as a force for good", Jacqueline, exemplifies natural beauty with her commitment towards charity organizations and campaigns for education, human rights and animal cruelty free causes. Says David Smith, Managing Director, Asia Pacific, The Body Shop,"For The Body Shop, India is a very important market and it is one of the fastest growing markets in Asia Pacific with 115 stores across 40 cities.We are thrilled with this partnership with Jacqueline Fernandez as she embodies everything that the brand stands for – natural beauty coupled with a deep respect for people, animals and the environment. Jacqueline is well-loved in India and we are confident that she will help The Body Shop to further connect with consumers of diverse age groups and backgrounds."
Jacqueline Fernandez – Bollywood's It Girl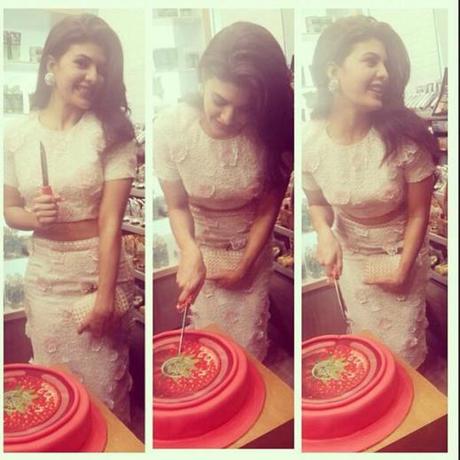 Naturally beautiful Jacqueline, a stunning model and a talented actress who radiates energy, confidence and warmth everywhere she goes. She began her acting career in the 2009 and is regarded as one of the most promising contemporary actresses in Bollywood today. She was awarded with IIFA Award for Star Debut of the Year and Stardust award for – Female Exciting New Face in 2010. This year will be very exciting for Jacqueline and she will be seen in high profile movies – 'Kick' opposite Salman Khan and 'Roy' opposite Ranbir Kapoor and Arjun Rampal. When she's not busy modelling or acting, Jacqueline also devotes her time to social causes. An activist at heart, she has worked extensively on animal cruelty free causes and animalwelfare programs. As the face and voice of The Body Shop India, Jacqueline will appear in multimedia campaigns spanning print, in-store, digital and social platforms. The Body Shops India's first campaign with Jacqueline will be launched in May 2014, with its strawberry body care collection.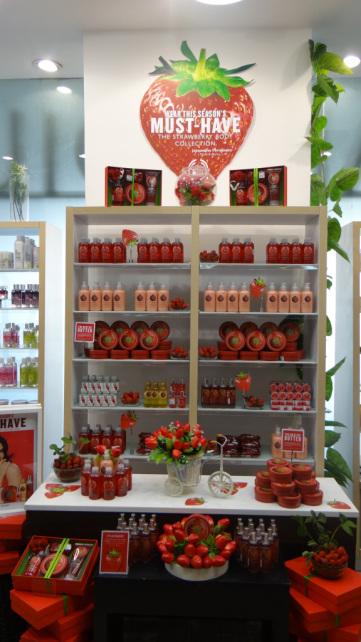 Speaking about her new role as Brand Ambassador of The Body Shop, Jacqueline said "I have grown up with The Body Shop's products and swear by them. It's a dream come true and an absolute pleasure to be the face of this inspiring natural and ethical beauty brand. I am totally addicted to The Body Shop products – which are perfect for Indian women and men – be it body care products bursting with the sensoriality and effectiveness of natural ingredients, the amazing skin care offering, the rainforest hair care or uplifting fragrance ranges. I love the fact that The Body Shop offers amazing ingredient-led ranges and my personal favourites are Strawberry body butter, which is a must-have for me this season as I can smell the refreshing scent for hours afterwards, Tea Tree oil that keeps my skin blemishes-free and for my hair, I always trust and useThe Body Shop's Rainforest Coconut hair oil. I am truly honoured to be a part  of the brand in India and I look forward to all the great work we will be doing together and meeting fellow The Body Shop fans."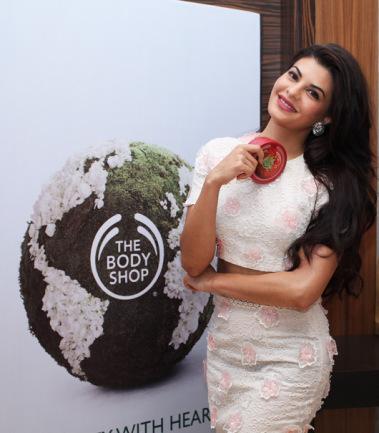 Speaking about Jacqueline Fernandez as the new ambassador, Shriti Malhotra, COO of The Body Shop India, says, "Jacqueline portrays the modern and intelligent woman who is conscious and aware of her beauty needs. She believes in looking good, feeling good and doing good. Jacqueline has widespread appeal and this association will resonate with the aspirations of today's generation while promoting the brand's uniqueness through its products and values This year she will be seen in our Body care, Skincare and Make-up campaigns with loads of new and exciting launches in the market."
About The Body Shop
At The Body Shop, we believe true beauty comes from the heart. For us, beauty is much more than a pretty face. It's about feeling good and doing good, too. We make our products with love and care.We source some of the finest raw ingredients from the four corners of the globe. We harness the skills of artisan farmers and add our expertise to create effective products that arewonderful to use. We trade fairly so communities benefit as well as you. We never test on animals, and all our products are 100% vegetarian. We campaign with passion on issues close to our heart, because activism is in our blood. We always keep people, animals and the planet in mind. So when you shop with us, you are choosing 'BEAUTYWITH HEART'.
2014 is an exciting year for The Body Shop with the launch of exciting radical technology-driven products with attractive and stylish packaging. Adding to the iconic Vitamin E skincare range is Vitamin E Overnight Serum-in-Oil, a revolutionary product that combines the power of a serum with the indulgence of an oil to replenish and recharge skin with moisture overnight.
The brand will also be launching another BB cream in the much loved Tea Tree range, After the earlier success of Colour Crush Make up range, the brand will soon be introducing Colour Crush Shine, a perfect range of lipsticks with sheer pigments and rich moisture along with Instablur – a 5 action skin perfector for photo perfect looking skin in an instant. This season, will also see the entry of our new refreshing Body Sorbets. Introduced in exciting fruit flavours, the sorbets will provide the ultimate summer sensorial experience to customers. which contains tea tree oil that comes from tea tree plants grown organically in the foothills of Mount Kenya. When ready to be harvested, the best leaves are picked by hand, then steam-distilled to release the organic oil. Our community fair trade program in Kenya provides over 400 farmers with a steady income, where opportunities to earn a livelihood are scarce.
You can follow The Body Shop India on:
Facebook- The Body Shop India
Twitter- @TheBodyShopIND
Instagram- @thebodyshopindia
P.S. Press Release.