Hello Everyone,
Sorry For being MIA again. But I'm really sad to say that My New Year was not at all Happy!!! It wasn't even what I had expected. I had an accident on the 30th burning a considerable amount of skin on my Feet and thigh. I am still recovering from the pain and am stuck indoors until the area heals. So you can imagine how My New year's Eve went. I had somehow managed to go out for dinner but I was at home the whole day from 1st and till now. But that's quite a lot of ranting , lets move on to the review.
The Body Shop is a very popular name in the World Skincare Brands and I'm really not going to bore you by repeating how great TBS is. TBS offers products made from reasonably sourced natural ingredients and community trade ingredients like honey and other delicious ingredients. This results in pure natural products that do wonders for the skin. TBS stores across the World gave special discounts during Christmas and I picked up this Body Butter During a sale recently in my City.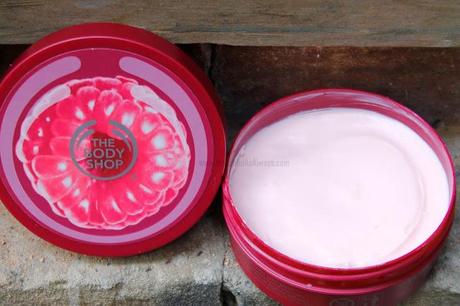 The Body Shop Raspberry Body Butter

Price and Quantity: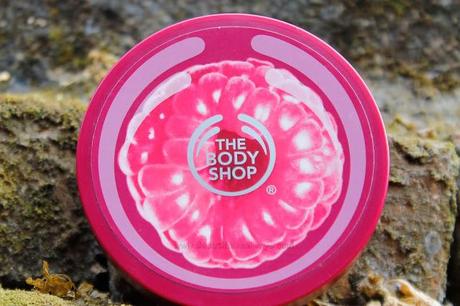 The Body Shop Raspberry Body Butter


The Body Shop Raspberry Body Butter retails at 995Rs for 200ml of Product both online(Flipkart, Nykaa, Bodyshop india website etc)  and offline(At TBS stores)
What TBS Claims: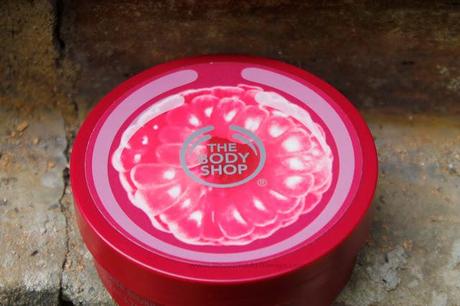 The Body Shop Raspberry Body Butter
No Mention Found
The Outer Look: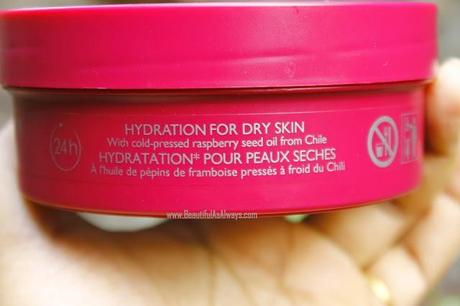 The Body Shop Raspberry Body Butter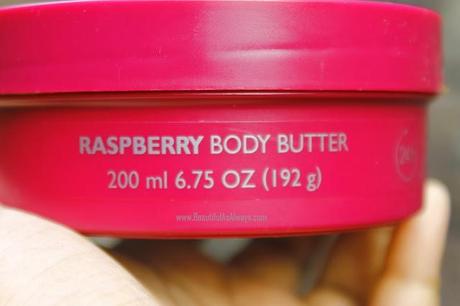 The Body Shop Raspberry Body Butter
The TBS Body Butters come is sturdy plastic tubs which have a screw lid. The lid shuts open preventing any kind of leakage. The body butters usually come in matching packaging. This Raspberry Body butter comes in a dark pink tub . The product information is mentioned under the tub. 
The Inner Beauty: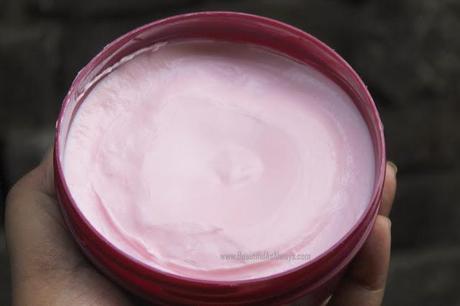 The Body Shop Raspberry Body Butter


The body butter looks yummylicious and has a soft pink texture. The texture of this is quite thick unlike the usual ones TBS makes. I have to use a bit of pressure using my spatula to scoop out product. The tub packaging comes with a disadvantage that dipping fingers create  chances of transferring germs etc. I usually use a clean spatula to scoop out the product. Only a bit is required for application and one tub is sure to last 2-3 months or more. The body butter is apt for normal to dry ladies and is quite moisturizing.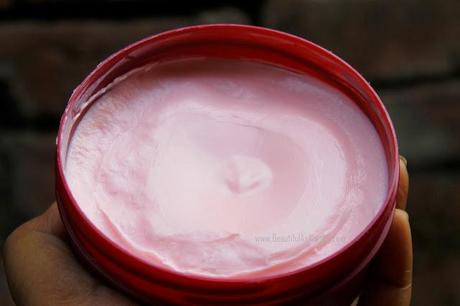 The Body Shop Raspberry Body Butter
I've tried it on my sister who's 14 years old and has super dry skin. It effectively moisturizes her skin for 6-8 hours after which she feels need to moisturize but in Summers I'm sure it will be hydrating enough for 12 hours. It has a very attractive raspberry smell which totally soothes my senses. If you love berry smells then this one was tailor made for you.
Now heading up for the Pros and Cons:
Pros:
Thick texture is perfect for winter and those with dry skin
Leaves skin feeling smooth and soft
Hydrates for min 6 hours to max 8 hours in Winters
Awesome Berry Smell which reminds me of fresh Raspberries
Attractive packaging
Does not feel sticky upon application
Cons:
Smell wears off in about 2 hours, still a faint smell lingers till  shower
BAA Rates:
BAA gives 4.5/5 to The Body Shop Raspberry Body Butter
Last Few Words: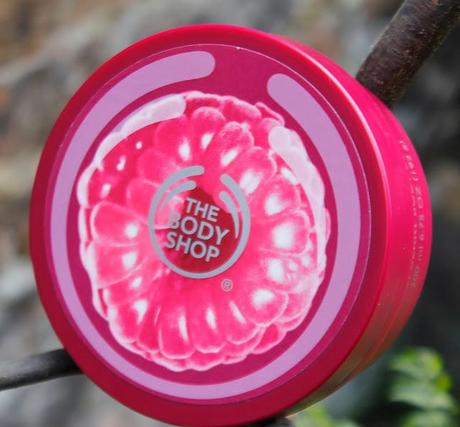 The Body Shop Raspberry Body Butter
I have not seen this variant on the usual Body Shop racks yet loved it the moment I smelled it. I loved how moisturizing it is and how it keeps y Normal to dry Body skin hydrated for half the day. I simply LOVE it.Period. I have always been a bit overwhelmed by the price tag of Body Shop Body Butters but for this one I'm sure I can manage to spend a thousand rupees.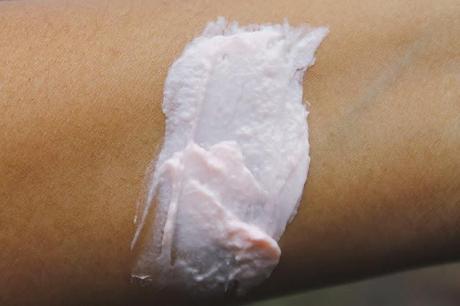 The Body Shop Raspberry Body Butter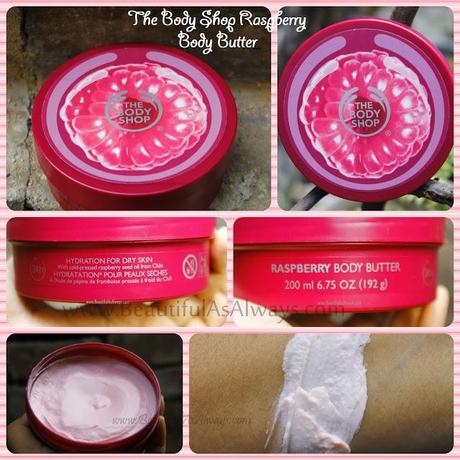 The Body Shop Raspberry Body Butter
Hope the year is Treating you all well. For me it's total isolation from the outside world(Well not fully but yes I'm suggested to stay outdoors)Happy belated New Year From BAA!!! Do stay in touch by Following us on Facebook , Twitter, Pinterest and Google +. Also Subscribe to our mailing list if you like. .
Love
Shabby G
(Sayantani)
Beautiful As Always