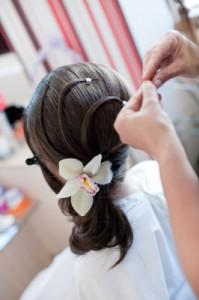 Credit
It is a great honor to be asked to be a bridesmaid in a friend's wedding, but there are also some potential pitfalls. Many a bridesmaid has accidentally gotten herself into a sticky situation by falling into one of the traps. Learn about the biggest mistakes that bridesmaids make so you do not repeat the mistakes made by other members of the bridal party.
Mistake Number One: Offering The Bride Your Time Too Freely. It is absolutely wonderful to offer the bride your help in planning her wedding. It will really make her life easier, and it can be a great bonding experience for the two of you. However, planning a wedding is a massive undertaking, and unless you really want to devote most of your waking hours to organizing someone else's event, it is smart to keep your offers of help specific. The bridesmaid who says, "I would love to help you interview florists and address the wedding invitations" will be much appreciated, but she will also have set smart limits. The bridesmaid who says, "Let me know how I can help – I'll do anything!" is likely to find herself spending every weekend crafting favors, tying bows on programs, and generally becoming the bride's indentured servant.
Mistake Number Two: Criticizing The Bride's Choices. Yes, the bride is your friend, and you want to steer her towards making good decisions. However, there is such a thing as too much brutal honesty, particularly if the bride has already committed to something. For instance, if she asks you whether you think pearl or crystal wedding jewelry would look better with her bridal gown, it is fine to give her your opinion. But if she has already bought her wedding jewelry, that is not the time to tell her she should have chosen pearl bridal jewelry instead of crystal. The number one thing a bridesmaid should never criticize is the bride's choice of wedding gown once it has been purchased. Running a close second on the list is her choice of groom.
Mistake Number Three: Turning Into A Demanding Bridesmaidzilla. We all know about bridezillas, but there seem to be an increasing number of bridesmaidzillas on the loose these days. That is the bridesmaid who seems to think that the wedding is all about her and makes a series of demands on the bride. The bridesmaidzilla is the attendant who tells the bride she will drop out of the wedding if she doesn't get to wear the bridesmaid dress and wedding jewelry of her choice. She is the one who can't be bothered to show up for dress fittings, bails on the wedding rehearsal because "something better came up", and who tells the bride she had better buy her a really expensive bridesmaid gift to compensate her for being in the wedding. Remember that the primary job of a bridesmaid is to support the bride, not to grab the spotlight for herself!
Mistake Number Four: Getting Entangled With A Groomsman. Love is in the air at weddings, but that doesn't mean falling for the advances of whatever groomsman looks the best in his tux. Unfortunately, there are some guys who assume that part of being a groomsman means getting access to pretty bridesmaids for the weekend! Don't fall for this old stereotype that will likely leave a bad memory whenever you think back on the wedding. Weddings are indeed a great place to meet people, they are just not the time or place to have a one night stand. Real relationships definitely do start at weddings, just be sure to start them off the right way. Then who knows, the next wedding you attend might just be your own.
Bridget Mora loves helping brides and their bridesmaids have the best possible wedding experience. For the best experience shopping for wedding jewelry, visit Silverland Jewelry today.