The Big


Lockdown
Glow-Up
–
The Finalists
The Final 10
The Top 10 Lockdown Glow-Ups
At the beginning of June we announced that we had teamed up with our friends at Big Bathroom Shop to find the best home and garden lockdown glow up in the UK.
We asked you to upload before and after images of the work you had done in your homes to make your lockdown experience a little more bearable.
Then, a panel of expert judges would choose the final 10 entries to be put to public vote, with the winner receiving £1000 to spend with us or with Big Bathroom Shop.
We had a huge number of amazing entries and would like to thank everyone that took part.
You've all done amazing jobs with your lockdown glow ups!
Now, with the help of our three amazing judges –
Chloe of @no34home
Sarah of @theturnerhouseproject
Rosie of @home_sweet_home_46
– we have whittled down the entries and found our 10 Lockdown Glow-Up finalists!
So, in alphabetical order – as that is the fairest way to list them, isn't it? – here they are…
Adele Wilford
Halifax
Adele merged her existing kitchen and dining room together to create a larger space for an island unit and then added a light well and 2 bifolds doors for lots of extra light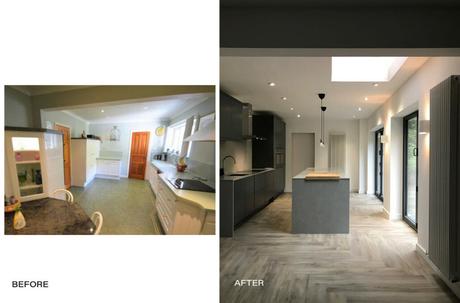 Vote For Adele
Brenda Melaniphy
Littlehampton
Brenda's downstairs cloakroom had the most retro outdated pink toilet and sink with cheap laminate flooring.
Her partner ripped it all out – painted the walls grey, laid ceramic tiles on the floor, installed a new toilet, installed a new sink & countertop unit.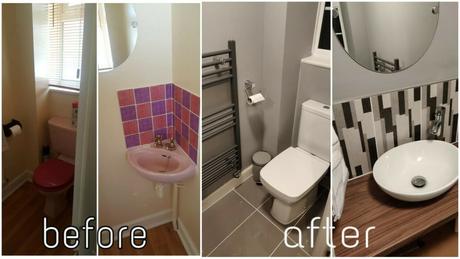 Vote For Brenda
Ceri Richards
Oswestry
Ceri bought her 200 year old house with a view to refreshing throughout. 12 months on, throw in a spot of furlough, and voila! This is her nearest to completed room!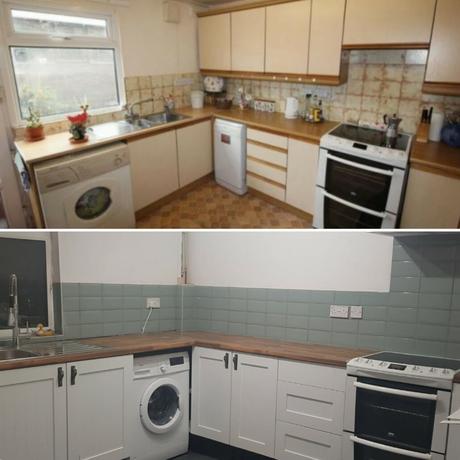 Vote For Ceri
Ellen Morgan
Maidenhead
Ellen had been using her living room as a general dumping ground ever since she moved into her home a year ago!
Being stuck at home in lockdown has meant she finally got around to creating a dark reading room. The cast iron radiator finishes it off perfectly!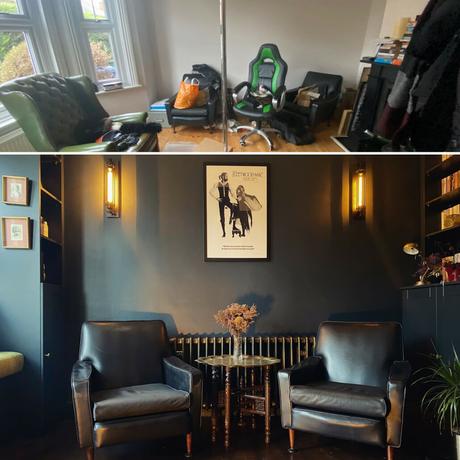 Vote For Ellen
Gareth Hutchings
Finished a day before his lockdown newborn baby Albie arrived. Out with the log cabin and in with the glam.
Gareth changed the position of the bathroom and is super pleased with how it turned out!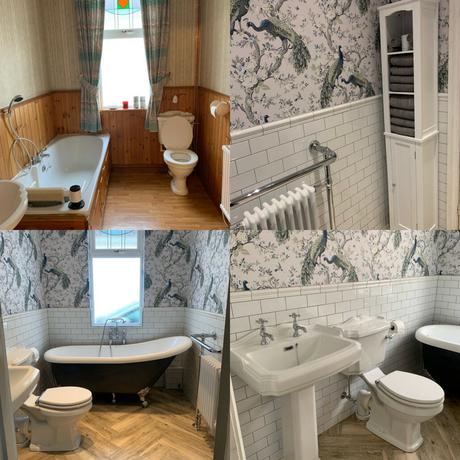 Vote For Gareth
Joe Johnson
Manchester
Joe created a terraced garden by laying 3 patios and erecting a gazebo for an outdoor games room and even a gym for all the family to use day or night.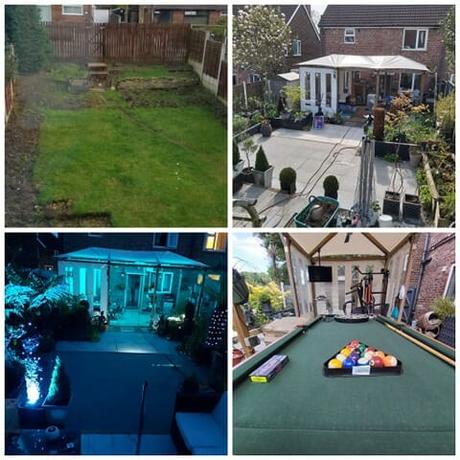 Vote For Joe
Kirsty Pearson
Cambridge
Kirtsy moved into a bungalow a year ago that needed renovating. Her bathroom was her priority as she has a 3 year old.
Her old bathroom only had a shower. She is slowly decorating each room of her home.
Vote For Kirsty
Laura Dunnings
Southampton
Laura moved house just before lockdown and had a long list of home improvements she wanted to make that she thought would take YEARS to do.
Her bedroom was priority #1 and she wanted a relaxing place for her and her partner. No kids allowed!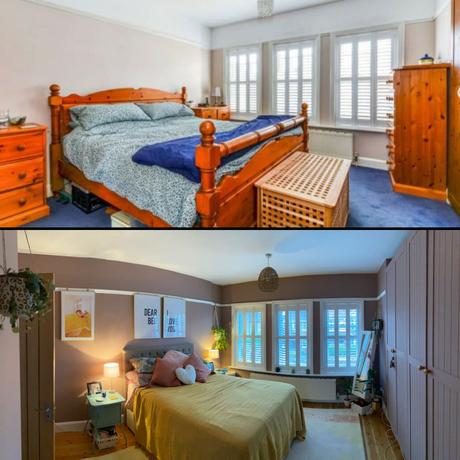 Vote For Laura
Michelle Klien
Manchester
Michelle says that one of the most beautiful features of her Victorian house is the staircase.
She wanted a wow factor when she entered the house and now feels like she has really achieved that. It's really made a huge impact.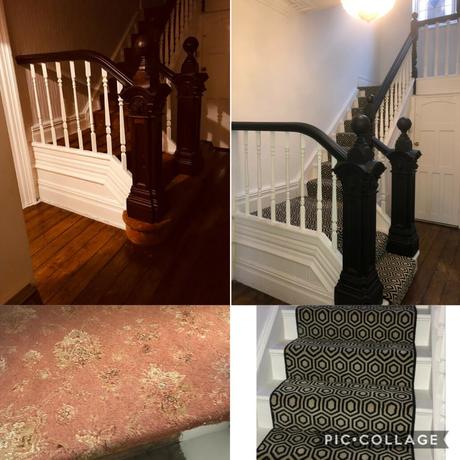 Vote For Michelle
Rebecca Lewis
Huddersfield
Rebecca got rid of the posters and stripped off many layers of wallpaper and then did lots of filling and sanding to prep the wonky walls.
She added strips of panelling and painted it in lovely grey/blue paint for her soon-to-be teenage boy!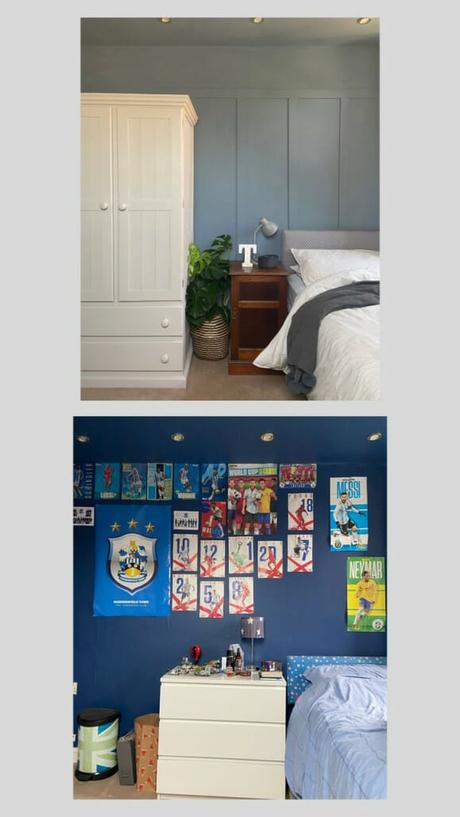 Vote For Rebecca
Vote For Your Winner
So there are our 10 Lockdown Glow-Up finalists!
Which one is your favourite?
Who deserves to take home the prize of Lockdown Glow-Up champion and win £1000 to spend with us or Big Bathroom Shop?
Voting is now open. Visit the competition page to vote for your favourite!
We'll be announcing the winner at the end of July, so don't hang around, go and get your votes in now!
Good luck to our amazing finalists and thanks again to everyone that took part.
Stay Safe & Happy Heating!