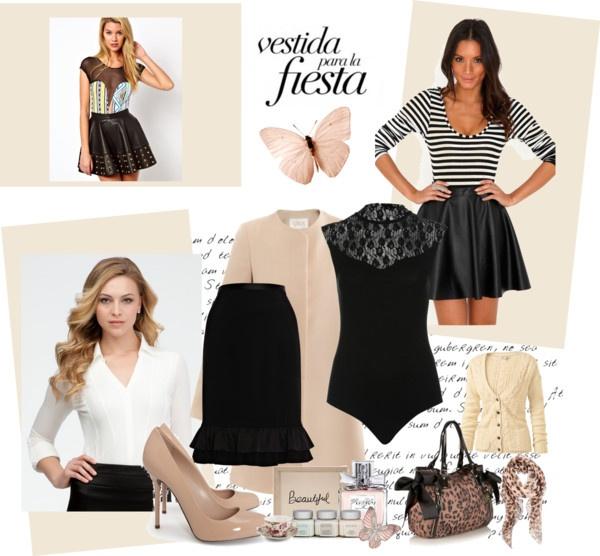 Guest Post by: Maya
A piece of lingerie that some of us completely forgot…
The bodysuit returns in a big way as the king of the fashion season – especially during the winter months – a warm, practical and seductive at the same time, will keep your kidneys warm, and will bring your sex appeal out.
Since the mid 80′s, Donna Karan has launched a simple principle of dressing that is called Seven Easy Pieces, and a part of their fashion postulates was a jacket with accentuated shoulders and leggings and a plain black jersey bodysuit. In fashion circles it is a legendary photo of the celebrity Paulina Porizkova and other models during a fashion show for the spring of 1986.
There is no doubt that Donna Karan is a fashion expert who with reason pointed out this piece of clothing as the ultimate basic piece that follows the line of the body, making it perfect as a shirt-bodysuit … great to combine under a jacket or pencil skirt style.
Also there is no doubt that it is back and we can see it on fashion runways and in the closets because they are in vogue this season, of course, in its high-fashion makeover almost all designers in the world presented it in their shows.
The main "culprit" for bringing the bodysuit back as the throne of the hottest pieces of lingerie is Sonia Rykiel, whose notorious new underwear collection for H & M is full of beautifully designed bodysuits. Sonia created them in various colors from peach, dirty pink, ivory to mother of pearl, and mission's colorful stripes. She bought back a piece of lingerie that many of us have forgotten, and one that has so many advantages – except that it keeps the kidneys, it can be fantastically sexy, efficiently tight to your body, emphasize the cleavage, serve as a perfect tight top underneath a jacket, sweaters, tunics, dresses.
No matter whether it is made of lace, satin, silk or cotton, bodysuit adapts our desires, and this season it is considered as an essential piece of lingerie. For this, there is a really good reason – it makes the perfect body silhouette during the winter months, keeping body warm, and also suits business clothing etiquette. You can wear it under a shirt or jacket with a skirt or pants for work. It is not recommended for an evening out, especially for those women who have a sense that the bodysuit does not provide enough "air" to their body. Clubs are too hot to be dressed in a bodysuit; that you really could sweat a lot, unless you have selected a very airy, fine laced bodysuit.
What is great about the bodysuit is that it can be worn in two ways: either as a classic piece of lingerie (like an undershirt) or as a top. The combinations are endless. Let Sonia Rykiel collection for H & M inspires you, a collection that is in soft light purple color, the regular H & M and Etam collections or the Spurst.com lingerie collection that can be found online.