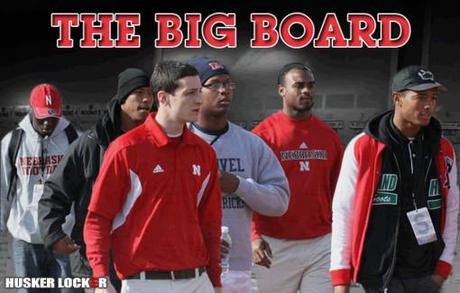 By Brandon Cavanaugh
1. OLB Josh Banderas, Lincoln, NE – Banderas remains king of the Big Board for the time being.
Nebraska appears to lead with Iowa State nipping at their heels. Suffice it to say that Banderas is one prospect that the Huskers need to sign for a variety of reasons.
2. TE Keith Towbridge, Toledo, OH – Things remain static with No. 2 as Towbridge is still scheduled to visit Lincoln for Nebraska's spring game. Getting a tight end locked up early would be a huge relief and Towbridge seems the ideal candidate.
3. QB Aaron Bailey, Bollingbrook, IL – Malik Zaire and JT Barrett both bid adieu to the Tremendous Ten. While Barrett may return, Bailey has a firm hold on the No. 3 spot. With Zaire off to Notre Dame (for the moment, at least), Bailey is likely Nebraska's primary target for a high school quarterback.

4. DB Priest Willis, Tempe, AZ – Willis has slowly crept his way into the top five as he's collected offers, balled out in offseason camps and kept his interest open.
With USC seemingly pulling in anyone they want at this point, Willis seemed like a lost cause. Thanks to his mentor, former Husker Toby Wright, he's likely to at least consider an official visit to Lincoln.
5. S Tahaan Goodman, Rancho Cucamonga, CA – With teammate Chris Hawkins committing to Southern California, it would seem like Goodman's a lock to join him.
It was somewhat surprising that he and Hawkins didn't get their offers at the same time. It's not as if Goodman's chopped liver when it comes to defensive talent and overall athleticism.
USC's still considered the team to beat, but if Nebraska wants Goodman, the Huskers have to strike while the opportunity is there to get their foot in the door.
6. OT Kenny Lacy, Phoeniz, AZ – If it's Arizona, it's Ron Brown's turf and while he couldn't pull in Andrus Peat last cycle, Kenny Lacy would be a prize.
Pac-12 teams are locking down the west coast for the most part with USC and UCLA doing the most work. Lacy appears to be waiting for the Trojans to finally present him with an offer.
Much like with Goodman, this would be Nebraska's time to make a push.
7. TE Jon Wisnieski, West Des Moines, IA – A new arrival to the Big Board, Wisnieski attended Nebraska's Junior Day and it appears to be a Heroes' Game battle for the Iowan tight end's services at this point.
While Wisnieski won't be able to come in for the Spring Game, he is working out a future unofficial visit. If Nebraska can lock down both he and Towbridge, it'd be a major victory for this recruiting class.
8. ATH Elijah Qualls, Petaluma, CA – Every school that jumped on Qualls early did their homework. The California native is a bruiser playing both running back and defensive end for Casa Grande High School.
He projects well at the running back position and could help Nebraska fill the void Rex Burkhead will leave. The more glaring hole will be left by Will Compton's departure, though.

9. DE Christian Lacouture, College Station, TX – Lacouture would've been SEC-bound with his hometown Aggies, but the Bayou Bengals may take him instead.
LSU is pushing hard to get him among their ranks, but having Nebraska's defensive coordinator accompany Rick Kaczenski should speak volumes to Lacouture about how serious the Big Red is in their intentions.
10. DE Joe Mathis, Upland, CA – Mathis is a bit of a longshot, but worth noting. He has a slew of offers, tremendous size and fantastic speed.
Considering Nebraska's lack of experience on the defensive exterior, he could come in and make an immediate impact, but that could be said about a number of his potential choices.