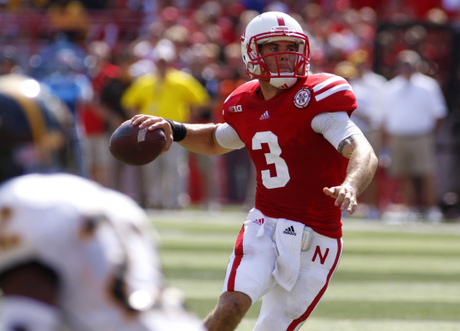 If the Cornhusker brass has any sense, they will give quarterback guru Steve Calhoun a blank check to come on as the Big Red's quarterbacks coach. Not tomorrow, not after Labor Day. Now.
Alright, maybe that's over the top, but there's no denying the difference between the poise, footwork and accuracy (or lack thereof) that Taylor Martinez displayed 2011 and what he showed against Southern Mississippi.
On a hot and humid day in Lincoln, the Big Red faithful were finally going to see if the work between Calhoun and Beck to improve Martinez as a true quarterback sank in.
Martinez worked Tim Beck's gameplan almost flawlessly as he exploited the middle of the Golden Eagles' defense time and time again. Several fans awaited the dreaded "armpunts" that have plagued his career, but No. 3's lofty passes soared into the hands of his teammates instead of the opposition's.
What was more satisfying than seeing the redshirt junior quarterback's 354-yard, five-touchdown performance was how he handled the aftermath. As he faced the usual legion of media, it was clear by his body language that this game wasn't about him, but rather the guys you never want to hear about unless it's at an award ceremony.
A tip of the cap is owed to the offensive line for its excellent pass protection, especially Justin Jackson who took over for two-year starter Mike Caputo.
"I felt very comfortable. He did a great job for his first time ever being at center." Martinez went on to say that as Jackson was inserted at his new position, execution between the two had been smooth.
As with nearly every first game of the season, there are some areas to clean up, especially on defense.
While the secondary played well overall, Nebraska's interior defensive line was shoved around and taken out of several plays.
Following the game, senior MIKE linebacker Will Compton admitted that the defense's technique needs to be shored up in the coming weeks.
While some fans feel the Huskers will tank against UCLA, the Golden Eagles came to Lincoln as relative unknowns from the coaching staff to the roster.
A 29-point win with pretty display of passing should be enough to tide most over. After all, at this rate, Martinez's goal of a 70 percent completion rate may not be so far-fetched.
email
print
Digg Digg