The top five must-see sights in Hong Kong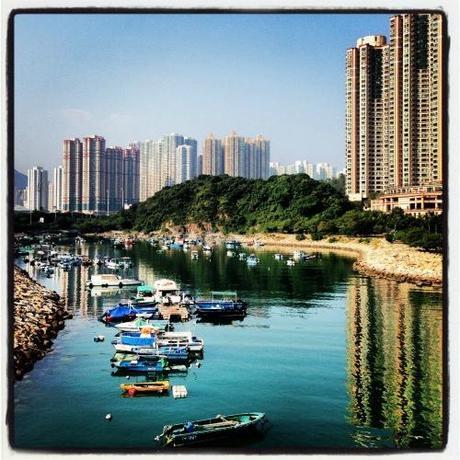 Image courtesy of Stephanie Leach. Follow her on Instagram @ lomlleach
Lei Hou!
About to jump on board a flight and transport yourself to the magical marvel that is Hong Kong?
Then, travel lovers this one's for you!
Already been? Don't fret, grab a coffee, sit back and re-live your ride of 'fabulousness' in the city that never sleeps.
As an expat living in Hong Kong, naturally, I write a lot about the daily absurdities complexities of life in a foreign land, but these days as a – shall we say – more established expat, I get asked a lot about the best hotels to stay in (no prizes for guessing my answer here), the best places to eat and shop; and what to do once you arrive in the proverbial "city that never sleeps!"  Yep with 24 hours on the clock you can pack A LOT in to your visit to the far East!
Living in one of the world's most desirable playgrounds (and naturally because I'm in such 'high demand')

I also get my fair share of visitors. Playing 'Tour Guide' means, after four years, the break-out itinerary tends to be on the '
wash, rinse and repeat cycle!'
So, whilst I have absolutely no intention of turning my blog into a glossy travel website feeding you a perfectly edited version of Hong Kong's most alluring hot spots — in the next couple of months, I will however, deliver a few pertinent 'go-to pieces' for the first timer's visit to the skyscraper capital of the world! (Basically it's my lazy way of helping curious travellers – just send them straight to the blog!)
I'm calling it the "Big 5!"
First cab off the rank, the big five must-see sights in Hong Kong, albeit with a more realistic, honest and as always slightly personal twist.
By 'must-see' I guess I'm talking about those things you might want to do on your inaugural trip to the East — probably things that offer up something a little different to what you're used to back home? You know those landmarks that might be a bit cheesy or touristy but you just have to do it because when you get home everyone will want to know you were there, right? (It's a bit like going to Rome and not seeing the Sistine Chapel ..ahem…hands up anyone?!)
So I'm going to help you tick all the boxes.
Just to be sure I wasn't completely off the charts with my recommendations, I also put the question out to some of Hong Kong's most seasoned expats and locals, and judging from their responses – quickly realized many of the attractions deemed 'worthiest' in town involved jumping on one of the city's famous modes of transport.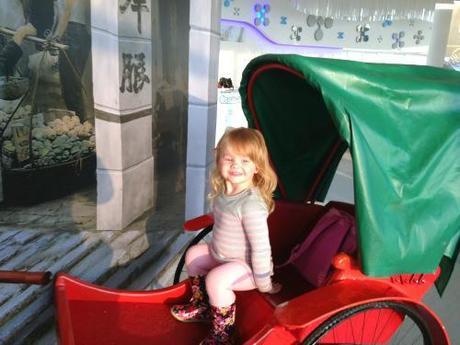 If only they still had rickshaws!
#1 Even if you haven't managed to fly yourself up (or down) to Hong Kong yet – I have no doubt you've seen the picture-postcard skyline Hong Kong proudly claims ownership of? (Or let's face it, the plethora of them gracing this very blog!)
Just for fun, here's another one!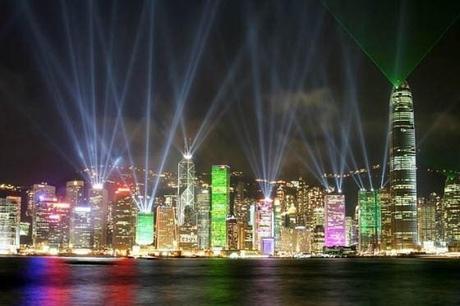 Impressive yes?
I'm pretty sure, when you do visit Hong Kong, you're going to want to see this spectacular scene that's touted as one of the most famous skylines in the world.
Is it as dazzling and luminous as the pictures paint? I'll let you be the judge. But for me, every time I see the magnificently eye-catching display of lights, colour and bling bouncing off a thousand skyscrapers before me, it really does take my breath away. It's a view I never tire of.
But I reckon, as well as a bird's eye view from afar, you also need to get up close and personal with the bright lights that are boldly beckoning  your attention.
What better way than diving into the harbour! Ok not literally (even though it's dubbed the Fragrant Harbour, I wouldn't recommend dipping ones toe into these seas in any hurry)!
So my advice, jump on a boat and float your way across the Fragrant Harbour to inhale the magic.
Now, there are a number ways to get yourself on a boat in Hong Kong.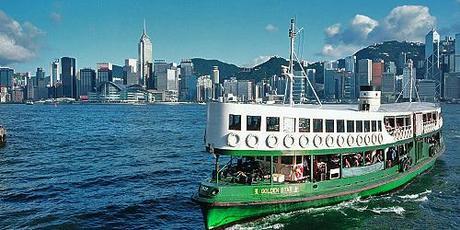 The easiest, is to take a ride on the iconic Star Ferry, which has been crossing Hong Kong's Victoria Harbour for around 120 years. Ten minute long trips run from 630am to 1130pm daily, costing as little as HK$2.50.
Star Ferry also has an hourly route around Victoria Harbour. For details click here. 
Alternatively, the oriental pearl's last remaining authentic Chinese junks, including the Aqua Luna or the Duk Ling operate regular harbour cruises with various packages to suit your holiday tastebuds. Ok, so it is kind of commercial, but you'll still get that overall oriental tingle as you sail down the majestical harbour (cocktail in hand)!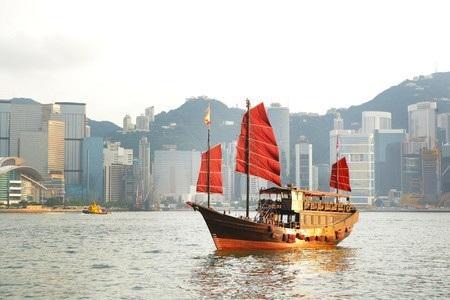 Even better, a night ride will have you watching the renowned Symphony of Lights show – a razzle-dazzle of lights beamed from over 30 skyscrapers in sync to music. This light show is visible in all its resplendent glory at 8pm every night, but without music (and I'm not one to be a party pooper) just a warning, it may not meet your expectations. So unless you are admiring the scene at said time, don't go out of your way to stop the clock.  
Want to explore a little further afield? Take a ferry out to Lamma Island and indulge in a delicious Chinese-style seafood feast, while you kick back and immerse yourself in the rugged charm of this ancient fishing island, where locals still get around using small carts and bicycles. Cute!
The boat ride out may be a little rocky  (I'm sure my  family can attest to this) but it's all in the name of good, exotic fun, soaking up some of Hong Kong's local culture!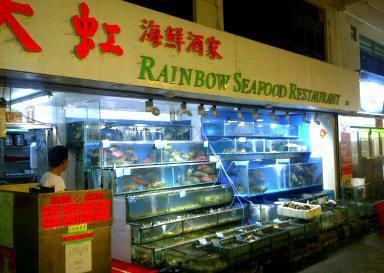 One of the more popular stops is Rainbow Restaurant. Here, fish frolic in tanks, awaiting their fate – which for some is all a little stomach churning… but stay focused peeps, cos if you're partial to seafood, you'll love this fresh, mouth-watering tucker.  Don't expect ritzy dining, it's plastic tables and chairs all the way, wedged together under some fairly intense lighting.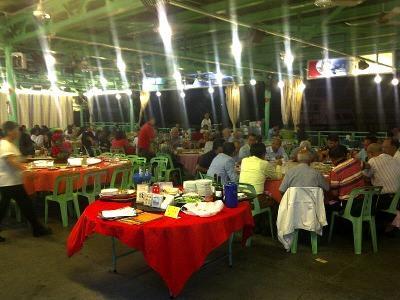 Alternatively, take a day trip to what many call Hong Kong's very own Treasure Island – Cheung Chau. This pocket-sized paradise is 7000 years old and just a 30 minute boat ride from Hong Kong, filled with temples, seafood restaurants and sandy beaches, not to mention a mountain of history.
Wander along the picturesque beachfront, wind your way through cobblestoned lane ways reminiscent of Europe's quaint villages and marvel at the kaleidoscope of fishing boats. To read more about this captivating little island, click here.
If you're blessed with enough time, hire one of the hundreds of Junks available and take a day trip to the outlying islands where you can breathe in the other side of this mad land. Many visitors (myself once included) wrongly believe Hong Kong is little more than a chaotic and bustling city, packed to the rafters — but there's much more to this cosmopolitan hub than first meets the eye. Trust me when I say, 'a tropical oasis awaits you.' Islands rimmed with white sandy beaches decorate pristine waters……in fact, it's a little like a scene out of the movie, The Beach. (And you thought Thailand was a beach lover's paradise.)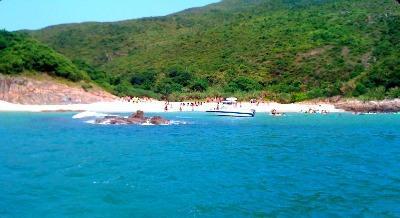 #2 One thing a lot of people from the West will notice, is how slick the train system is here in the Kong. Coming from Australia, where let's face it, the public transport system leaves a bit ok, a lot to be desired, I've got to say, baby, these trains are smooth operators.
Check out the stations themselves (ok so you might think this is all a bit tedious on holiday) but seriously, note how there are potentially a gazillon people chugging through but it's complete and utter 'ordered' chaos. No rubbish. (No eating.) And no hooligans. And trains run every few minutes, without fail.
(I wrote this post a while back about the city's slightly OCD side, if you're keen to know more, click here on A for Effort…Hong Kong really does deserve it.)
I recommend you jump on board the MTR and head out to Tung Chung. At Tung Chung check out the outlets if you fancy a bit of retail therapy  (probably a 6 out of 10 when it comes to a valid shopping experience).
Then you can take on the world in a glass bottom (optional if you're game) 'cable car' across Lantau Island with stunning views all the way up to the Big Buddha.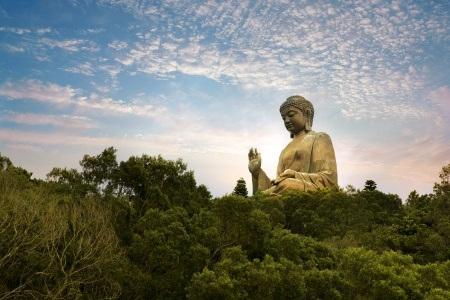 Copyright: lachris77 / 123RF Stock Photo
On a clear day, these views are magical. The bronzed buddha in the distance is truly a mystical sight to behold. (Don't bother if it's anything but clear skies though.)
Even better, the Big Buddha is not only about temple-worshipping, Ngong Ping Village (whilst not really a village in the true sense of the word) is home to a myriad of shops (including a very fine shoe shop ladies), plenty of cafes (including StarBucks to give it that all-important touristy edge) and some al fresco dining pubs. Grab your tickets online to avoid the queues.
#3 Take a double decker bus and wind your way across the island to Stanley or Shek O Beach…(Do me a favour and make sure you sit up top and up front of the bus for some real roller coaster-ride action and spectacular scenery!)
Stanley is a little more touristy, but with the famous Stanley Markets and plenty of western style, outdoor dining restaurants along the water front, it's definitely worth checking out on a sunny afternoon.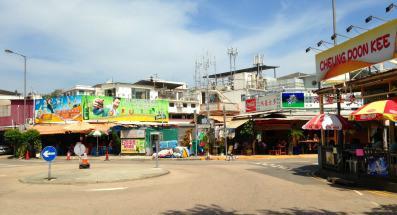 Shek O Village
Shek O meaning "Rocky Bay" is literally a peninsula on Hong Kong's southern coast. As one of the more earthy spots on the map, it showcases a different side to the inner city glamour. I caught the bus out here a couple of months ago…. it was like stepping back in time into a beachside village from a bygone era. Eat at any number of roadside food stalls or the cheap and cheerful Chinese bistros in the town's centre; pick up a bucket and spade from one of the colourful stalls selling all things beach-friendly and head down to the sand.
Note: Once late afternoon descends, your pristine paradise will become a shoulder to shoulder, umbrella to umbrella beach-fest. Be warned.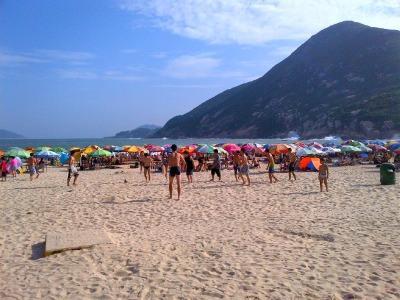 Shek O Beach
For something a little more upmarket try Cococabana. This beachside mediterranean restaurant is charming, sophisticated and the food is divine!
#4 Take a Ding Ding – yep that's what they call trams here….and 'ding ding' your way along the island from Central to Wanchai or as far as Causeway Bay…..it's cheap, a tight squeeze and a little bit local, but a great, fun way to take a trip through the centre of the island and get a feel for Hong Kong's true heartbeat.
Admittedly, the one and only time I tried a 'ding ding' was during my very first trip to Hong Kong as a fully-fledged tourist… I nearly had a conniption fearing I wouldn't get off at my stop, it was that crowded! I literally dragged my poor mum off. If you get claustrophobic just remember, a little bit of push and shove doesn't hurt in these situations. Not that I'm condoning physical force, just saying!
Tip: Correct change is required or an Octopus card.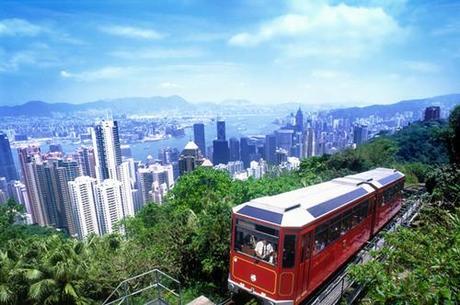 Peak Tram, Hong Kong
Or, if you're up for something a little less sardine-like, take a vertical ride up the side of the Peak in the Venerable Peak Tram … Avoid 'peak hour' if you can, more often than not, I've seen queues backed up for miles. If you get on, it certainly gives you a unique perspective of Hong Kong. Hang on!
Once you reach the Peak - while it is most definitely a tourist trap – you can't beat the breath taking views overlooking the world's skyscraper capital.There are plenty of spots to eat, a host of souvenir shops for you to tick off that present list and a refreshing hike/walk around the Peak is not out of the question, if that's your cup of tea!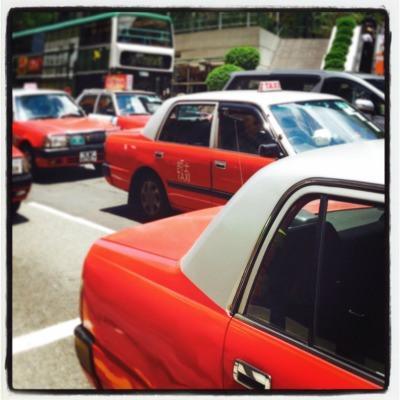 Image courtesy of Stephanie Leach. Follow her on Instagram @ lomlleach
#5 It wouldn't be a trip to Hong Kong with out hailing down one of the city's iconic red taxis now would it? Trawling the streets day and night, this is surely an experience in itself….(bonus points if you can manage to hail one down AND the driver gets the gist of your destination AND agrees to go in your direction!) Don't be scared though, it's all about the challenge (says she who had a meltdown on a very questionable journey that had me travelling in the opposite direction with no clue how to get back on track!) Did I mention I had a baby on my lap?
I can laugh now.
(PS. Don't attempt if you are prone to bouts of car sickness, these old cars have a tendency to attract some heavy breaking from drivers (who blame the cars, of course)!
Tip: Most drivers don't accept $500 notes so have something a little smaller on hand. Cash only too! And if there's a red 'out of service' card on the dash board, this doesn't mean it's out of service (of course), it simply means the driver will cross the harbour for you. Yes! Many drivers prefer to stick to one side of the city. Kowloon or HK Island and never the twain shall meet.
So that's my 'Big 5′ when it comes to must-do experiences in Hong Kong!
Time now for you to take a joy ride in the mighty Kong! You won't regret it.
Psst, If you've got any tips/questions, I'd love to hear or tell us about your experiences (I'm sure readers would love to know too, so make sure you leave a comment below)!
Cheers!
Nicole