Learning how to get direct website traffic is one of the most important things you need to master for your business to achieve long-term growth and success. Simply put, more traffic simply means more profit. If you've already learned how to drive website traffic to where you need it most, the next thing to ask yourself is how you can increase that traffic and keep looking for new ways to drive website traffic permanently.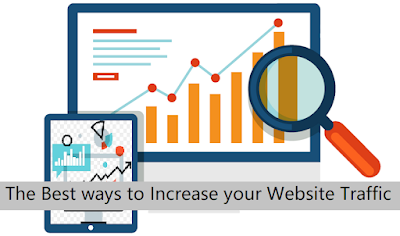 As this is so essential for every business person, we bring you this article to give you some foolproof tips and strategies for driving website traffic to the pages that matter most to you. This should be one of your core business processes, and you don't really want to be left behind or miss out on some easy choices if possible. If the methods you are using aren't giving you the desired results, then it's time you started thinking about other ways to drive website traffic and you should really start yesterday.
Do Blogging
Running a blog is definitely a powerful strategy for generating traffic to your website. On your blog, you will be able to talk about the products and services of your website and also add some links to your website. You can also answer any questions your potential customers and buyers may have.
By blogging regularly, you will have new content that can make your site indexed by search engines and rank high on these search engines as well. As a result, your website traffic will improve tremendously.
On-Page & Off-Page SEO
SEO means Search Engine Optimization is a process where we are targeting specific web traffic using the keywords, when we completing your blog and website this is the first step we doing is SEO and if you are unable to use SEO tactics in your blog and website then there are a lot of companies who provide SEO service for your website, blog and eCommerce website then you can hire the best company.
On-page search engine optimization is the first and most important step in getting free online traffic and as such it is crucial. On-page search engine marketing is primarily about meta tags, header tags, page description, and proper keyword placement and usage. Not doing so has huge consequences on search engines and can waste all your efforts.
A free traffic generator for a website will really start attracting serious and targeted online traffic once off-page SEO is done. Off-page search engine optimization involves commenting on marketing blogs, articles and videos, document sharing, social bookmarking, social media marketing, press releases, podcasts, RSS feeds, and other efforts associated with getting so many backlinks one way to your website as feasible.
Keep your Website up to date
You need the data on your website to be up-to-date and relevant. This means writing material that won't be out of date or constantly adding elements to keep it up to date. Both of these strategies are actually a good idea because you want to have return traffic and new customers. The best strategy to keep visitors coming back is to continually update the site's news so that there is always something new to read every time.
Publish your own e-Newsletter
Having your own email newsletter where you can regularly offer free ideas or suggestions and content can help you increase your website traffic. Your email newsletter will have your website links posted on it, so people who read your email newsletter will likely go to your website.
Guest Posting
Unique and fresh content goes a long way in getting your website noticed by search engine crawlers. However, please note that posting this content only on your website will not be sufficient for long-term effective indexing and optimization. You should also take advantage of guest posting. Guest blogging and blogging on other blogs or websites is a great way to get a bigger following on your website and social media accounts, and it also opens up networking opportunities by improving credibility.