Digital marketing is one of the most important aspects of a successful business in today's world. The internet has made it easier to spread your message. In a world where the digital environment is changing and companies need to adapt to stay competitive, it's imperative to know what will help your business in 2022. Here are 7 digital marketing tips to help ensure your business succeeds!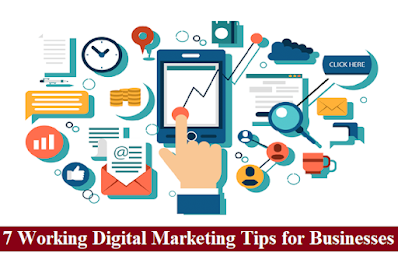 Search Engine Optimization (SEO)
With over 4.6 billion people online, it's imperative that potential customers see the best results when searching for your business. But how can your website appear in search engine results (SERP) results when potential customers search for what you offer? This is where SEO comes in. Did you know that less than 10% of people do not access the second page of search results when searching for something?
This means that an effective SEO strategy is essential to ensure that you get the maximum amount of website traffic. Digital assets should be configured to be optimized so that search engines can easily find them when business-related keywords or phrases are entered in the search bar. SEO includes keyword research, backlinks, Google My Business, meta tags and more.
Social Media Marketing (SMM)
In today's digital marketing world, social media is a non-negligible asset. Maximizing your social media presence is important, as one-third of businesses use it as a strategy and more than 70% of consumers use customer service. Over 25% of users believe that they can not only spend their internet time on these platforms, but also connect with their brands. Most users use the platform to highlight positive shopping experiences and post product reviews. This will allow millions of people to reach you faster through your channel.
Social media marketing is a strategy used to increase brand awareness and conversions for your business. Social media campaigns often focus on one or more platforms, depending on the preferences of your target audience and the platform you choose. Various marketing platforms on social media include Facebook, Instagram, Twitter and Pinterest. Social media not only promotes products, but also promotes user relationships across different platforms.
Pay Per Click (PPC)
Pay-per-click (PPC) advertising is a digital advertising method used to drive paid traffic to your website when an ad is clicked. PPC advertising allows you to target your audience to location, taste, interests, and the cost of reaching your target audience. In many cases, PPC can be used to lower the CPA (acquisition cost) compared to other methods. This means you can determine how much it will cost per click to see how effective your digital strategy is?.
PPC campaigns require an initial investment, but have proven to be one of the most effective digital marketing solutions. Reduce acquisition costs while increasing brand awareness among consumers. Not only do companies earn $ 8 per $ 1 spent on Google Ads, but users who click on an ad are 50% more likely to buy the product. So far, it has generated an impressive ROI of $ 2 for every investment in other platforms such as Facebook and Twitter.
E-mail Marketing
Email marketing uses digital messaging to market a variety of products and services. It offers a high return on investment as it is one of the most direct ways to build relationships with your clients. Email marketing provides a way for businesses to connect with their customers individually. By sending targeted, personalized emails that keep your business on top of your business and encourage repeated purchases, emails raise customer awareness and loyalty and drive sales growth.
The average ROI for email marketing is 4400%, which could increase your revenue by $ 44 for every $ 1 you invest in your email campaign. Over 60% of users also like weekly promotional emails from interested companies. You do not need to contact us through this channel unless it is too frequent or annoying.
Video Marketing
Video marketing is a powerful tool for increasing brand awareness, conversion rates, and business revenue. Video content has proven to be one of the most effective ways to engage and reach viewers today. According to the Statista Research & Consulting Group (2016), adults watch videos on sites such as YouTube for up to 5 hours a day.
Video marketing has become an effective online strategic tool for any business. With video, you can improve conversion rates and generate clues while staying profitable. Video also acts as another form of content for email or social media campaigns, expanding the customer base with new viewers.
Voice SEO
Voice search is becoming a new digital marketing strategy for many companies. It's one of the latest ways to find information online, and it's become an integral part of modern life as more and more people buy voice-activated speakers such as smartphones and Amazon Echo devices.
The goal of successful search optimization is to place zeros on Google's SERP list. It increases the visibility of your business among consumers and leads to your website or landing page, where you can turn your visitors into customers who buy products directly from your website. This innovative approach provides immediacy and relevance.
Content Marketing
Content marketing is a digital marketing strategy that focuses on creating and distributing valuable content to attract your target customers. This is becoming an integral part of digital strategy for companies designing digital content that educates, influences, or entertains potential buyers.
Content marketing is best used in combination with other digital marketing techniques such as search engine optimization (SEO) and pay-per-click (PPC). SEO makes it easy to find what you're advertising online. PPC, on the other hand, attracts more qualified clues so that you can buy a product or service when you find it.