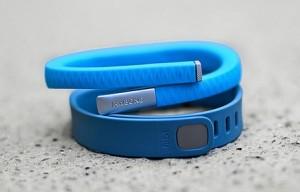 Working out while traveling seems like an impossible task for many; but with mobile devices acting as our daily assistants, getting in shape (even while on the road) becomes easier. ABI Research predicts that the increase in demand and usage of virtual health tools will exceed $400 million annually by 2016. Not hard to believe — today there are countless apps and web tools available to help travelers stay fit and healthy. Here are some of my favorites:
Fitbit Flex: Fitness Tracker
Aside from tracking you progress, Fitbit Flex records your food intake and sleep patterns. This will require a mobile device with the Fitbit App as the band doesn't have the screen to present you with all the information about your sleeping habits, food diet, and number of calories burned per jog or walk.
TIP: You'll find this app more effective when installed on your iPhone 5S. As stated on the page of the iPhone 5S on O2, the latest Apple flagship comes with an M7 motion processor, which tracks every movement, even while sitting in the seat of a car. This works hand-in-hand with the application and band in providing more accurate data.
Wii Fit
Wii Fit collects your height and weight to compute your Body Mass Index (BMI) to help you track your progress and offers a wide variety of activities from which to choose. Playing Wii requires a large space, and using it in some spaces (e.g. a moving vehicle) may not be easy. Fortunately, MaxBuy is taking console gaming to another level by releasing the MaxPlay, an accessory specially designed for Wii Fit U.
To power up the MaxPlay, you need to hook it to the cigarette lighter port, and connect it to a TV installed in the car. You'll be able to transform your vehicle into a fitness center, where you can enjoy "core" workouts, including arm waving and punching. These exercises are vital to develop coordination and balance (just don't hit your fellow passengers).
Online Workouts

Paul Eugene Webisodes - with over 25 million views on YouTube, Paul Eugene is a trusted physical trainer for kids and adults. Paul Eugene is also known for devising the Chair Aerobics, a 10-minute workout you can do while sitting.
Sit and Be Fit – an award-winning television series, which engages "healthy aging." They have devised simple chair workouts for seniors, which consist of stretching to lubricate joints, increase muscle strength, and sustain blood circulation.
Crunch Live offers visitors a free trial to access the videos available on their website.Their workouts include yoga body sculpt and fat-burning pilates. For an effective meditation, you can play a soothing and relaxing music to calm your nerves on the road.
iTrain – Aside from virtual training sessions, iTrain offers gift certificates and free trainer consultations. You can download their videos and watch them on your smartphone and tablet.
Before you go on your next trip, make sure to pack or download a few of these practical fitness regimens along with your travel gear. Which ones are your favorite? Share your experience below.
Guest Author:Sookie Lioncourt
After a long day of writing, Sookie Lioncourt finds a way to relax and pamper her herself by jogging around her neighborhood. She enjoys writing about her yoga and pilates experience to break the monotony of writing about technology.  Read more of her insights in Techie Doodlers.
Photo from Gadgetmac.