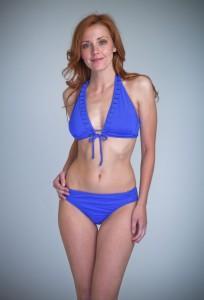 There are several shades and colors that don't look good on redheads. But with swimsuits there are plenty of colors to choose from like the royal blue of this bikini from Cole of California.
One reason why being a redhead is awesome is that your red hair is automatically a built in fashion accessory. Now that's good and bad because it  limits some of the clothing color choices like oranges and yellows which don't look so good with red hair. But with the right colors that ginger hair can really make an outfit pop. This is especially true when it comes to women's swimwear.
Now many red heads happen to have lighter skin. And while tan skin is often the goal when you're wearing a bathing suit, that fair skin has a certain sweetness and elegance that can make you look amazing in your swimsuit. But it all comes down to finding the right bathing suit for red heads with lighter skin.
So what should gingers and red heads look for in a bathing suit for women?
Color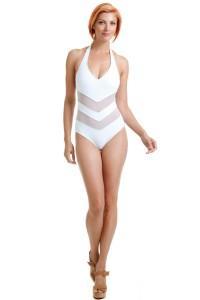 Often, white bathing suits look great on redheads because the balance of the white swimsuit and red hair give your skin a more tan appearance
As we mentioned above there are certain colors of swim apparel ladies with red hair should avoid. Chief on the list are bright pink, orange and yellow as the red hair is already hot enough. Icy pastels can make redheads looks washed out. On the opposite end of the spectrum neon colors do not work well for gingers.
While there's a good chunk of swimsuits on the color wheel that are no-gos for gingers, there are plenty of other hues to pick from. Look for swimsuits in blues, greens, deep reds, earth tones and warm browns as they are a great complement to rich warm red hair. Black bathing suits are a safe bet for most sun loving women and red haired ladies are no exception.
When it comes to swimsuits for red heads there's one big advantage and that's that red haired women look great in white bathing suits. The balance of the white suit and red hair give your skin a more tan appearance. So if you're a ginger looking for a new swimsuit be sure to try on some white bathing suits.
You can see more swimwear and other wardrobe color tips for redheads at Beauty Riot.
Prints or Solids?
For women with red hair it doesn't really matter too much if you're wearing solid colored bathing suits or swimsuits with prints. That being said, red hair has a strong look in and of itself, so pulling off swimwear with patterns can be kind of tricky. Stick with understated motifs that have colors that work best on redheads (see above) while avoiding busy patterns with blue or gray based shades.
By wearing a simple bottom and more decorated top the gets drawn towards your fiery red hair.
Wearing swimsuits with patterns and styles that draw the eye upward towards your dynamic fiery hair will also help you look amazing in a bathing suit.
Is there a certain type of swimwear redheads should wear?
Some red heads look good in bikinis and some red heads look good in one piece bathing suits. Read heads with very fair skin may want to opt for the extra coverage of a one piece as they're more likely to get a sunburn.
Speaking of sunburns, the one piece of swimwear every ginger should have is the swimsuit cover up. Because red heads often have fairer skin its a lot easier to burn So when you're not swimming you should be wearing a swimwear cover up. The more coverage the better.
Beach Accessories for Red Heads
Apart from the swimwear cover up, the two most important accessories for red haired women are the sun hat and of course sunscreen. Big straw hats are a great topper to almost any beach outfit. Make sure to wear your hair down with it to show off that beautiful red hair. Sunscreen is an absolute must for every beach goer regardless of hair color. But especially for fair skinned redheads who burn easily. Lobster red just doesn't go well with red hair.
For red head women with light-colored eyes, it's also important to wear sunglasses as they protect your eyes from the sun. And when it comes to jewelry for the beach go with gold colored pieces especially when wearing plain white or black swimsuits.
Remember when it comes to fashion, the rules were made to be broken. So as a redhead don't be afraid to try on a swimsuit that you like even if it goes against the conventional color choices for redhead. You never know what you'll find. And there are tons of swimwear for red headed women to pick from. Here are a few from the online women's swimwear shop at SwimsuitsDirect.com that are sure to look great on you. (Sorry we don't have ginger swimwear models for all of the suits you'll just have to use your imagination.)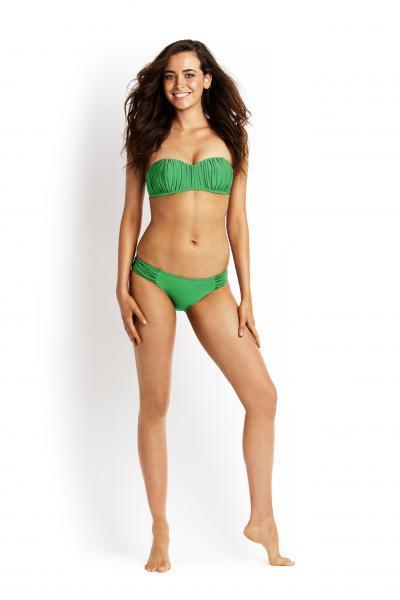 Goddess Bustier Bikini by Seafolly
There's something about green bikinis that just look so great on red heads. The green and orange colors go together so well. You'll love how your red hair will flirt with this cute little two piece green bathing suit from Seafolly Swimwear.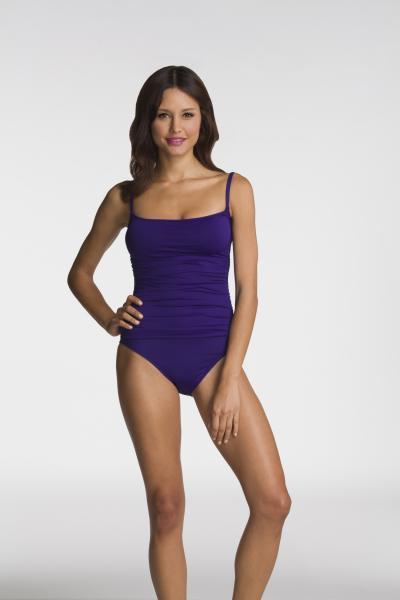 La Blanca Island Goddess Lingerie Cup One Piece
Deep purple swimsuits like this La Blanca one-piece go great with red hair. The luxurious lingerie maillot is partially lined and made with shirring in the front to conceal flaws and enhance your feminine curves. This beautiful one-piece swimsuit is exactly the swimwear you've been shopping for!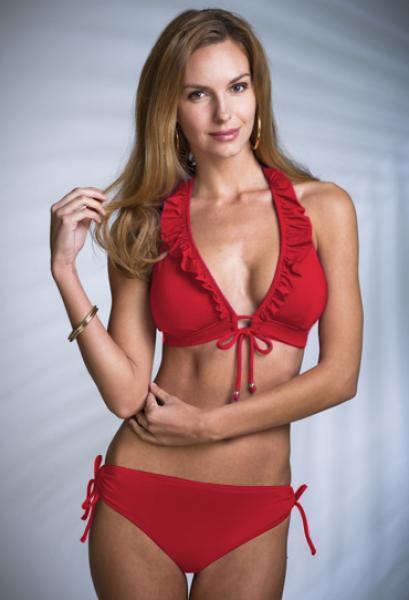 Core Solids Ruffled Halter with Tie by Cole of California
This flirty red bikini is a great choice for more subtle red heads. The ruffles enhance your bust making it look bigger and better. And this cute Cole of California bikini is on sale now for 50% off! The best deal on swimwear you'll find online.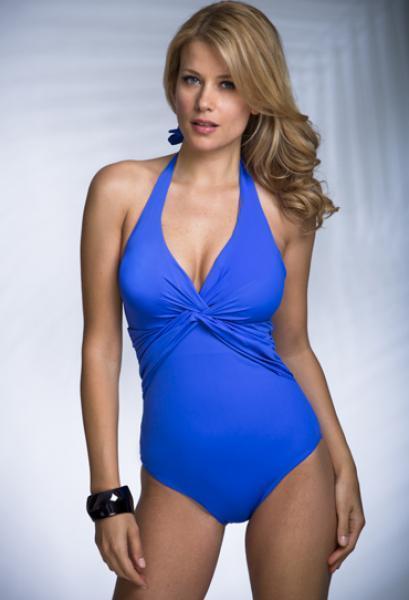 Criss Cross Shirred Halter by Anne Cole Control
This lovely one piece swimsuit will give you a slimmer look thanks to the mesh fabric on the interior of the suit that keeps your curves beautiful and smooth. This rich blue full piece bathing suit by Anne Cole Control cools the fieriness of your red hair. Best of all it's 50% off right now!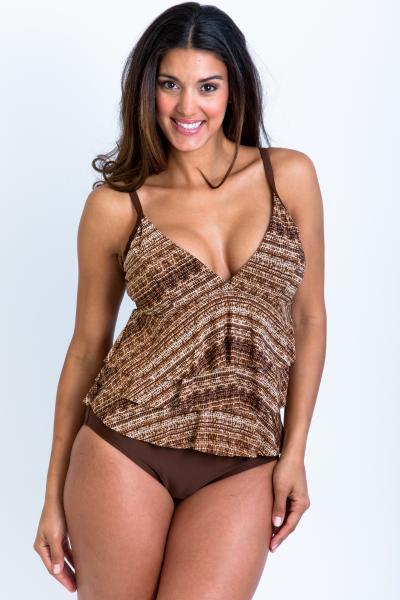 Bahama Mama Ruffled Fauxkini One Piece by It Figures
Brown bathing suits like this one piece by It Figures Swimwear compliment ginger's skin tone and hair color exceptionally well. This fauxkini is a swimsuit with great breast support and tummy thinner technology to make you look your best at the beach.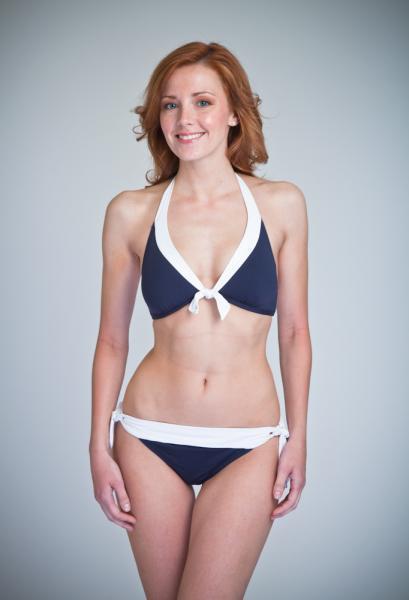 Color Block Bikini by Anne Cole
Red heads should definitely take a look at this simple bikini from Anne Cole. The royal blue compliments your red hair nicely. And the bow in the front is simply adorable.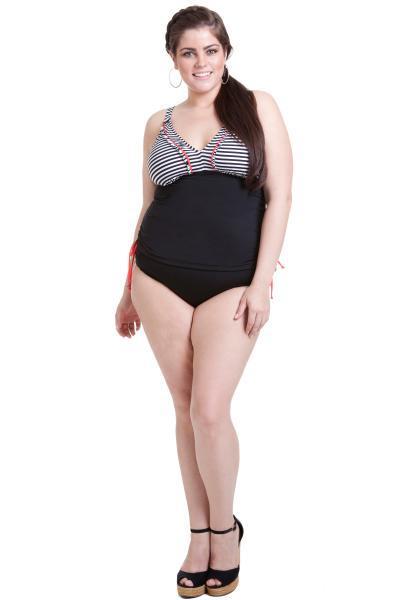 V- Neck Tankini by Cole of California Plus
For plus size redheads this cute Cole of California tankini is for you. The simple lower half and striped top draw the viewer upwards away from more troubled areas and towards your fabulous red hair.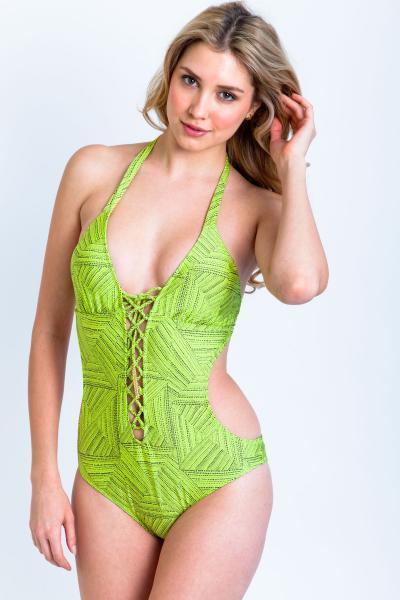 Steady Drifting Riviera Monokini by R Collection
This green monokini would look great on all different shades of red heads. If you're looking to be a bit daring this summer buy this green one piece bathing suit for junior girls.