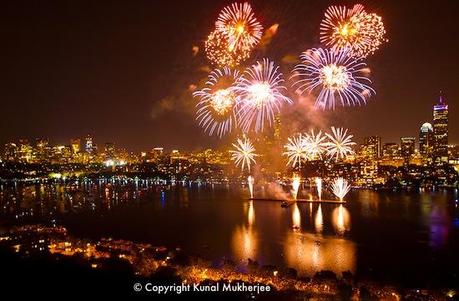 Boston Pops Fireworks Show © Kunal Mukherjee
Fourth of July is almost here. People are preparing their grills, filling their coolers, getting ready to celebrate Independence Day. But the holiday would not be complete without one essential thing: Fireworks.
Every city has their own fireworks show to honor the holiday, and each one is unique in its own way. I love watching the fireworks in Chicago from my rooftop, because not only do I get to see the official show from Navy Pier, but also the dozens of other personal fireworks shows people put on around the city. It's like a panoramic display of colorful pyrotechnics just for me.
However, when it comes to my favorite Fourth of July fireworks show ever, that's a close tie between Boston and Frisco, CO. I know what you're thinking, how can those two places even come close when it comes to patriotism? Well, Frisco holds a special place in my heart, since my family used to go up to the mountains every summer for Fourth of July. Most of the time, we would climb the trail behind our condo to this clearing that offered the perfect view of the fireworks over Lake Dillon. But one year, my parents reserved a boat, where we sat in awe as huge bursts of red, white and blue exploded right above our heads, and streams of glittering light looked as if they would fall right on top of us before they vanished. It was magical.
My Boston experience, on the other hand, is also very special, because it brought me together with my closest friends from high school for a weekend of true American pride. I mean, Boston is steeped in revolutionary history and the city takes this holiday very seriously. Perhaps that was why it was such a memorable trip. We watched the fireworks from the Mass. Avenue Bridge, a perfect viewing spot as more than 10,000 fireworks launched from barges in the middle of the Charles River. Music played throughout the show, adding that extra touch that made it truly spectacular. Some of my friends even cried it was that good, and I have to admit, I was moved by the event. Definitely one of the best places, in my opinion, to watch Fourth of July fireworks.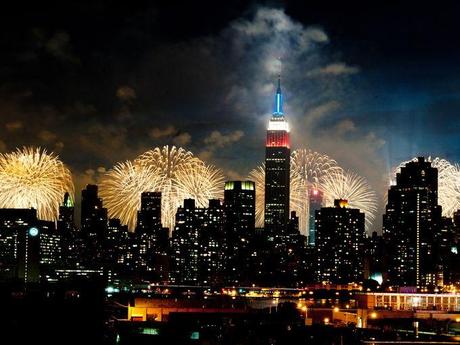 New York City Fireworks © Kathy Kmonicek AP
If you aren't in Chicago, Frisco or Boston, then check out some of these
suggestions from Travel Pulse
and
USA Today
and the best Fourth of July fireworks shows in America. You'll find some of the big ones on there: Washington D.C., New York, Philadelphia and Boston, as well as some others that are a little surprising like Columbus, Ohio and Portland, Oregon. I guess I'll have to put those on my list.