0 Flares
0 Flares
×
New to little Indiana? Subscribe for free to my RSS feed. Thanks for stopping by!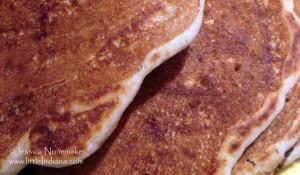 Best Pancake Recipe
It may sound like a lofty claim, but this is the best pancake recipe ever.
Oats, whole wheat flour, all-purpose flour, cornmeal, and a touch of vanilla (among others) combine to make a very tasty and filling pancake.
Topped with fresh fruit and real Maple syrup, I can't think of a better way to start your day than with a pile of pancakes!
Best Pancake Recipe
Print The Best Pancake Recipe Ever
Rating: 51
Prep Time: 5 minutes
Cook Time: 20 minutes
Total Time: 25 minutes
Yield: 6 Servings
Serving Size: 2 Pancakes
From the October 2012 issue of Midwest Living.
Our new favorite pancake recipe! It is nutritious, filling, and smells as great as it tastes!
Ingredients
1 Cup Flour
1/2 Cup Whole Wheat Flour
1/4 Cup Cornmeal
1/4 Cup Quick Cooking Oats
2 Tablespoons Brown Sugar
2 teaspoons Baking Powder
1/4 teaspoon Salt
1 1/2 Cups Milk
3 Tablespoons Canola Oil
1 Egg
1 teaspoon Vanilla Extract
Instructions
Combine dry ingredients.
Combine wet ingredients in separate bowl.
Add wet ingredients to dry ingredients and combine. Do not overmix.
On hot griddle, use about 1/4 cup of batter. Flip pancake over when batter bubbles (about 2-3 minutes) and flip, cooking the other side.
Serve with real Maple syrup and fresh fruit to top.
Schema/Recipe SEO Data Markup by ZipList Recipe Plugin2.0
http://littleindiana.com/2013/02/the-best-pancake-recipe-ever/
Photos are the Property of little Indiana. Do Not Use Without Permission.
Find pictures in Indiana on my Flickr photostream or on the new little Indiana Tumblr blog.
Just don't forget to tell 'em that  little Indiana sent you!
Don't miss a moment. Subscribe to little Indiana and receive instant updates to stay on top of everything "little."
little Indiana: Where to Stay, Play, and Eat in Small Towns in Indiana. Discovering Indiana's best small towns! Now get little Indiana on your Kindle.
Targeted. Relevant. Affordable! little Indiana advertising.