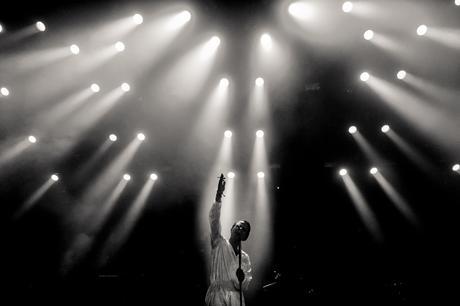 Probably my favourite of my Roskilde Festival shots – this is Jannis Noya Makrigiannis of Choir of Young Believers landing in his spaceship.
The Best of Twentysixteen in Music
An end-of-the-year roundup story taking you through some of my favourite music pictures, stories and gigs. 2016 was a bit of a rough ride, we lost my hero Bowie right at the start. Then Phife Dawg, Prince and Cohen. Some stage somewhere up there among the stars has a killer line-up right now. For now, this is a few of the things I experienced musicwise this year. Pour yourself a nice drink, and lets dive into it!
Roskilde Festival
I had the pleasure of shooting Roskilde for Red Bull. The biggest gig so far of my career and four totally mad days. Also the first time I have ever been to Roskilde Festival. Read more here and read about the shooting experience here. It was really weird shooting four days of 3-tunes-and-you-are-out hit-and-run style pictures, it hardly felt like actual music photography. Like shooting a football game but you are only allowed to shoot the first 15 minutes. I had the pleasure of meeting the legend Gorm Valentin the other day and heard his stories of shooting Roskilde in the 70s, hanging out in the trailers with Cohen and Marley. Sigh. The good old days, give me a time machine. Ok, enough grumpy old man, it was also an incredible thrill to shoot Roskilde and I did manage to create a few pictures that I like. The lineup for Roskilde 2017 looks amazing with Den Sorte Skole, Moderat, Trentemøller, Cashmere Cat, so I really hope I get to go again.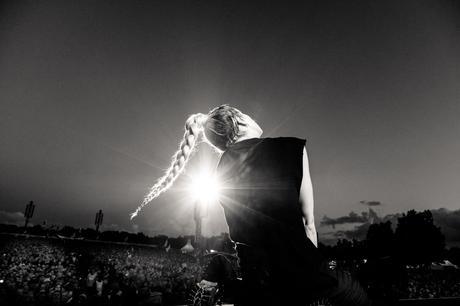 Definitely the most famous of my Roskilde Festival pictures, used by the Roskilde festival themselves among others. MØ in her peak time Saturday night mode.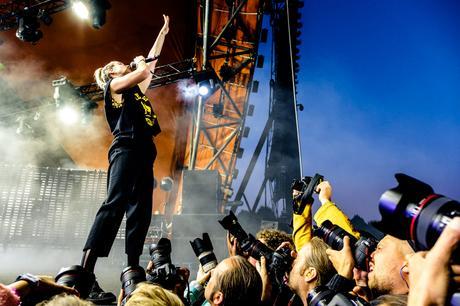 MØ and the many-cameraed monster that is the Orange Stage pit!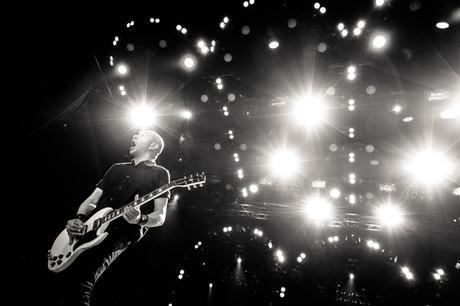 People with guitars! What is going on in my music photography! Well, Danko Jones rocked it and was a ball of energy on stage AND allowed us photographers to stay the whole show!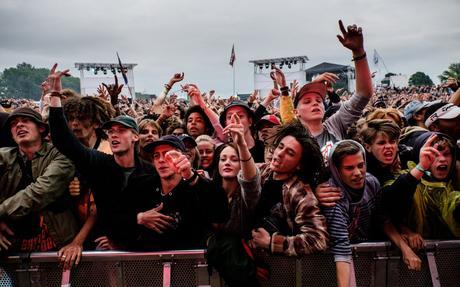 I love this crowd shot because of the experience. I really like hip hop but Young Thug was horrible. I turn around, and clearly the Young Crowd totally disagrees with me!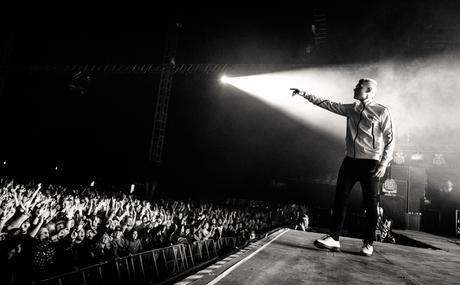 Niels Brandt of Minds of 99 owns the stage!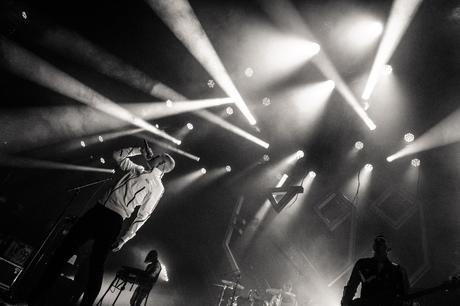 Minds of 99 blew me away, by far the best gig I shot and heard at Roskilde.
More Roskilde Festival shots here and how I shot the festival here – and MØ in Motion and Minds of 99 at Roskilde 
Red Bull Music Academy Stage at Distortion Ø
These gigs are always really intense, mad, chaotic, hard work and interesting. Everything from having beer thrown at you, to ravers throwing up in the backstage entrance to being on stage with some amazing acts. In terms of actual shooting hours, this was definitely the hardest and longest event this year, harder than Roskilde and ending at 4-5am every night. Red Bull hosted the live performance stage this year and there were some brilliant acts to shoot. There is more in day one and day two blog posts.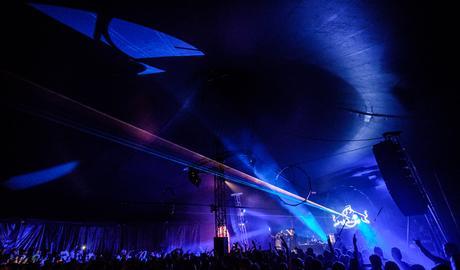 Yung Lean had the yung crowd going completely bonkers and the tent was lit up in almost EDM style.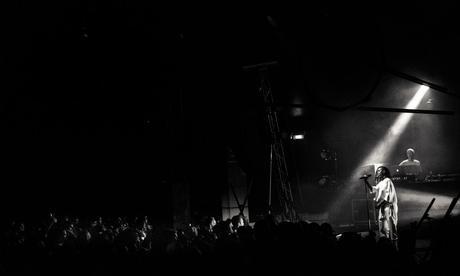 In complete contrast, Kelela delivered her RnB with a great performance, bathed in just a few beautiful spotlights.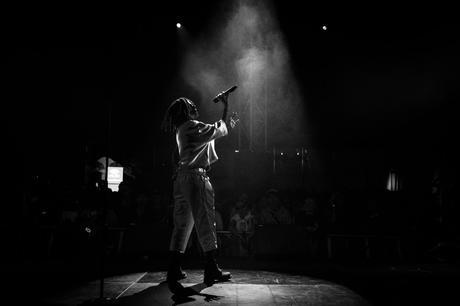 Kelela was on point.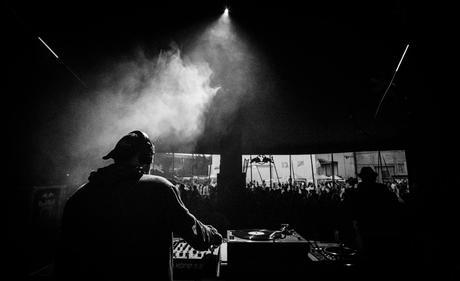 Kasper Marott went on at 4am to close the weekend with a gorgeous vinyl techno set.
Distortion Ø: More pictures in day one and day two blog posts.
Bas Under Buen
Damn I am slow, this was back in July and I have not even blogged about it yet! Bas Under Buen by the Ohoi! crew is always a total riot and so much fun. Read about the 2014 edition here. Release the Kraken! And here are a few pictures from this years attempt at bringing down the highway overpass in Frederiksberg using subwoofers and basssssss music: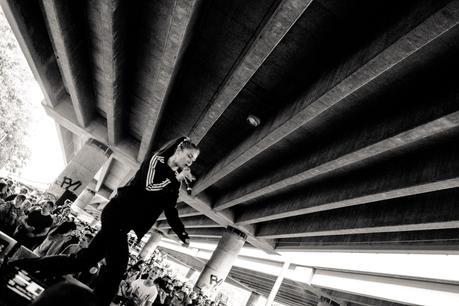 OKAT on stage (which is actually the subwoofers)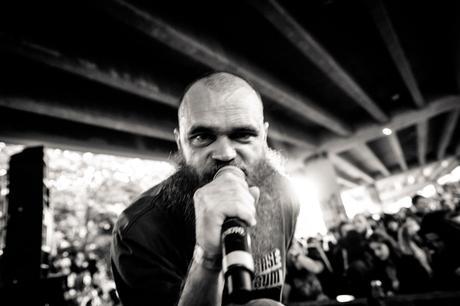 Raske Penge on the mike playing a wicked jungle set.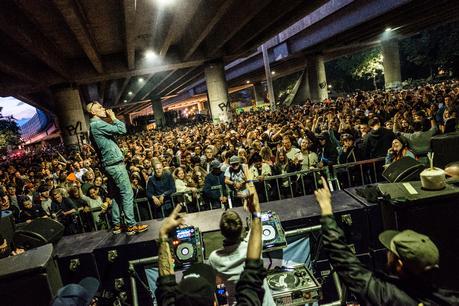 Mayhem at the end when Ohoi! takes over the decks, and the Kraken is released!
Strøm festival
The best gig of 2016 and I have not even blogged about it yet, damn I really am slow! The Strøm festival was amazing as always but I had a totally new role this year: I was the Photo Editor and Manager of the Strøm Photo Team (sounds cool right). I managed a team of pro and volunteer photographers and it was an incredible week. I need to blog much more about this, it was very special. I did not shoot as much myself as I was busy scheduling, managing and coaching my team – but here are a few from an outstanding week in august:

Panorama of the early hours of the opening party at DGI byen feat. Kenneth Bager and his Music For Dreams label.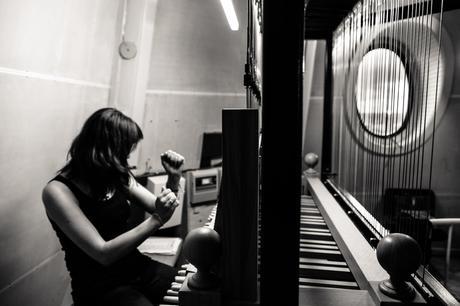 Joanna Stroz playing stuff like Bowie and Trentemøller every morning and evening in the bell tower of Frederiksberg City Hall is possibly one of the most magic things I have ever heard!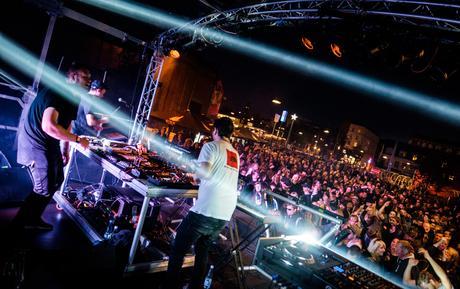 Danish superstar boyband trio AV AV AV kicked ass on home turf at the final party on the red square in Nørrebro.
Minds of 99 at Tivoli
I had the honour and pleasure of following the Minds boys all day at their gig at Tivoli in September. I mean, I was trying to follow them around anyway, I shot this gig with a broken toe (sympathy fishing). It was a wonderful day I will never forget. There is a huge blog post about it here, so I will settle for just posting one shot here: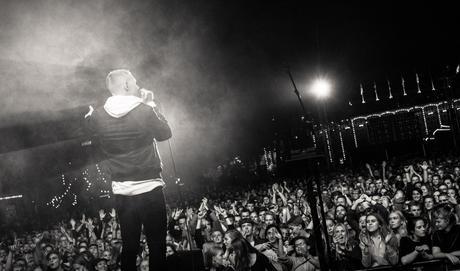 Niels Brandt beams onto stage in a smoke cloud and the crowd goes wild!
Read: A day with Minds of 99
Dubfire in Belgrade
Lord of the Rings feat. Techno god Dubfire. Unreal location. Unreal artist. I want to be Dubfire when I grow up.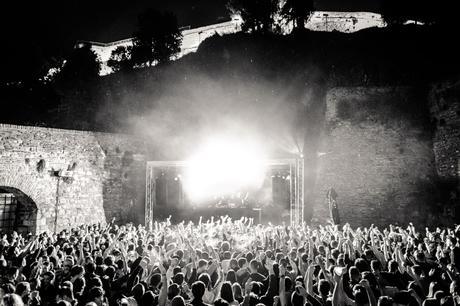 Techno god Dubfire is worshipped by the crowd at Belgrade fortress.
Read more: Dubfire at the Belgrade fortress
Music on heavy rotation this year
Some of this is older stuff, I sometimes discover some music I had never heard much about and then I get obsessed with hearing the entire back catalog. Such as Minds of 99! Also listened a lot to Anderson .Paak, Moderat, Kendrick Lamar, A Tribe Called Quest, Dubfire, Courtesy, Soulection, CLAVVS, Jon Hopkins, Ukendt Kunstner.
THE END
Goodbye 2016 and roll on 2017, I look forward to you, ready to lose myself in the music and make pictures, but please let us lose a few less legends next year. Rave on, dance your cares away, lose yourself in and celebrate the music!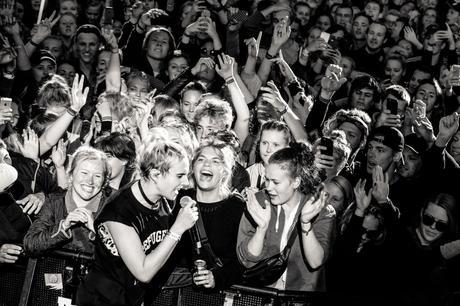 I love seeing the joy of music reflected in fans. These fans had been waiting 12 hours or so to be at the very front, and they got rewarded as MØ came down to them during the show. Awesome moment.
§
Nerdy Camera info 
All images made on Fujifilm X-series cameras, mostly the Fujifilm X-T1 and X-Pro2 using mostly the Fujinon 16mm F1.4 and 35m F1.4 lenses. There are a few Fujinon 16-55mm F2.8 and even a few Samyang 12mm pics in there I think. You can read more about the way I work and what gear I use in my Get In The Loop ebook and at the bottom of this blog post (only change, I have the X-T2 now).
§
P.S. – capturing David Bowie
I never got to make any pictures of Bowie, so this is as close as I am going to come – captured by Charlene at the "Belgrade to Bowie" exhibition of Brian Rašić's Bowie pictures in Belgrade: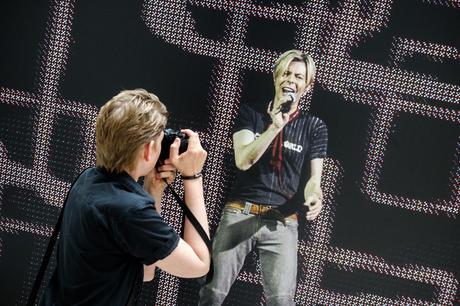 The legend and the Wannabe – by Charlene Winfred. Bowie picture by Brian Rašić