Review: My Favourite Box from Glossy Box France!
Im sure that most people are now familiar with Glossy Box and the whole concept of what it is about but if your not then just to recap, Glossy Box is a monthly subscription service where you pay a monthly fee of around £10/€10 + p&P each month and you will receive your indulgently wrapped Glossy Box filled with carefully selected beauty miniatures. You can try them out in the comfort of your own home and in your own time without any pressure from sales associates. It is available for both men and women and also worldwide!
I have already written a review about the February Glossybox from Glossy Box France, see
here

,
and didnt want to do reviews every month as there is a lot already written about these but I just wanted to mention the February Box that I received as I was so impressed by its contents! The products are all amazing, all new to me and of great size! I had to share this with you!
As expected everything came packaged beautifully in the original  pale pink packaging, if not a special edition box -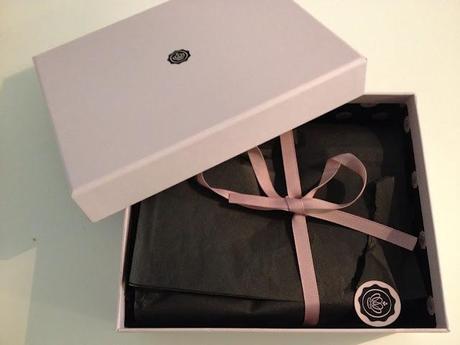 The Contents of the Box!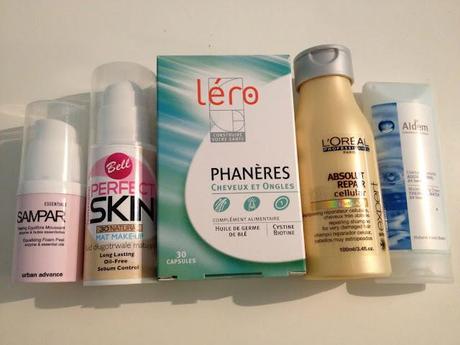 L to R: SAMPAR Equalising Foam Peel 15ml, Perfect Skin Matte Make-Up 30g, Hair & Nail vitamins 30 capsules, Loreal Professional Expert Absolut Repair Shampoo 100ml, Aldem Body Lotion 45ml.
As you can see from above the sizes they are extremely generous and a great mix of product covering all beauty requirements as it covers hair, body, skin, face and general well being! Glossy Box have served me well this month! I was so excited to get started on all of these new beauty items as had not tried any of these before.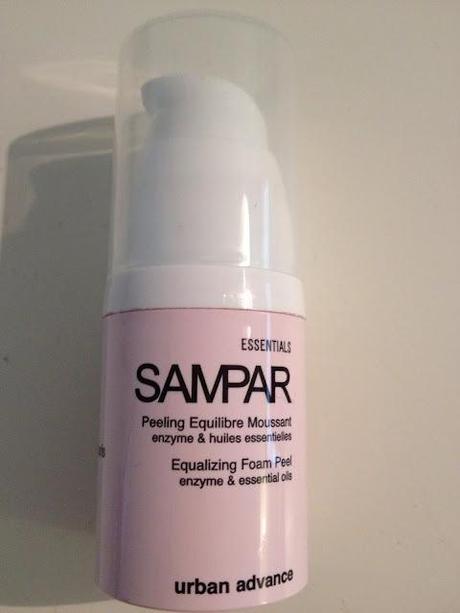 SAMPAR Foam Peel 15ml,
Retails at £46/€55 for 50ml available at Sephora, link here.
This is described as a mask-peel-cleaner, a bit like old favorite Elizabeth Ardens Peel and Reveal, but very gentle and suitable for all skin types. It goes on as a thick liquid then dries so you can peel off the skin to exfoliate, smooth and give radiance to the skin. I have used this twice now and found my skin felt very smooth and helped even out the tone. It did not sting and so easy to use. This size shall keep me going for a while as only to be used twice a week. I would certainly purchase this product full size.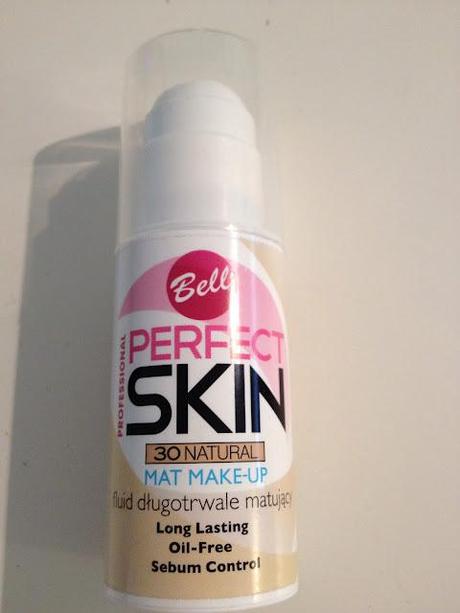 Perfect Skin Mat Make-Up Oil Free, 30g (FULL SIZE IN GBOX)
Retails at €11/£9 30g link here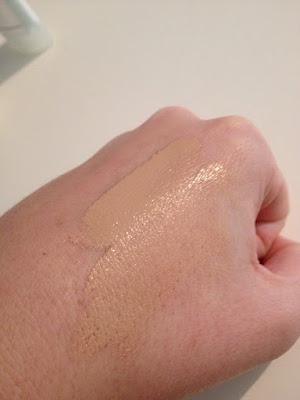 Swatch: No 30 Naturel Bell Professional Perfect Skin
A
new product to me but this is 
described
 as a light texture fluid make-up, that after spreading onto the skin turns into a silky matting powder. Absorbs excess sebum, restores the balance of water and fat, prevents skin shine. Provides matte makeup effects for many hours! Optically smooths the skin, hides discoloration and small imperfections. It does not create "mask effect".  
Contains a UVB filter. Oil - free. 
Available in five colors blend with natural skin tone.
This color matches my skin perfectly so a big thanks to glossybox for that! It is very matte so very good for oily skins or in the summer months. You need to blend it well but once on the skin it looks flawless and smells amazing! Its always good to try new foundations and this is really affordable to buy.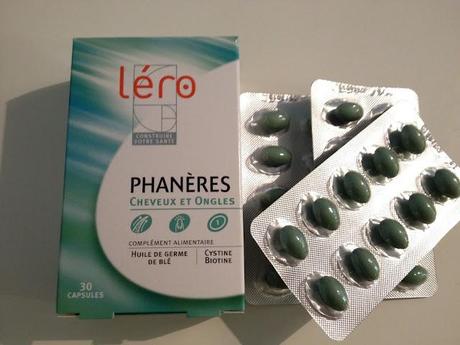 LERO Phaneres/Hair & Nail Supplements 30 capsules,
Retails at €19/£16 (FULL BOX IN GBOX)
€45/£38 for 90 capsules link here
Vitamins can be costly so I was so impressed that I received a full box of these! I love supplements for the body especially beauty ones but I am just hopeless at taking them! So I have ensured I change that and try these ones out! They are supplements for hair that is fine, limp, dull, devitalized (yes - thats me due to constant preening!), soft nails, brittle, ridged or split that post-natal periods.They sound perfect! You have to give vitamins time to get into the body which can take weeks to months so you do not see an immediate result as it is a long term result normally, but I shall keep you posted on how I get on with these and if I see an improvement!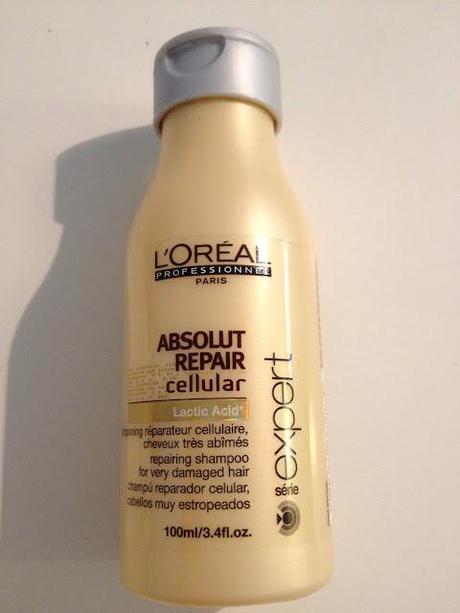 Loreal Professional Absolut Repair Cellular Shampoo 100ml,
Retails at 250ml €10.80/£9.00 link here
L'Oréal Professionnel Serie Expert Absolut Repair Cellular Repairing Shampoo for Very Damaged Hair: the formula with Lactic Acid, cleanses damaged hair and leaves hair feeling stronger, more supple and looking shiny as if transformed. 
Now I am a hair product junkie, so any new hair product trial is a hit with me, as long as it suitable that is! I am a Kerastase fan which is amazing, but lately my hair has been like cotton wool! No weight to it as it is fine and just going mad?!! So a great time to try this product as it repairs dry damaged hair! I have used this twice now and my hair feels transformed. It is sleek, smooth and has some weight to it. It lathers up a lot which I really like and feels like it is doing something good. I definitely recommend this shampoo if you too are in need of something to de-stress you hair.  I shall definitely be repeat purchasing this once this bottle has been used up! I can keep this smaller bottle for traveling also!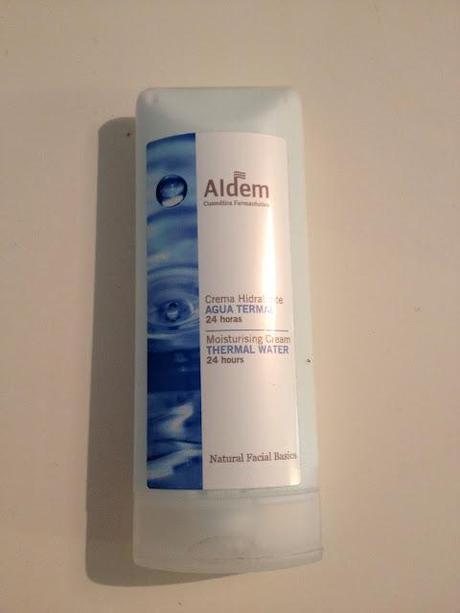 Aldem Moisturising Cream (FULL SIZE IN GBOX)
Retails €5/£4 for 50ml
I was unsure if this was for face or body at first but I think it is for face! A brand I have not heard of and is Spanish so I believe. It states that it should be applied to skin every morning and shall give you 24hrs of hydration and is also free from parabens. It feels lovely on the skin, really cooling, refreshing. light and smells lovely and clean. I shall probably use this in summer when I want a light moisturiser and again great size!
As a bonus to add to this box it also came with a Loreal Professional haircare voucher entitling me to a '2 for 1' hair offer! Now that I have fallen in love with the hair products I may have to take them up on this offer!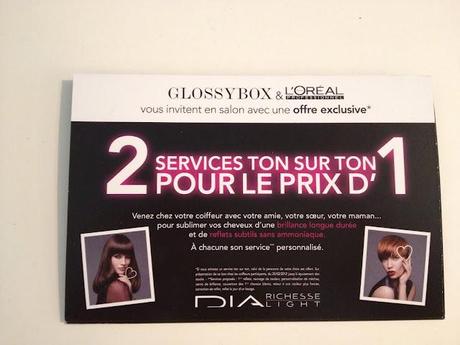 What a great Glossy Box and certainly made me one very happy subscriber! I just had to share 'the Glossy Box love'!
It is always hit and miss with glossybox as there shall be times when the products just aren't for you as there shall be things that don't suit you but then like this months, the box is a perfect mix of skincare, body care and make-up, which excites me and makes me realise why I am a subscriber to glossybox, as you wouldn't get the chance to try this otherwise!
If you havent subscribed to Glossy Box then I highly recommend that you do, especially if you are into beauty products as its such a cost effective way to try new things! You can now purchase gift subscriptions and have the option of a mens Glossy Box too!
If you want to subscribe to GlossyBox France click 

here

If you want to subscribe to GlossyBox UK click here 

here

To find your Global Site click 

here
What has been your favorite Glossy Box?
Did you receive the same one? Share your thoughts!