In a world where kids are increasingly growing up at far too young an age, it's somewhat reassuring to come across something in the world of mobile apps that is strictly for adults only. Because, when it comes to some of the more risqué content available to the wider world online, there really are some things that are strictly off limits for kids.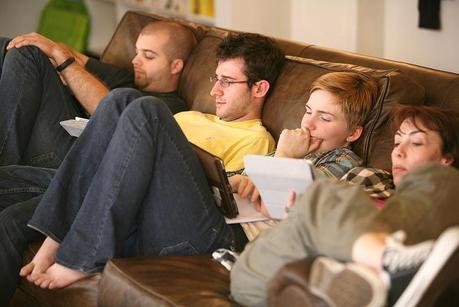 So why not sit back, with an alcoholic drink and maybe even a cigarette or too and enjoy a selection of apps for the grown-ups out there.
FHM App
We all love a bit of eye candy now and then so it's reassuring to know that, despite the best efforts of the censors at Apple, scantily clad women are very much ready and available for mobile users to enjoy.
While the usual mix of Playboy and Maxim led efforts can be found online, we've gone for the FHM edition simply because of the great mix of rude and raunchy articles alongside similarly adult-themed images and videos featuring some of the most famous and finest ladies in the land.
You know, just because these apps are for adults only doesn't mean that the content has to be strictly adult. That's why the iFart app trumps (sorry) all the competition.
Yes, it may essentially be a digital fart machine, but there are few funnier things than stitching up a friend – either male or female – will a well-placed digitised sound replicating that of a man breaking wind. With a variety of fart sound options including 'Jack the Ripper' and 'Burrito Maximo' you'll be amazed at the amount of adult fun you can have with this one.
Viz Profanisaurus Das Krapital
This digital dictionary of some of the rudest and crudest double entendres ever written is exactly the kind of reason adult-only mobile apps are just about the best thing in the world.
With enough material to leave you laughing for days with content covering sex, drugs and bodily functions, this is another one for the immature among us. And with some 12,000 additions to read up on, this will keep you and your mates entertained for months.
Beer Pong
For those not familiar with the game that dates back to the 1950's, Beer Pong involves two teams armed with ping-pong balls, which they must shoot into the other teams glasses. If a ball lands in the opposing team's glass (a 'make'), the opponents must consume the contents of that glass.
Of course, not every bar allows for such raucous behaviour, so Beer Pong for iOS and Android offers a convenient and conspicuous alternative.
Rush Poker
It's no secret that mobile poker is pure excitement for grown-ups only, but the emergence of formats like Full Tilt's Rush Poker game has upped the ante for would-be card sharks.
This version of the game is all about reducing the time between hands, with players placed within a large pool and randomly pitted against a different table of opponents every hand. Frantic, frenetic and more than just a little fun this fully deserves it's best as one of the Top Apps for Over 18s, so watch out for any youngsters trying to get a go.
Image Credit :
Juhan Sonin