Standing outside the footprint of a circular chapel next to the ancient ruins of a drinking hall in Ophir, the Orkney Islands, with friends. We're quoting from the memorable scene in the Orkneyinga Saga where Svein Asleifarson leapt out and killed Svein "Breast-Rope" as drunken vikings staggered back and forth from the Earl's Bu to the chapel one Christmas season some nine centuries ago. The Orkneys used to belong to Norway and had a close connection with Iceland, which, all things considered, is not that far off. While working on my doctorate in ancient Syrian mythology, I experienced a fascination with Icelandic viking sagas and read several of them (in translation, of course). Traveling to the Orkney Islands was about as close to Iceland as we'd hope to get on a student's budget, and the atmosphere of these historic islands does not disappoint. We were standing on the actual site of this historical incident one violent Christmas long ago.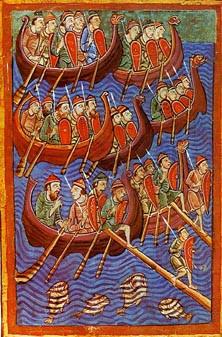 Imagining, however, is not the same as condoning. Nearing a millennium later, Iceland celebrates Christmas with "Jolabokaflod," the Christmas book flood. Armed with books rather than broadswords, the folks of Iceland have built a considerable literary reputation. According to an
NPR story
my wife and traveling partner sent me, Iceland publishes more books per capita than any other country, and giving books at Christmas is a national tradition. Reykjavík is a UNESCO-designated City of Literature. Unlike the United States, a large proportion of the population of Iceland buys books, according to the story, and I can't help but wonder if this isn't related to two other Icelandic phenomena as well. Iceland has very little gun violence and it is one of the most ecofriendly countries on the planet. While it is only a feeling, I believe that widespread reading makes a better society.
I remember the experience of growing up and hearing other kids complaining bitterly about assigned reading. Here in this wild west corner of the world, we're too full of dreams of action to spend quiet hours improving our minds. Guns are easy to acquire and too easy to use against the innocent. We could sure use a Jolabokaflod, it sounds like to me. Towards the end of each year I like to tally up an approximation of how many books I read in the previous twelve months. Although some are definitely better than others, each one is its own gift, a glimpse into someone else's worldview. And such glimpsing aids in understanding. I may not agree with you, but I know where you're coming from. And as we enter that long, cold stretch of January and February I feel ill-prepared if I don't have a stockpile of books to get me through the darkness of this time of year. And one of my fantasies will be a world that can see from the blood-stained ground of Ophir all the way to Reykjavik.