Originally posted on advocare distributor: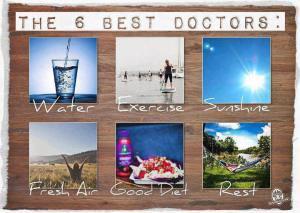 Doctors go to school for almost a decade and must continually study to remain proficient in their profession. They prescribe medications, set and manipulate bones, and conduct surgeries. However, NOTHING in the world will do better than what comes naturally.
Water is the key resource of our bodies and next to mother's milk when you were a baby nothing will do more for you. Be sure to get half you body weight in ounces per day. If you weigh 200 lbs, drink 100 oz of water or 5 20oz bottles, start as soon as you wake up. Get some nice reverse osmosis water is the recommendation.
Exercise is the best way to stay limber and maintain health. Burning the ingested calories is what makes the healthy balance possible, through sweating out toxins and using up the accumulated calories.
Sunshine allows the body to create vitamin D which is essential for…
View original 221 more words