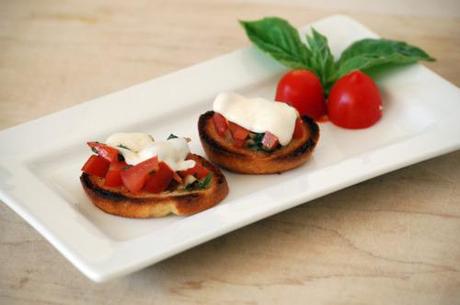 There's nothing like fresh bruschetta. This recipe is so tasty.
Ingredients
1 baguette sliced
1 small ball of soft mozzarella
4 Roma tomatoes seeded and diced
1 large clove of garlic finely chopped
2-3 Tbs fresh basil finely chopped (to taste)
1-2 Tbs fresh oregano (to taste)
2 Tbs olive oil plus extra for the baguette slices
1 tsp honey
1-2 Tbs balsamic vinegar
cracked black pepper to taste
sea salt to taste
Directions
Dice and chop the ingredients for the tomato mixture. Mix garlic, tomatoes, fresh herbs with the olive oil, balsamic, salt and pepper.
Heat broiler on medium heat if adjustable.
Slice the baguette in to 1/4 to 1/2 inch pieces and lightly oil. Toast both sides carefully under the broiler.
Thinly slice the fresh mozzarella. The warmer the cheese gets the more difficult it will be to slice so make sure it is good and chilled.
Top toasted bread slices with the tomato mixture. Place on piece of cheese on top and broil until the cheese is melted.
Enjoy!