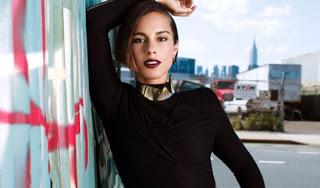 1.  Alicia Keys - Brand New Me
File this stunning, relentlessly classy ode to self-esteem and reinvention under "why isn't this a massive hit?"
2.  Kelly Clarkson - Catch My Breath
Speaking of classy!  This is just a straightforward, clear-cut great pop song, delightfully combining contemplativeness with a burst of confidence.
3.  Sky Ferreira - Everything is Embarrassing
First of all, this possibly the truest song title of all time.
Secondly, I loved how Sky relaunched her career this year with a brilliant EP (Ghost) that smoothed out and reinvigorated her sound.
4.  Lana Del Rey - Ride
That whole Johnny Cash flourish which Lana throws into her vocal on this track really underlines its melancholy, hollow, yet romantic appeal.
5.  Haley Reinhart - Free
There are some quite impressively fresh, sweet, catchy songs on the American Idol alum's debut album.  The tradition of non-winners being the true talents to watch from this show clearly continues on.
6.  Aubrey O'Day - Wrecking Ball
I've been a big fan of Aubrey's since the Danity Kane days, and even I didn't expect her to reemerge onto the pop scene with such a downright classy, put-together, well-performed track.  While the video is a bit cheesy, Aubrey has clearly jumped the musical gates from the trashy early solo rumblings of "Automatic" et al. It will be interesting to see what direction her new material will take from here.
7.  Alicia Keys - Girl on Fire ft. Nicki Minaj
It's fairly obvious that this song is amazing, an epic anthem marking Alicia's mission statement with her new album.  And the Nicki Minaj rap here is brilliant.  Essentially, I love Nicki Minaj's Marilyn Monroe obsession, and it is aptly and hauntingly applied here.
8.  Kat Graham - Wanna Say
It was delightful enough when Bonnie from The Vampire Diaries was releasing cheesy pop covers and trashy dance songs.  But now she's actually pulled the whole thing together and released a downright good E.P., Against the Wall.  Now she's undeniably an impressively accomplished multi-tasker.
9.  Christina Aguilera - Your Body
A sassy, no-holds-barred diva moment with an epic vocal, this single absolutely did not get the attention it deserved on the charts.  In 2001, "Your Body" would have been a massive hit song, and I mean that as a compliment.
10.  Mariah Carey - Triumphant (Pulse remix)
Sadly, the main single version of this song is a mess of overproduction and random guest rappers.  But then this Pulse remix quietly sashayed onto the scene, stripping "Triumphant" down to its core as a pretty, empowering, delightful MC moment.  Would that this had been released as the definitive single rendition!
11.  Lana Del Rey - National Anthem
Listless, searching, yet blisteringly emotional - Lana Del Rey's standard M.O.

12.  Nicki Minaj - Va Va Voom
Good Lord, the second half of Nicki's Roman Reloaded, where it inexplicably turns into a dance-pop record, is excellent.  Granted, there are better songs that should have also been singles, such as "Beautiful Sinner," "Marilyn Monroe," or "Young Forever."  But "Va Va Voom" is sufficiently awesome.
13.  Ke$ha - Die Young and C'monFrankly, I'm a bit disillusioned that the rest of Ke$ha's album so drastically pales in comparison to these two songs, but then again - these two songs are blissfully perfect cheesy-trashy-Ke$ha Classiks.
14.  
Kat Graham - Put Your Graffiti on Me (Moto Blanco Remix)
This is just flat-out terrific Trash on Toast dance music.