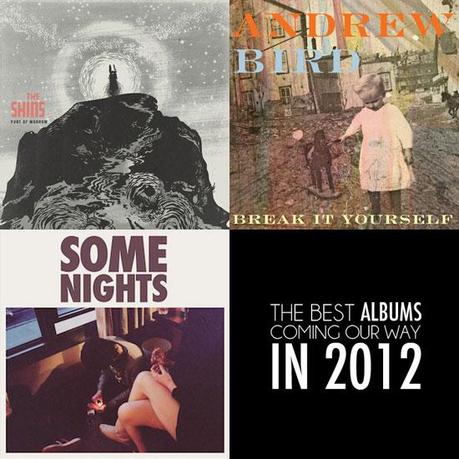 Looking over the list of albums slated for release in the new few months, it's hard not to get overly giddy — 2012 is going to be a great year for music.
Several bands that made names for themselves with wildly inventive and successful debuts are putting forth their sophomore efforts this year. The all-important follow-up album can be tricky, though, especially when an artist has made such a unique statement with their debut — I'm definitely eager to hear how these musicians have adapted their sound. Cloud Nothings' (@cloudnothings) recent release of Attack On Memory shows Dylan Baldi branching out with a harder, less poppy sound, and the first single from fun.'s (@ournameisfun) Some Nights has a decidedly hip hop presence that wasn't as prominent on their last album.
Other bands will likely stick to their original, well-received formula. Sleigh Bells' (@sleighbells) "Born To Lose" off Reign of Terror utilizes the same loud and overdriven guitars beneath Alexis Krauss's sweetly sung vocals. Other hotly anticipated sophomore albums include The xx's attempt to recapture the magic of their Mercury award winning xx, The Big Pink's (@thebigpinkin) new album, and Tennis' (@tennisinc) super quick follow-up to 2011's Cape Dory.
A few first-timers will release albums this year, but they're by no means unknown. The internet debates surrounding the spectacle of Lana Del Rey (@lanadelrey), along with a pretty horrific recent performance on Saturday Night Live, will ensure that everyone will listen to Born To Die, even if it's just out of curiosity. Also releasing full-lengths after strings of successful EPs and singles are bands like Oberhofer (@oberhofermusic) and Porcelain Raft (@porcelainraft), looking to prove their staying power after the initial buzz they've stirred up. Also releasing a debut full-length this year is the stunning lady who released our favorite EP of 2011, Alex Winston (iamalexwinston).
Indie heavyweights reentering the spotlight after keeping quiet for a time include Grizzly Bear (@grizzlybear), of Montreal (@xxofmontrealxx), Dirty Projectors (@dirtyprojectors), and The Walkmen (@thewalkmen). Also, both No Doubt (@nodoubt) and Garbage (@garbage) have been dropping hints about long-awaited new albums in 2012 for quite a while now.
Excited? We are too. Be sure to keep The Wild Honey Pie on your RSS feeders and we'll bring you the scoop on all 2012 new music radness.

16: The Big Pink – Future This (4AD)
24: First Aid Kit – The Lion's Roar (Rabid Records)
24: Chairlift – Something (Columbia)
24: Cloud Nothings – Attack On Memory (Carpark)
24: Lost Lander – DRRT
24: Porcelain Raft – Strange Weekend (Secretly Canadian)
30: Lana Del Rey – Born To Die (Interscope)

7: Sharon Van Etten – Tramp (Jagjaguwar)
7: of Montreal – Paralytic Stalks (Polyvinyl)
14: You Won't – Skeptic Goodbye (Old Flame)
14: Field Music – Plumb (Memphis Industries)
14: Sleigh Bells – Reign Of Terror (Mom + Pop)
14: Islands – A Sleep & A Forgetting (Anti-)
14: Tennis – Young And Old (Fat Possum)
21: Jonquil – Point of Go (Dovecote)
21: fun. – Some Nights (Fueled By Ramen)
21: Princeton – Rememberance of Things To Come (Hit City/Easter Everywhere)
27: Fanfarlo – Rooms Filled with Light (Atlantic)
28: School of Seven Bells – Ghostory (Vagrant)
28: Alex Winston – King Con (V2/ Cooperative Music)

6: Andrew Bird – Break It Yourself (Mom + Pop)
6: Dinowalrus – Best Behavior (Old Flame)
13: Delta Spirit – Delta Spirit
15: Bowerbirds – The Clearing (Dead Oceans)
20: The Shins – Port of Morrow (Aural Apothecary/Coulmbia)

7: Royal Baths – Better Luck Next Life (Kanine)
10: Eternal Summers – The Darn of Eternal Summers (Kanine)
10: Zambri – Hose of Baasa (Kanine)
TBA: Bear in Heaven – I Love You, It's Cool (Dead Oceans)

Here We Go Magic (Secretly Canadian)
Mumford & Sons (Island)
The xx (XL Recordings)
Sigúr Ros
The Love Language (Gigantic Records)
Animal Collective (Domino)
Yeasayer (Secretly Canadian)
Santigold
Cat Power (Matador)
The Walkmen (Fat Possum)
Japandroids (Polyvinyl)
Purity Ring
Dirty Projectors (Domino)
Grizzly Bear (Warp)
Oberhofer (Glassnote)