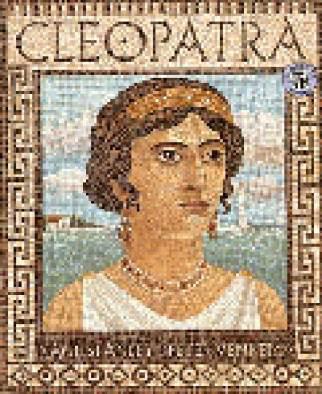 Image from http://www.livingbookscurriculum.com
What made Queen Cleopatra of Egypt the most beautiful woman in the entire world? The idea that Cleopatra was so amazingly beautiful is quite controversial in today's time. Many historians, and other scholars have written many articles trying to prove that Queen Cleopatra really wasn't beautiful at all. However, one must remember that the beauty of the Queen was being judged by the standards of more the 2,050 years ago. Beautiful or not, Queen Cleopatra knew how to use the tools and beauty products of her time, to her advantage, to capture the hearts of two very powerful men of Egypt.
With this being said, Stacy Schiff, of Wmagazine.com, described Cleopatra as a woman with a great sense of fashion for her time. She dressed in tight, form-fitting, lavishly colored robes, along with beautifully woven sandals, and completed her outfits with extravagant pearls. She wore lead based, thick, black eye makeup that made her eyes very noticeable. Additionally, Schiff depicted the Queen as a small woman with, "prominent cheekbones and a hooked nose." She also had long curly hair and a lean face, according to Schiff. All of these features were viewed as features of beauty during this Egyptian time period.
Cleopatra was also a self-assured woman who knew how to show control and dominance. Her personality helped her to be captivating especially to the two most powerful men of her time. The Men in her life were not used to a woman who spoke her mind, and this was one of the things that made her so attractive to the men.
Therefore, saying Queen Cleopatra was "beautiful," probably had a different meaning than what beautiful is viewed as today. A beautiful woman during the Egyptian time period was a woman who clothed herself in the finest of cloths, used products, such as honey and milk, to soften her skin, spoke intelligently and eloquently, and could capture the attention of young men. All of these things Cleopatra did very well, which is why she was labeled as the most beautiful woman in the world.