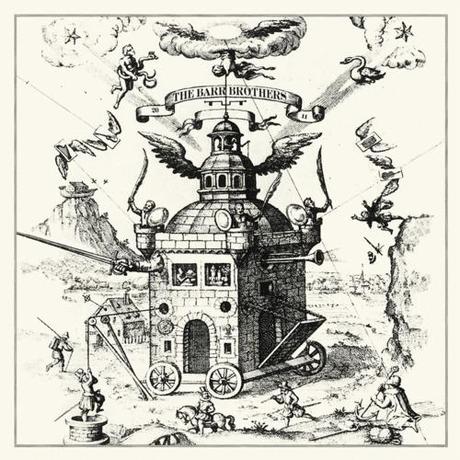 Beggar in the Morning – The Barr Brothers
Though The Barr Brother's (@thebarrbrothers) self-titled release may, like the rest of its folk brethren, be rooted in the pairing of acoustic guitar and strong melodies, its unique instrumental accents set it apart from the stale production used by most artists in the genre. Adding not only a classical harp and electric guitar to the mix, the band also crafted their own brand of homemade musical gems — the Waterphone, a bowed metallic instrument that mimics the sound of marine life, the Fretless Peanut Bowl Banjo made by a carpenter friend of theirs, and the Electric Tool Box Guitar are all featured throughout the new album.
After adding Sarah Page on harp and multi-instrumentalist Andres Vial on keys, bass, and percussion, the group was able to reach a new level of musical depth built around Brad Barr's songwriting. The first track, "Beggar in the Morning", embodies this achievement. Growing slowly with the graceful ebb and flow of the Waterphone, keys, and electric swells, the track maintains it's simple beauty throughout with acoustic sounds and incredible lyrics — "I take my medicine on my knees, twice a day, but lately three, it keeps the devil from my door, it makes me rich and it makes me poor." Where the melodies and soul of the song make it memorable, the whole package of sounds makes it one of the best I've heard this year.
While the majority of the album's tracks are slow and acoustic-driven, others, such as the booming "Give the Devil Your Heart" and electric-infused "Deacon's Son" add much needed variety to the overall tone. In fact, the gritty, blues-influenced "Lord, I Just Can't Keep from Crying", in addition to being one of my favorite tracks, is a pretty incredible transformation from the gentle acoustic picking and swooning harmonies of the prior song, "The Devil's Harp". With this effort, the band embodies an organic, raw guitar tone that would make an aspiring blues musician green with envy.
The relaxed tempo and gorgeous harmonies of songs like "Cloud (for Lhasa)" and "Let There Be Horses", though, still comprise the real flesh and bones of the album. The vocal delivery has a certain authenticity that reveals itself with each new song, and nothing displays that better than stripped-down instrumentation. The track "Let There Be Horses", for instance, with an almost organ-like sound, has a spiritual, gospel feel. As the last song on the album, it leaves the listener feeling energized and uplifted, certainly not a bad conclusion to a fantastic debut.
Without a doubt, The Barr Brothers self-titled album has cemented itself as one of the most diverse and well written this year. Be sure to take the time to really dig into each track — you'll find something different and astounding each time you listen.