The evolution of The Band Perry continues with the release of their new five-track EP, COORDINATES.
The sibling trio has once again moved forward with their music, trying new things, exploring new opportunities, and taking chances in an effort to satisfy themselves as artists. It's something that we admire in musicians, and have talked about before when it comes to The Band Perry.
It's also risky, as we've talked about when it comes to The Band Perry.
Related: Creative Evolution, The Band Perry Makes The Move To Pop
The CMA, ACM, CMT, and Grammy award-winning band cut their teeth in country. Releasing hits like If I Die Young, Better Dig Two, and their outstanding cover of Glen Campbell's Gentle On My Mind, they earned praise from critics and fans alike. But, times change and so do tastes and goals. And when Kimberly, Reid, and Neil shifted to a pop sound and format, folks had to decide whether they were going to support them, walk away, or in some cases, throw a lot of shade.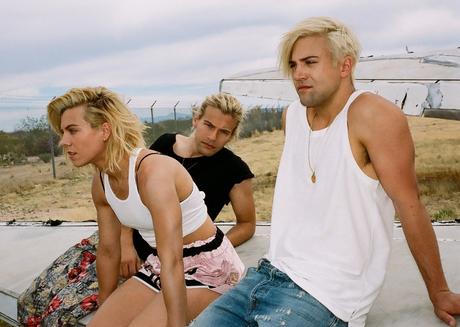 On COORDINATES, The Band Perry continues to move away from country music with an electro-pop offering, executive-produced by legend, Rick Rubin.
To say that this isn't country is an understatement (but plenty of people are going to point it out online partly because publications like Rolling Stone still refer to them as "Country trio The Band Perry"), it's even a step removed from Comeback Kid and Stay In The Dark. What it is though is a fun listen.
Related: My Bad Imagination Toronto Pop-Up Show
Listeners who allow themselves to press play and give these five songs a chance to be enjoyed for what they are, won't be disappointed. This is an EP that features Kimberly Perry's voice in all of the ways we've loved it before. It's an album that still features well-written lyrics that don't get washed away by the production.
At the top of the EP, SEVEN SECONDS has a heavy beat and an electro-pop sound. It's a track that's had us bouncing in our chairs and playing on repeat. In the middle, DEAR DEPARTED could probably sound like a country song if you stripped it all down and played it with an acoustic guitar. And at the end of the EP, MARFA PRADA is a full-blown electronic bash with thick beats, lyrics that build from whispers to exclamations, and slick production.
This slideshow requires JavaScript.
The Band Perry put a target on their own backs when they moved from country to pop. The saving country music crowd will have their sights set on them (and Taylor Swift and other crossover artists like Sam Hunt and FGL) no matter how much time passes. But we don't care. And it seems like they don't ever.
They shouldn't.
They can't.
The Band Perry, like all artists in all genres, need to be able to follow their passions. And if this album is electronic and the next album is bubble gum pop, and the one after that is a return to their country roots, so be it.
Today we're jamming to the five songs that The Band Perry put together for COORDINATES, and that's all that matters.
The Band Perry, COORDINATES Tracklist