The Baltimore Orioles Huge Screw-Up
The topsy-turvy world that is Baltimore right now.
It's bad enough the police force there has a bad reputation for roughing up and/or killing anyone, let alone one certain group of people, in this case, blacks. Heaven knows that's bad enough.
Then, one more time, a black man is taken into custody and ends up dead. It doesn't look good. It looks beyond bad.
So the man does die and lots of other black Americans are outraged and protest, not surprisingly. Riots break out, stores are burned, looting takes place.  It's not good. It's beyond not good.
Reacting to that, the city's baseball team cancels 2 baseball games but finally figures they need to go ahead and play a game.
But instead of going ahead and playing the game and calling it out publicly so they could pull the city together, they go forward with the game WITHOUT FANS. They shut out the fans, shut out the public: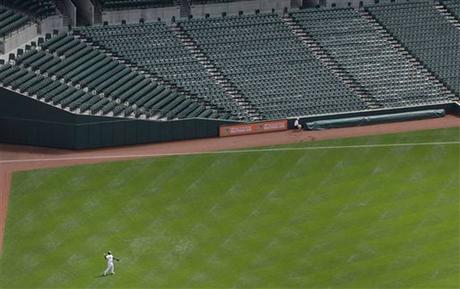 Read more here: http://www.kansascity.com/sports/mlb/article19876623.html#storylink=cpy
No cheers for Baltimore Orioles during win
And it's not like other organizations in the city didn't try to pull the people together. The libraries got it:
Baltimore libraries stay open to provide community support
And the symphony orchestra, for crying out loud, got it:
The Baltimore Orioles and Major League Baseball could have seized this moment, thrown open the doors to their game and given everyone memories for years to come but a great afternoon they need and needed now. Instead, they lock everyone, all the fans out and play to an open stadium, instead. What a huge, important, possibly transformative situation. Lost.
Bloody brilliant.