There are a lot of plays in baseball when catching the ball is just not going to happen.  On a steal attempt, the catcher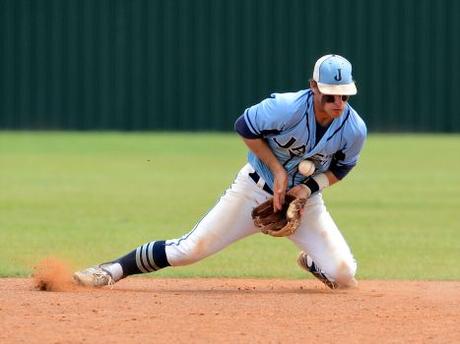 You may not catch it and you may not get the out … but you never let it get past you.
makes a bad throw and short hops the shortstop or second baseman.  A rocket is hit down to the third baseman.  A line drive is hit just in front of the outfielder.  An infielder throws an in-between hop to the first baseman from across the infield.  On these types of plays, too many young players try to make the web-gem of a play instead of cutting their loses and keeping the ball in front of them.
How many plays have you seen where the ball just keeps being thrown around the field with one overthrow after another?  I've seen way too many.
As they get older, players need to distinguish between two types of plays – a play they can actually make to get the out and a play where they are better off forgetting about the out and just making sure the ball does not get past them.  This is not easy since every player is taught to go for the ball and try to catch it.  
For the most part, a coach will never care if a player doesn't get the out on a bad throw or a very hard hit ball.  He will get upset if a player allows the ball to get past him.
If you are a player, start every game with the mindset that nothing will get past you on defense.  If it does, take it personally, don't make excuses or blame someone else, and strive to not let it happen again.