New Look has long been one of my favorite stores to shop with. Being plus size means that I rely on retailers expanding their 'standard sizes' to suit us curvier women and New Look 'Inspire' is definitely one of my most favorite places to buy from thanks to their current trends, size availability and reasonable pricing.
Each season, I am lucky enough to get sneak previews of what will be coming into fashion before they become mainstream and from day one I had my eye on this stunning sleeveless waterfall duster from the Inspire collection.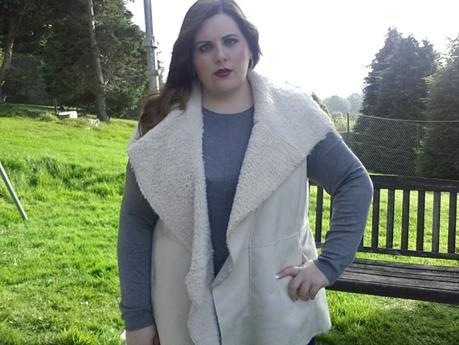 I love that it is a beige camel color and is fully lined to make you feel warm and comfortable. The only downside is the shedding of hair! Ahh! I looked like I had been rolling around in a dogs bed but this was easily resolved with some sellotape, a fabric brush and some hairspray. Yes, really.
I teamed this with jeggings (because I loathe jeans, they just don't like me.) and ankle boots.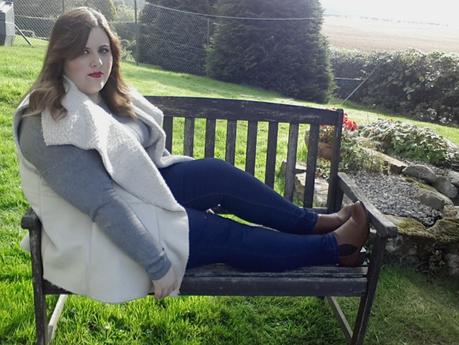 The jeggings are a deep blue and are just the right mixture of denim and elastane. I love that these keep their shape really well without feeling like you're going to cut the circulation to your legs off.
Tip: Wash the jeggings before wearing them! I thought I was morphing into a smurf. Sadly, I'm just a human with blue dye errrrywhurrr.
Finally, the boots. New Look have got some incredible boots in and as they offer wide fittings, I always head there when I'm shopping for winter.  I actually don't have very wide feet (legs like tree trunks though, just sayin') but during winter time, I want to be able to wear fluffy socks with my boots for two reasons - 1 - to keep my feet warm,  and 2 - so my feet don't sweat and make my boots smell. Cheesy feet are not cute.
So there's my outfit! I loooove wearing this kinda outfit. Layering FTW!
Do you shop in New Look?
x