I'm the type of person for whom organization does not come easily. Neither does decorating or the coordination and display of pretty things. However, I've been longing for a little bit of both in my life lately.
I've longed for this for a few reasons. The first is that, in my secondhand shopping adventures, I've begun to acquire a lot more jewelry than I had before. Because I don't have a proper place to store or display, it's mostly just strewn around the house.
Where are my silver earrings? Probably on the sofa table downstairs …
I also am intent on breaking my habit of applying makeup while responding to emails. If you haven't heard, multi-tasking is so 2009, and it makes the process of both email and makeup application take much longer than necessary.
What I need is a vanity; a special place for me to display my treasures, apply makeup and style my hair. Lucky for me, I had a white table that wasn't being used. Also lucky for me, I had a box full of small glass containers left over from my DIY wedding (check out Part 1 and Part 2).
So I got to work on transforming a forgotten corner of my office into a beautiful getting-ready-station.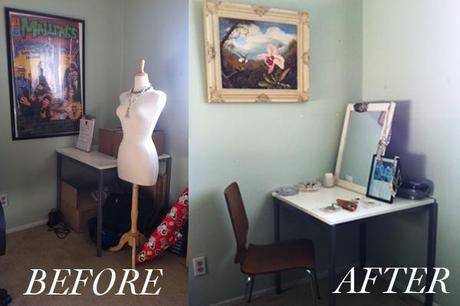 The Mallrats poster had to go (sorry, Kevin Smith), so I hung a gorgeous painting I picked up at Goodwill.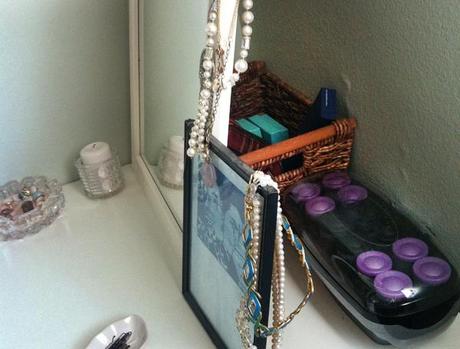 Because I had some not-as-pretty things to store – a makeup bag and a set of hot rollers – I propped the mirror up against a basket and stored them behind that. I used a few invisible, reusable glue dots to secure the mirror to the table.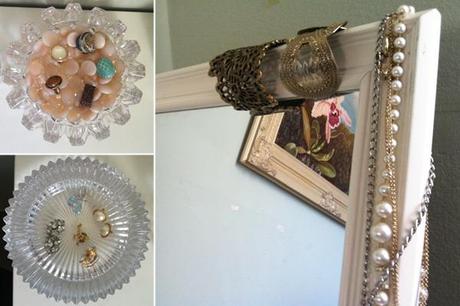 I used my two FAVORITE finds from my wedding prop stash – cut glass ashtrays – and used them to display earrings and rings. I have 2 cuff bracelets which fit nicely on the top of the mirror frame, and hung my necklaces on the side.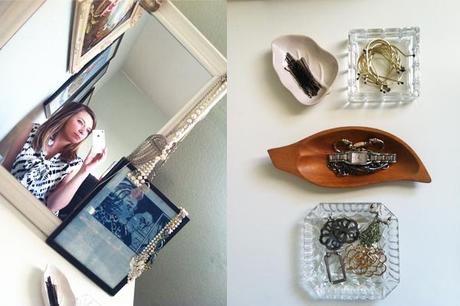 For larger earrings, I used a flat ashtray. I also had both wood and ceramic dishes in the shape of a leaf to use on the project. I like the rhythm of it.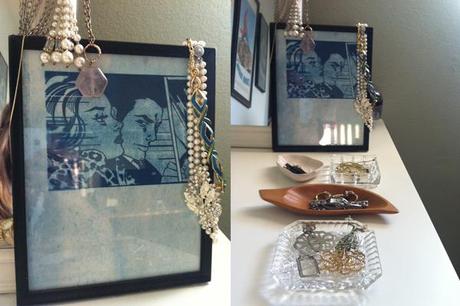 My favorite piece of my new vanity is getting the opportunity to display my "sun print" I made with some girlfriends. On it, I hung the pearl necklace I wore at my wedding and a vintage enamel necklace from the 80s.