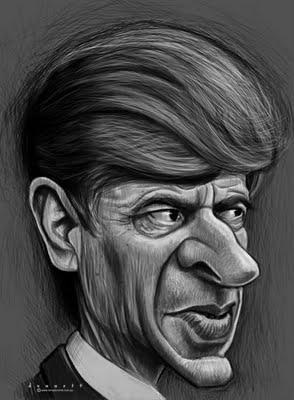 Arsenal have had a bit of tumultuous month.
Not only do they lose arguably their best player and captain, not only do they lose his once-supposed successor, not only does that once-supposed successor go on to assist directly in two of his new squad's goals in the same week of his transfer, not only were they embarrassed eight ways to Sunday at one of their biggest rivals' house, not only do club officials feel compelled to offer free tickets to any supporter who made the trip to Old Trafford to witness their worst loss in 115 years, not only is Arsene Wenger at the helm of a club with zero, zero depth..
But now the legendary Frenchman, six years removed from his last major trophy, defiant and frugal in the transfer market as ever, is in a struggle to retain favor with his fans, his board, and his immune system.
Arsenal have recently acknowledged that Wenger's job is safe for the time being, despite rumors of his diminishing health.
In my humble estimation, Arsene, you've got about two days to re-introduce your genius to Arsenal decision makers.  And here's how you can do it - in three easy steps:
1. Over-spend on a household name.
Go against your gut and purchase a name that everyone knows.  Not a Carl Jenkinson, not an Alex Oxlade-Chamberlain, but a name that will make headlines, a name that will quell the negative press you've received throughout the last several weeks - preferably a stud midfielder to replace Nasri and Fab, but I'm not picky.
2. Spend the rest of your war chest on depth players, typical Arsene-diamonds-in-the-rough.
We all know you've got the cash.  Splash it.  And we all know you're a genius football-businessman and talent developer.  Truly, who ever heard of Nasri or Fab before you snatched them up?  But the pool is running dry, my friend, and it doesn't look like the next crop is on the same level as what you've recently given up.  When your one competent central midfielder goes down with an injury and his replacements let similarly-aged opponents do, literally, whatever they hell they want en route to putting up an eight spot, that's a sign that your squad's not exactly season-ready.
3. Win more.
What it comes down to, in summary, is the transfer window.  If he makes the requisite purchases and manages to earn a few points before January, he'll be safe to ride out the season.  But if he doesn't make his acquisitions, he's done.  This squad, as assembled, is a mid-table team, and that's not good enough for Arsenal.  Finishing out of fourth in the EPL is a serious detriment to a club's buying power, and you're already looking at a club who doesn't appreciate or utilize the buying power the Champion's League affords.
No one wants another Manchester City.  We don't need another billionaire throwing money around like tic tacs, but added parity in the league is a good thing, and now that we have it I would hate for it to diminish with the sacking of a stubborn, stingy football genius.
So, Arsene, from a Manchester United supporter: spend.