My mom has a habit of collecting newspaper clippings about awful tragedies and worrisome things that her children need to know about, putting them in envelopes, and mailing them off to us. 
Over the years I have gotten clippings that pretty much tell me I am going to DIE at any moment because the world is full of dangers. And clippings about bed bugs. My mom may have a specific fear of bed bugs. (One time, in fact, one of her bed bug clippings randomly wound up in a box of clothing that we were trying to sell at a tag sale in our yard. Most unfortunate! Nothing sold, and we could not understand why.)
Anyway, when it came to April Fool's Day I realized that the best person to prank was my own mother. (There will be more blog entries about the pranks I have pulled on my mother, because this is rich fodder indeed.) I decided to prank her with an email, even though she doesn't read email (my dad does, and he prints them out and hands them to her). So I thought, how about a [blank] of-the-month club? What would really give my mother a good laugh, once she figured out the prank? Ideas included:
Bag of Organic Matter and Compost of-the-Month Club
Something Dug Up at an Archaeological Site of-the-Month Club
Things That End in "Ork" of-the-Month Club (January: A Spork! February: Pork!)
Exotic Meat Nugget 

of-the-Month Club


But my brilliant sister came up with the perfect scheme. Bad News of-the-Month Club! (aka 

Clippings-of-the-Month Club, for more sneakiness). 

NEWS FLASH: I just got an email signed from my mother stating that she "does not wish to receive this service. Please remove me from your list." Maybe the 
Bag of Organic Matter of-the-Month Club would have been more favorably received?
Here it is:


Dear ______,
All sorts of need-to-know news is generated every single day, and some of it can be quite alarming: Articles about foreign bug infestations, infectious diseases, political plots, malfunctioning children's toys, cars that suddenly accelerate without warning, and so much more. But it's impossible to keep up with all the absolutely crucial stories that YOU really can't miss.
That's why we created Clippings-of-the-Month Club! Our dedicated team of editors works tirelessly each month to comb media sources, local and worldwide, to bring you the stories that you need. We inform. We educate. We help keep you safe and alert to what's going on in YOUR world.
And thanks to a special gift from Anonymous, you've been signed up for a full year of Clippings-of-the-Month Club absolutely free!
Each month, you'll receive a fresh bag of newspaper clippings delivered right to your door. You'll find stories that amaze, educate, and startle you. We guarantee that you'll want to share these headlines with everyone you know, especially your loved ones. It's truly "can't-miss" news. Here are just a few examples of the kind of news you're going to get every single month: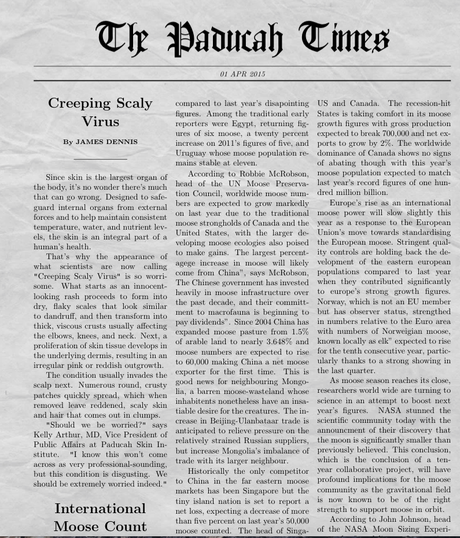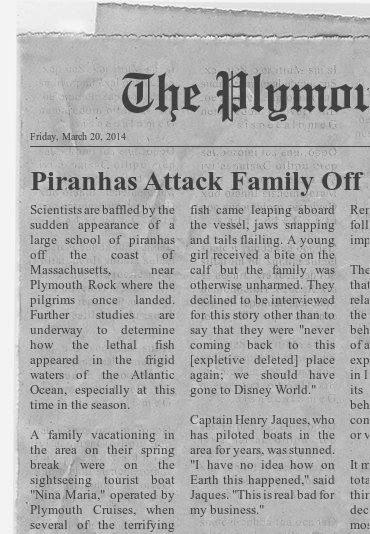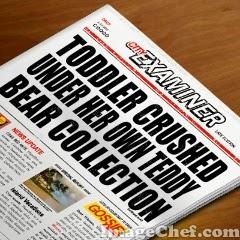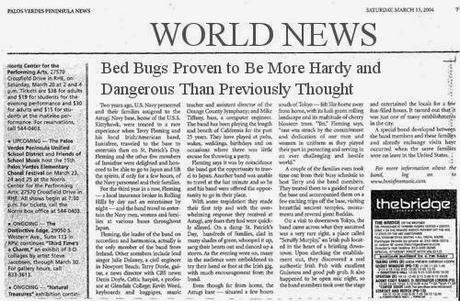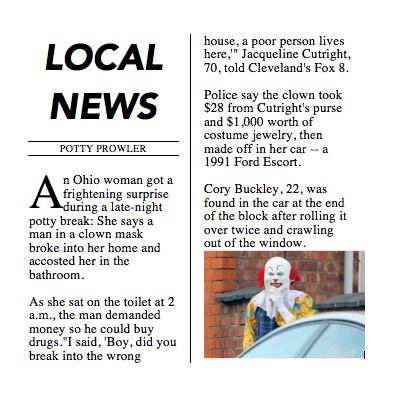 Please tell a friend about Clippings-of-the-Month Club. We hope you enjoy your year of astounding, amazing, and hair-raising news stories.
Best,Juniper CraneClippings-of-the-Month Club Co-Founder