Today's post is by, Louise Baker
In many cases, the use of cubicles exerts a non-productive atmosphere of control and regiment upon office workers. Worker retention and satisfaction sometimes comes down to being part of an inspiring and unique workplace environment. Here are a few businesses that are really changing the work environment for the better. If only all employers could do the same!
The Body Shop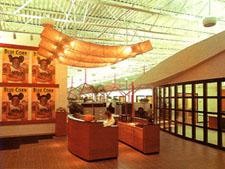 The Body Shop's American office has banished semi-private cubicles with three foot tall (approximately half of the normal height) partition walls. Office workers can gaze out over a landscape of people, rather than neutrally-toned paneling. Its filing areas and copy rooms feature natural lighting.
No more boring beige walls; the rooms here are a calming nature-emulating green. Human resources chose a fashion shade, because, after all, it is the Body Shop's calling to make the world beautiful.
Chiat/Day
Highly touted as the next big thing in office design, Chiat/Day's office embodies Jay Chiat's vision of expanding socializing opportunities. The office has neither private offices nor cubicles.
Chiat called his idea hot desking. Employees were empowered to be nomadic, never working in the same area twice. They carried cordless phones and laptops to their chosen spot. They were not allowed to cubicle up even if they wanted to. Chiat called this having private space that was not personal.
Cisco Systems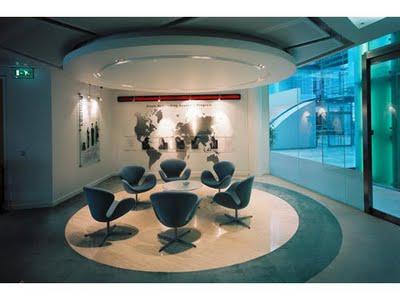 Cisco set up a different type of open plan design. Top management wanted to avoid assigning fully equipped offices to absent workers, and to facilitate teamwork.
Employee chairs look like big, comfortable armchairs that one would pull up to a roaring fire. To provide stability, portable computers are supported by a beanbag-like apparatus that also provides ergonomic leg support.
Williams Studio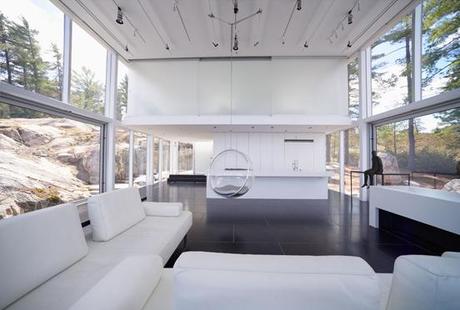 This photographer has created a glass box with ultramodern furnishings that overlooks rugged Canadian vistas. Its themes are sustainable materials, unique siting and generous amenities.
The studio is full of open spaces and tranquil meeting places. A unity of décor and building materials creates a harmonious work environment that brings Frank Lloyd Wright to mind.
Advantages of Breaking the Cubicle Mold
A few themes are repeated when managers cite the reasons for banishing the cubicle. They feel that it will foster several workplace ideals.
Creativity and Cooperation
It is believed that if employees can easily access each other, they will more readily come up with world-changing ideas. Teambuilding will be expedited by setting up casual surroundings.
Reduce Isolation
An isolated worker is often a bored and disenfranchised worker. Lowering cubicle height or eliminating them altogether minimizes the playing of solitaire games and text messaging.
What do YOU think about cubicles?