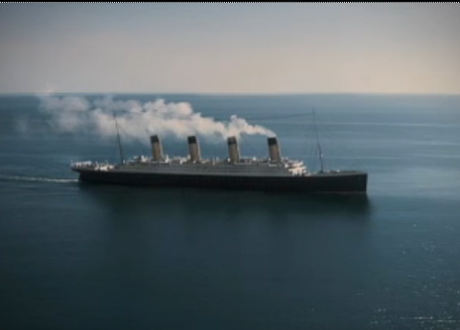 ITV's Titanic.
The 100th anniversary of the sinking of the Titanic, which left 1,500 dead, has seen a flurry of interest in the doomed ocean liner. From a recreation of the ship's route to a memorial garden in Belfast, Titanic tributes have dominated the headlines.
Is Titanic real? It seems honesty isn't always the best policy: the revelation by several Twitter users that they didn't realize Titanic was based on a real event caused controversy in some quarters. But CNET's Chris Matyszczyk leapt to their defence: "Surely our socially engrossed youth cannot be expected to know everything that happened a hundred years ago when we can't be bothered to spend too much cash on education, being far too busy making contemporary history of an especially difficult kind."
For anyone who has missed James Cameron's Titanic – where have you been? – see below for an abridged version.
Cameron soars, Drownton sinks. The anniversary saw a 3-D re-release of James Cameron's emotional masterpiece (or watery snore-fest, depending on your point of view) Titanic, netting the 1997 film over $2 billion in total worldwide ticket sales, reported The Washington Post. Sadly, ITV's mini-series did not enjoy the same success: Titanic, scripted by Julian Downton Abbey Fellowes dropped from 7.4 million to 3.5 million viewers between the first and third episodes, according to The Guardian.
Human remains. Newly-released photographs that show a Titanic victim's clothing may suggest there are human remains on the sunken vessel, said The New York Times. But not all experts are convinced: "We've seen shoes. We've seen pairs of shoes, which would strongly suggest there was a body there at one point. But we've never seen any human remains," Titanic director James Cameron said.
Dinner date. "Twelve people in Houston enjoyed a replica of the lavish 10-course dinner the wealthiest people aboard the ship enjoyed just before the crash," reported San Antonio Express-News. Cullen's restaurant offered diners the chance to tuck into a Titanic feast on the anniversary of the disasters, using original menus from the ship. Apparently, some of the dishes were considered "too lavish" for modern tastes and were toned down.
The $56,250 ticket. An auction at Bonhams showed that demand for Titanic memorabilia remains high. An original Titanic launch ticket sold for $56,250, while a menu fetched $31,250, said The Telegraph.