THE GOOD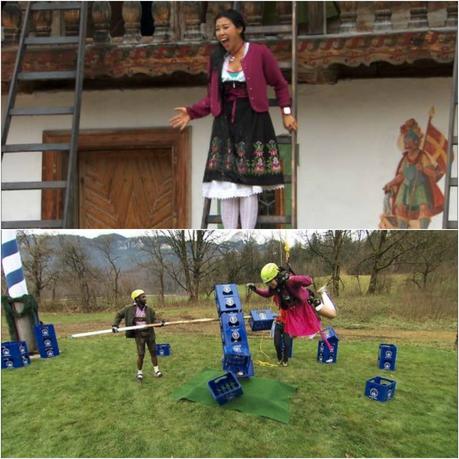 After a two week hiatus, The Amazing Race returns tomorrow at 8pm on CBS! We're ditching the tropical Thailand weather and heading to brrrr inducing Germany to play a little dress-up and get a little wet!
THE BAD
I received quite a bit of internet backlash for my behavior in Bangkok and also managed to offend cat lovers all over the world. I'm not going to make excuses for the way I interacted with Jelani or blame it on editing. I was simply having one of the worst days of my life. It pushed me into panic mode. I let the heat, stress, and possibility of elimination get the best of me and in turn I became the worst version of myself to my race partner and my best friend on the show. I'm so grateful to have been paired with Jelani as throughout the day, he remained calm and supportive even when I was in crazy stress mode. He's the best!
 Jelani and I got off to a rough start as our taxi driver opted to take surface streets from the airport to the temple causing a great deal of delay resulting in us being the last team to arrive at the first clue box. Throughout the day, we kept getting lost and at one point we were basically running in circles. That day, we tracked more than 7 miles on our Fitbits!
After finishing the transmission roadblock, Matt and Ashley wanted to work with us to figure out Metal Castle. The four of us went into a nearby shop together where the store clerk told us that the location was a ten minute run. As the four of us started running, I realized I couldn't run. I was running on empty. At that point, I didn't know where Jon and Harley were. We were so behind and had lost a lot of time getting lost that I knew there was a chance they could be ahead of us and that we would lose in a foot race against Matt and Ash as they're much more fit than me.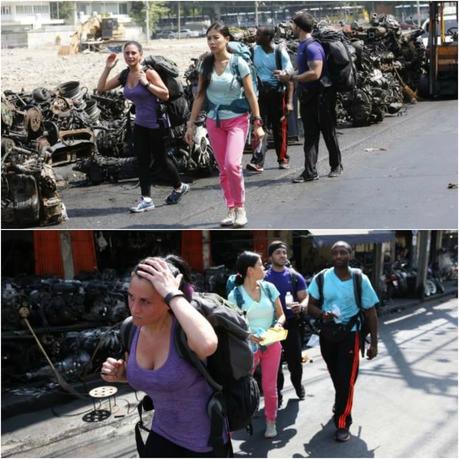 So, faced with the possibility of elimination, I told Jelani I wanted to take a taxi. I didn't think I was doing anything wrong by not telling Matt and Ashley. We all received the same directions to the location so we all knew where we were going. And if they wanted to get in a taxi, they could. I didn't see it as an act of sabotage as I would never purposely hurt another team. But as competitors facing possible elimination on The Amazing Race, I didn't think I needed to give them the heads up on our plan. 
I feel so bad about Ashley's fall. I didn't see it happen as we were already in the taxi. But after seeing that and knowing that they had a really tough day as well, I totally understand why they were so pissed at me. I'm sorry guys! I love you!
THE FAB