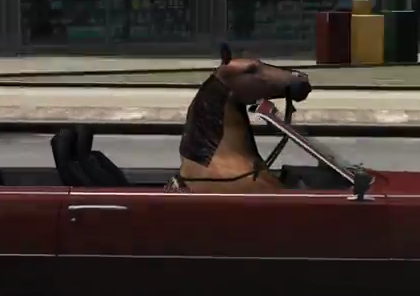 Because it's never too late to waste time making lists, here are some of our writers' favorites from 2012—and other things.
If you post your own top 10′s in the comments, we'll be glad to form impulsive opinions and  fight over them. 
DOLAN COLESLAW:
Top 10 of 2012:
1. Amour (Michael Haneke)
2. Dark Horse (Todd Solondz)
3. Bullhead (Michael R. Roskam)
4. Zero Dark Thirty (Kathryn Bigelow)
5. The Master (PT Anderson)
6. The Loneliest Planet (Julia Loktev)
7. The Silver Linings Playbook (David O. Russel)
8. The Kid With A Bike (Jean-Pierre and Luc Dardenne)
9. Killing Them Softly (Andrew Dominik)
10. Bernie (Richard Linklater)
Top 10 Anticipated Films of 2013:
1. Spring Breakers (Harmony Korine)
2. Frances Ha (Noah Baumbach)
3. Evil Dead (Fede Alvarez)
4. The Bling Ring (Sofia Coppola)
5. Nymphomaniac (Lars Von Trier)
6. You're Next (Adam Wingard)
7. Resolution (Justin Benson & Aaron Moorhead)
8. Twelve Years A Slave (Steve McQueen)
9. Oldboy (Spike Lee)
10. Upstream Color (Shane Carruth)
Samantha Wilson:
Top 10 of 2012:
1. Zero Dark Thirty (Kathryn Bigelow)
2. Argo (Ben Affleck)
3. Moonrise Kingdom (Wes Anderson)
4. Django Unchained (Quentin Tarantino)
5. The Cabin in the Woods (Drew Goddard)
6. Tim and Eric's Billion Dollar Movie (Tim Heidecker and Eric Wareheim)
7. Sleepwalk With Me (Mike Birbiglia)
8. The Master (PT Anderson)
9. The Five-Year Engagement (Nicholas Stoller)
10. Casa de Mi Padre (Matt Piedmont)
Worst 10 of 2012:
1. Prometheus (Ridley Scott)
2. The Man with the Iron Fists (RZA)
3. Abraham Lincoln, Vampire Hunter (Timur Bekmambetov)
4. The Paperboy (Lee Daniels)
5. The Lucky One (Scott Hicks)
6. Snow White and the Huntsman (Rupert Sanders)
7. The Possession (Ole Bornedal)
8. A Thousand Words (Brian Robbins)
9. American Reunion (Jon Hurwitz and Hayden Schlossberg)
10. Rock of Ages (Adam Shankman) (actually the worst movie I have EVER seen)
Emily Parrish:
Top 10 Films Released In 2012 (That I Wanted To See But Didn't):
1. Amour (Michael Haneke)
2. The Invisible War (Kirby Dick)
3. Beyond the Black Rainbow (Panos Cosmatos)
4. The Artist is Present (Matthew Akers, Jeff Dupre)
5. The Cabin In The Woods (Drew Goddard)
6. This Is Not A Film (Jafar Panahi)
7. Looper (Rian Johnson)
8. The Perks of Being a Wallflower (Stephen Chbosky)
9. Side by Side (Christopher Kenneally)
10. Cosmopolis (David Cronenberg)
Daniel Corona:
Top 10 Movies I Saw This In 2012 (Including One I Interacted With)
1. Horse Takes it to the Limit
http://youtu.be/LJSFlMCTXE8
No movie has brought me more joy this year
2. The Comedy
Not the best movie on this list but it resonated with me.
3. The Master
Massive
4. Holy Motors
Deserving of all its praise
5. Journey
I know it's a videogame but videogames are still moving images and this one is beautiful
6. The Unknown Skater
http://vimeo.com/42130510
Stumbled across this randomly and was very pleased and surprised
7. Interview with a Cannibal
http://youtu.be/BosZxa1bYcE
A lonely late-night viewing, follow it up with a Suehiro Maruo book.
8. Chef and Dale
http://youtu.be/zAIqIk7sdnk
Andre Callot makes great work
9. 1002 Images of the moon
https://vimeo.com/34832411
A nice gesture
10. Indie Game: The Movie
Made me proud to be a game enthusiast, was even touching at times.