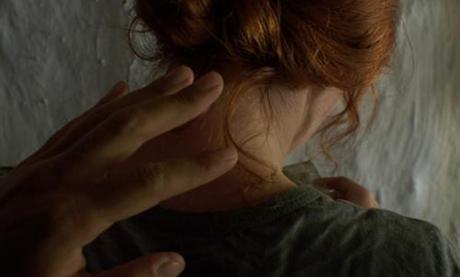 Hard to write about a film I like so much as The Loneliest Planet, which finds Julia Loktev hiking the Georgian Caucuses with two of the best actors alive. Gael Garcia Bernal is certainly in love, or some modern equivalent, and his lover is experiencing some of the existential tremors associated with that condition. The trailer to this film left a lot of people leaning forward and still more begging quietly: wtf?
The Loneliest Planet absolutely refuses to disappoint.
What is becoming my most common complaint applies here: why the music? Loktev's transcendent-ascetic-meditation on love and life and cold is so damn, well, meditative, that you hate to hear it ruined by self-important bursts of scoring. That they cut out in a way designed to draw attention to themselves works hard against every other strategy The Loneliest Planet is interested in (or capable of) deploying.
Some have criticized the film's opening shot, which frames Hani Furstenberg (Yossi & Jagger anyone?) in agony or something-like-it, nude under a curtain of frigid water. How we know the water is frigid is either the great mystery of the magicofthecinema, artful color-timing, performance, or a cocktail (some would say a Lok-tail.) Whatever it is: it's brilliant. The shot is actually typical of the Contemporary Cinema of Contemplation in that it tunes (hijacks) the viewer's mind (and gut) to the frequency of the film. The quickest way to the viewer's attention is the visceral. Once we (they) are looking very closely, quite unwillingly chained to the teeth-chattering cold-ness of a young girl's morning ritual (actually, I hope not) then the narrative hits us behind like a train—a very slow train. Maybe it's more like a glacier.
But no less forceful.
This film is extremely re-watchable. This film is the plaintive nightmare of the travel hipster. The reason people choose to backpack through remote wild (presumably) and not to ride tour buses around Trafalgar Square all day is that the real world still carries some allure. But they don't call it that for nothing. The real world can occasionally puncture, subvert, destroy the conventions of the first world. Privilege, a few generations removed from the source of earned-wealth, can be a point of enormous weakness. And you don't want to be reminded. You really– you just don't. So toughen up you hipster pansies!
But really, the film is compassionate, and what's better: far too smart to preach. Like the best of the CCC, The Loneliest Planet seems incapable of violating that deceptively old-fashioned platitude: show-don't-tell. Rather than shout at you from a mountaintop, it whispers till you're close, and then sticks its hands in your pockets. (I never said it was for the faint of heart.)
-Max Berwald