The Winawood all weather bench is new for 2014.  A new composite material that won't rot or fade, but still gives you the effect of real wood!  Perfect for a small outdoor area, a great place to relax and enjoy the summer sunshine.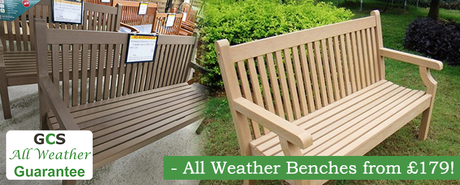 There are so many benefits to this type of material:
Feels and looks like real wood.
100% All weather, no maintenance.
Thick, strong design, built to last.
Simple to varnish or stain.
Very easy to assemble!
The Winawood™ all weather range comes in a range of styles, thick or thin slats, and a choice of colours, either teak or brown. And you can purchase these benches in the 2 seater, or 3 seater variety.
This means you can choose the perfect all weather bench to fit into your gardens style.

For those that have had trouble with hardwood garden furniture in the past, the composite all weather bench gives you peace of mind, so you can have great garden furniture, without the hassle of maintaining it every other week!
__________________________________________________________________
This post was written by Matt from Gardencentreshopping.