Neil Young – Long May You Run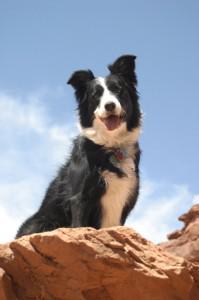 When my mom gave me Molly the Border Collie twelve and a half years ago, I had no idea how much trouble she would be. Luckily, she has been more fun than I could have imagined.
I made the mistake of getting Molly while I lived in an efficiency apartment.  Border Collies are smart and very active.  Her first big adventure happened during one of the first times she was out of the crate while I worked in the evening.  She leapt through a screen and played with the kids who lived in the complex until the pads of her feet were raw and bleeding from running alongside their bikes.  When I returned home, she was waiting at the front door thoroughly exhausted for the first time in her short life.  We added rollerblading to her regular Frisbee work outs after that.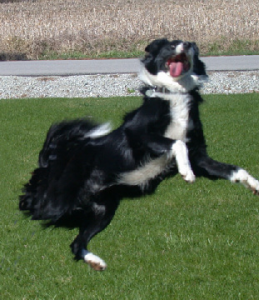 As quickly as I could manage, we moved to a house in a quiet neighborhood with a small yard.  I thought this would be just what she needed.  She soon learned to jump the fence.  Most of the time she only went over it into the adjoining yards to steal the neighbor kids' and dogs' toys and bring them home to add to her collection.  She did disappear once, and was found within the hour just one street over, playing with a neighbor kid.  I installed a tie out system for her after this foray.
My mom has a cabin in Southern Illinois adjoining a national forest where we horseback ride.  Many people take their dogs along on these rides.  Molly with her energy was a perfect fit for joining us.  She loved it as much as my mom's dogs did, and she followed right along with little expeditions into the woods to follow enticing scents.  Half way through our ride, about as far as we were going to get from home, we realized Molly was missing.  We asked every passing group of riders if they had seen her, and finally learned a dog that looked like her was following a group from a nearby campground.  After returning home, I drove to the campground and found a little girl who was throwing her flip flop for Molly to fetch.  Molly has not been invited on a ride since, much to her disappointment.
I moved to a house in downtown that had a yard that could contain Molly.  The house was a double, so we shared a yard with the another tenant.  The gate was left open one day.  Our other two dogs and the neighbor dog seemed not to care, but Molly was long gone by the time the open gate was discovered.  She had recently pulled her tags off and I had neglected to replace them.  We searched everywhere with a growing concern.  After a week of putting out flyers, combing shelters and rescue groups and running newspaper ads, I had given up hope.  I got a couple of calls that I could tell weren't about Molly.  Then I got a call from a lady who lived over 20 miles from us.  It sounded like Molly, but I didn't think she could be so far away.  I wanted to meet this dog anyway.  When I arrived, she was there with a ball in her mouth, as happy as could be, as if nothing had happened.  It turned out that she had been drawn to a construction site that was just a few blocks from our house by all of the noise.  After she spent the day at the site,  a worker took her to his mother's house where she happily fit right in.  He was just as sad to see her go as I was happy to have her back.
Two and a half years ago, my husband, the dogs and I moved to five partially wooded acres near the end of a long dead end street.  Our house sits back off of the road at the top of a ravine with a flood plain below it.  Many people on the street do not have fenced yards and most dogs stay close to home with very few exceptions.  We spent a couple of weeks supervising and training the dogs in the yard.  For two years they all three stayed on our property for the most part.  One day last May, I let the dogs out about 6 o'clock in the morning, as usual.  When I left the house about 9:00, Molly did not run to meet the car. This was unusual, but not unheard of.  I phoned my husband an hour or so later to see if she had returned.  She had not.  The worry and panic I felt was familiar to me.  I got home and went through the same routine of flyers, shelters and newspapers.  We had neighbors and family helping us search the woods, paying special attention to kids and construction sites.  At least she had tags with our address on them this time, they also had my husband's cell phone, my cell phone and my mother's cell phone since the dogs often stay with my mom when we travel.  There was no sign of her for two days.  Then my mom called me quite excited and said she had received a message from a man who said he had rescued our dog from White River while boating.  She had stayed on the boat all day as there was no cell phone reception to call.  She had apparently been perfectly happy to boat until they approached a small beach about 7 miles from where they had picked her up.  As the beach drew closer, she became frantic to get off of the boat so they turned her loose where she wanted and called when they had reception to tell us where she was.  I headed out of the house to hike down to the beach and look for her.  I found her on the porch wet, dirty, and exhausted.  There's no way to know, but I suspect she was chasing a floating ball or stick and got swept away.  It's possible that she spent a day and a night in the river before the boat picked her up.  Shortly after this adventure we installed an underground fence.
Molly has slowed down a bit with her advancing age.  I think that we have solved the problem of her adventures but with her, you never know.  If there's excitement to be found she will likely find a way to join it.  I can only hope that if she does, she will once again find her way home.
9 October 2010
Molly is now at home in the yard she loved and in the hearts of those who loved her.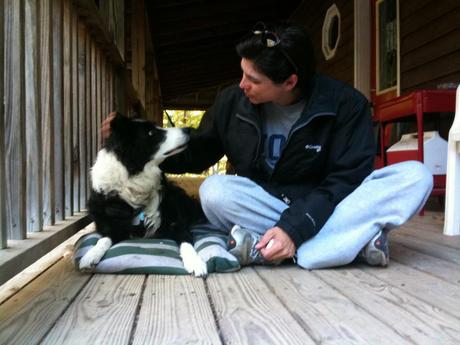 Goodbye to my best friend.
After recovering from cancer, Amy started a successful pet sitting business. You can read about some of the pets she has met on her Happy Critter blog.