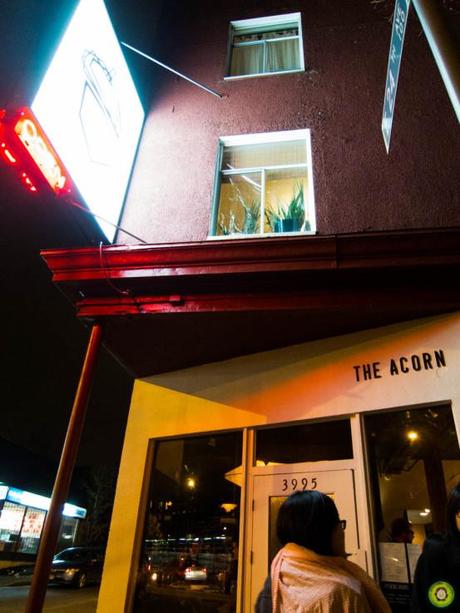 @wongers's tweets about #MeatlessMonday have always left me intrigued… how can a person go a day without meat? Especially if it's Monday, the day that beats you up so hard that you just wish want a big juicy steak as a cushion when you finally collapse from exhaustion.
Anyway, I finally got the chance to be vegetarian for a couple hours. I know, I know – it's just a couple hours, but it's still a big deal! Wongers recommended one of her favs, The Acorn on Main St. The night was super exciting 'cos I got to meet some amazing and funny people, including Foodology who also wrote a review!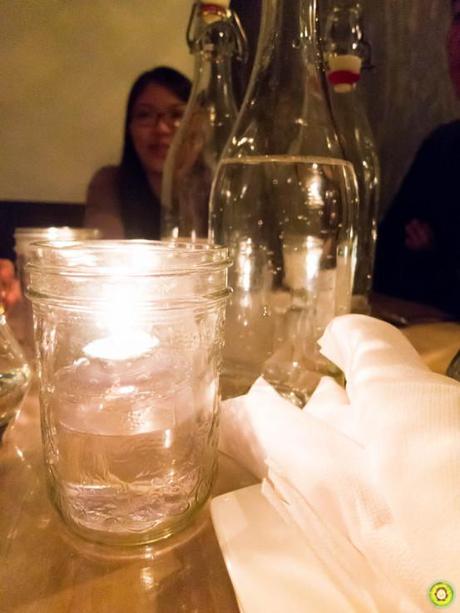 Acorn was offering a special $30 FeastVan menu. It's conceptually similar to Dine Out Vancouver, except every $1 from every meal was donated to the the Backpack Food Program at Strathcona Community Centre. Since we had 7 people, we decided to share a whole bunch of different dishes.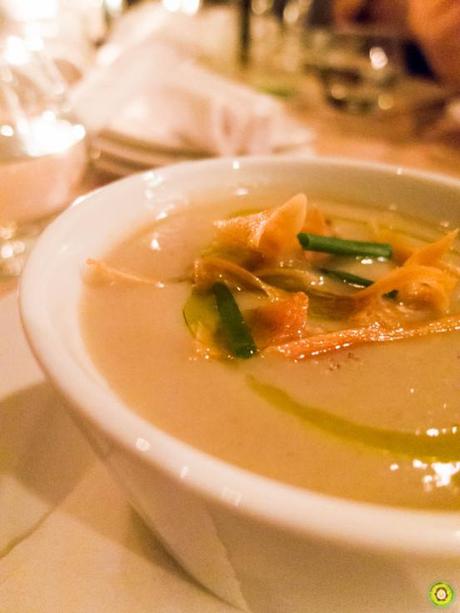 We all kicked off the dinner with a Sunchoke Soup that was topped with Parsnip Crisps, Grilled Scallion Oil and Hazelnut Salt. I know what you're thinking… hazelnut salt? That was new to me :P The soup was somewhat smooth with sweet undertones. I really liked the parsnip crisps, though they weren't crispy.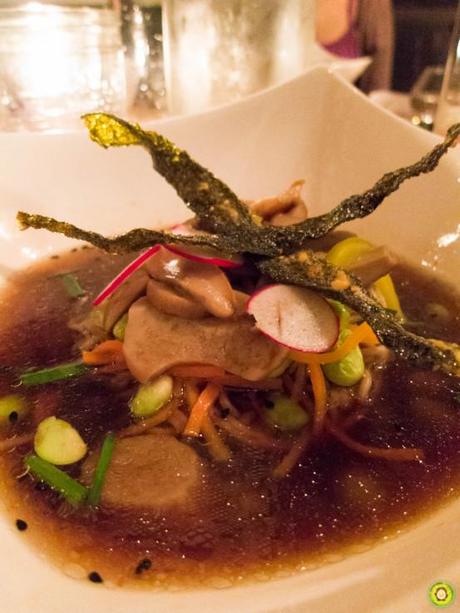 The Porcini definitely had its Asian influences, because it looked like it belonged in a Japanese restaurant. It had braised porcini mushrooms, daikon, edamame, buckwheat noodles, sesame and kombu dash.
I found the broth to be a little unbalanced in seasoning, though I can't really figure out which direction it should teeter more toward. But, I did like the daikon as it absorbed the broth and mellowed out its flavours.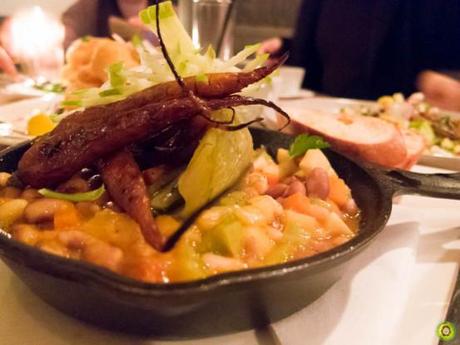 Shifting toward bigger and bolder flavours, we had the Zuni! If you boil down the culinary jargon on the menu, it's essentially a bean stew with apple, fennel and carrots. This was definitely my favorite dish since it was the heartiest! I really liked the soft carrots, which were sticks of dynamite flavor.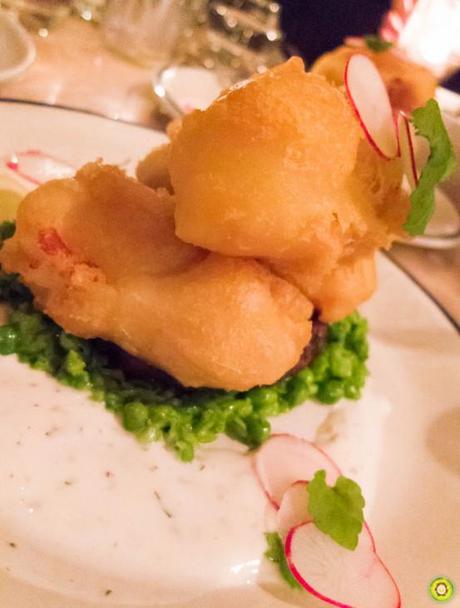 Popular in Greece, Halloumi is a semi-hard, unripened brined cheese made from a mix of goat and sheep milk. At Acorn, they decided to dip it in beer batter and deep fry it. It looked and tasted like a giant mozzarella stick. As well, there's a zucchini pancake, smashed peas, yogurt and lemon balm.
The cheese was pretty good for the first few bites, but becomes quite salty soon after. To tone down the cheese, I think it would've been a good idea to compose a spoonful of all the components to eat in one byte. Notably, Shrimpo really enjoyed the smashed peas.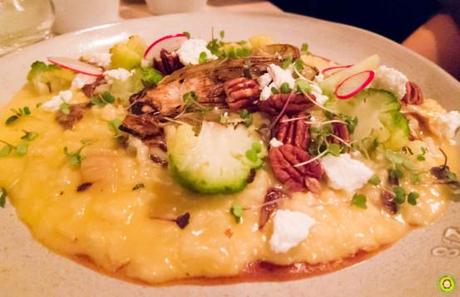 Much like the weather, The Harvest always changes to feature foods that are in season. That night, the Acorn cooked up a butternut squash risotto, topped with green cauliflower (that I thought was broccoli), charred radicchio, endive, goat cheese and pecans.
I didn't really like this dish… Paraphrasing what M said, the presentation wasn't the most appetizing as it resembled the result of emesis. Moreover, the goat cheese was very pungent and overpowering.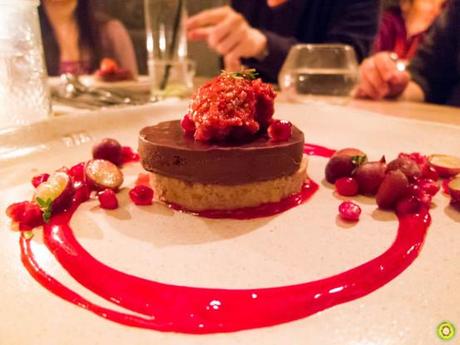 Don't be fooled like Shrimpo, that's not Sriracha sauce on top of that Goji dessert. Instead, it's lemon goji berry preserve on a raw chocolate ganache tart with a walnut crust. Drizzled and sprinkled on the plate were a plum coulis and frozen grapes.
Mmm… it was okay, but I expected to be more decadent since it was chocolate.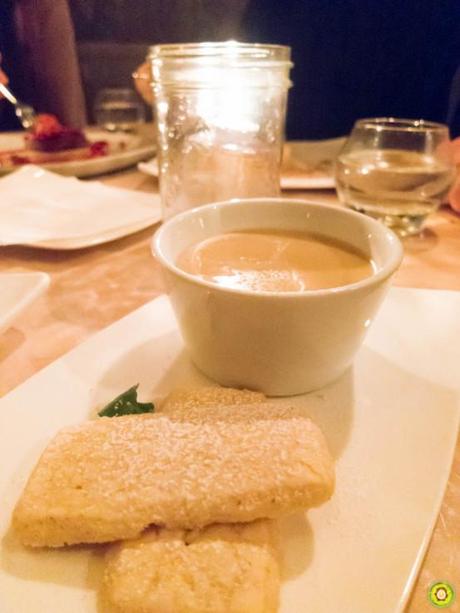 A bit more simplistic, the Chai is a chai pot de crème served with cardamom shortbread. I usually don't like chai because it tastes like a Christmas tree, but this dessert tones it down to an palatable level.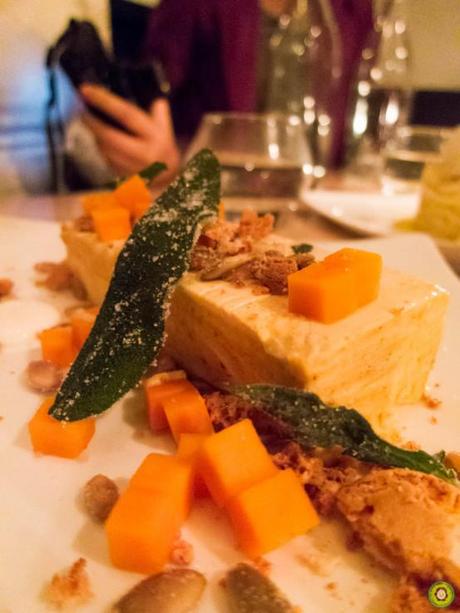 Finally, the Pumpkin! It's a pumpkin semifreddo (semiFROZEN dessert), almond cookie crumble, crème fraiche and sage crisps. Undoubtedly, this was my favorite dessert, especially the semifreddo component that was very reminiscent of ice cream. Although, I found the pieces of carrots to be very weird and out of place.
For my first veggie experience, it was quite interesting.  What amazed me most was the development of flavour, despite the absence of meat.  Nevertheless… Once you go carnivore, you can't go back no more.
Final Bytes
1. Vegan, raw, and gluten-free options available!
2. Doesn't accept reservations, except for one family table of 6+.
3. Quite pricey.
Foodobyte's Rating

---