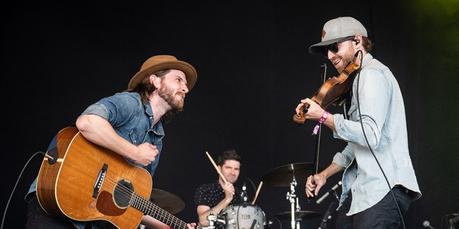 The Abrams brought a lot of energy and experience to the Boots and Hearts Front Porch Stage on Friday afternoon, exactly as we hoped for and expected.
John and James Abrams are life-long musicians. They started in the business when they were 9 and 11 years old. They played the Opry back in 2005. But now it's a new chapter, a new vibe, and they shared that with the Canadian country music fans at Boots and Hearts 2019. With a full band behind them and their fiddle and guitar work on display, the boys created a full and rich sound. And as the fans made their way to the stage, things got fun, fast.
This slideshow requires JavaScript.
The fourth-generation musicians played a set of songs that had toes tapping and got fans singing along. Their singles like Sounds Good To Me, Champion, and their brand new release, Good Old Days sounded great in front of the eager audience. And when they broke into Fishin' In The Dark they brought life to every voice under the tent at the Front Porch Stage.
We've been looking forward to The Abrams at Boots and Hearts since we presented them as the Country Music Association of Ontario Artist of the Month in April of this year. Everything we were looking forward to, they gave us.
The 2019 CMAO Roots Group of the Year used their Friday set to show everyone that they've got a lot going on and a lot of offer. We have a feeling, that even with all of the history these two young men have in their career, there's a lot more in front of them.
We can't wait to see it!
This slideshow requires JavaScript.