As an Amazon Associate I earn from qualifying purchases.
Sewing isn't simply a great hobby for those who want to explore their creative side with fashion, quilting, or décor projects. It's also a valuable life skill, which allows you to look better while saving money. The ability to repair a tear or replace a button, along with the ability to make off-the-rack clothes feel and fit better with custom hems and seamless tucks, makes your wardrobe look better and last longer. And with a good sewing machine, you can create the perfect, custom fit that people pay for, right in your own home.
However, sewing machines can look deceptively simple when you see them demonstrated. While experts can whip through complicated projects in no time, learning how to use a sewing machine can be a time-consuming, frustrating process. Fortunately, many modern sewing machines have automated many complex sewing tasks, to make results faster, more consistent, and more beautiful for beginners and experts alike.
So today we're looking at some of these simpler sewing machines, to determine the best sewing machine for beginners.
So, without much droning around, let's get right into it!
Table: Best Sewing Machine For Beginners
Note: If you use a small screen you may have to scroll right in order to see all the columns.
ImageNameSarah's Rating

(Sarah's #1 Pick)
Brother Project Runway CS5055PRW


SINGER Start 1304


Brother CS6000i


Singer 7258


Brother XM2701

Reviews of the 6 Best Sewing Machines for Beginners
Now, let's have a look at the 6 contenders for best sewing machine for beginners, starting with my top pick from Brother:
Top Pick: Brother Project Runway CS5055PRW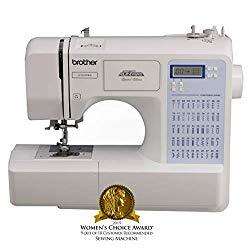 Best sewing machine for beginners: Brother Project Runway CS5055PRW
The Brother Project Runway CS5055PRW is a compact, lightweight, beginner-friendly sewing machine that has everything you need to create runway-ready fashions. It's less than 12 inches tall, just over 16 inches wide, and only 7 inches deep, and the low weight and built-in handle make it easy to take anywhere.
Beginners will love the LCD display screen with simple stitch selection, including a visual stitch chart printed right on the machine. When you select your stitch, the screen tells you which foot to use. Furthermore, it has automatic needle threading and quick set up bobbins, and 5 different one-step buttonholes, to make it easier than ever to get started sewing.
Finally, the library of 50 stitches and 87 stitch functions lets you manage construction, decorative, and even heirloom and quilting stitches. The drop feed system easily transitions to free-motion quilting. And it has a free arm for sewing cuffs and sleeves.
This great sewing machine is an Amazon best seller, and it's also my pick as best sewing machine for beginners.
Pros
Won the 2018 Women's Choice Award as a customer-recommended sewing machine.
Easy machine to learn to sew and quilt a huge variety of projects
Automatic threading and quick bobbin speed sewing
Stitches, needles, and settings for nearly every kind of fabric
Automated buttons, buttonholes, and zipper insertion handle common tough sewing challenges
Compact and portable, with a handle and built-in accessory storage
It also has a well-lit work area, and a vertical spool pin for consistent feeding on nearly any fabric.
Cons
Unfortunately, the LCD screen is not backlit
Default is to have the needle stop in the down position; you have to change the settings to have the needle stop in the up position

best laptops under 600

" data-orig-size="343,120" sizes="(max-width: 343px) 100vw, 343px" aperture="aperture" />
Best Cheap Sewing Machine: SINGER Start 1304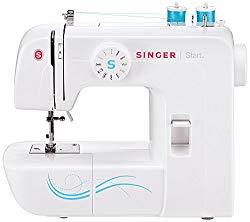 Best cheap sewing machine: SINGER Start 1304
The SINGER Start 1304 is a great beginner machine, with easy functions that get you sewing in minutes. This compact sewing machine weighs just 7 pounds, and is easy to set up anywhere. It has automatic bobbin winding, automatic stitch length and width, and has threading diagrams printed on the machine so you can get sewing faster. The built-in 4-step buttonhole function makes it easy to sew buttons, and you can quickly slide off the extension table to expose the free arm, perfect for sewing cuffs and hems.
Furthermore, this beginner sewing machine has 6 stitch selections, and dual spool pins for twin needle sewing. It also has built-in reverse stitch, and onboard storage for accessories.
The SINGER Start 1304 has an internal skeleton with a heavy duty metal frame, to keep the mechanism in perfect alignment for easy sewing and lasting durability. The combination of solid features, the reliable Singer brand name, and the low price make this basic sewing machine a great choice for beginners, or for those who need an affordable sewing machine to take on the road. Therefore, it's my pick as best inexpensive sewing machine.
Pros
This affordable sewing machine is compact and lightweight, with simple operation
Automatic bobbin, stitch length, and stitch width take the guesswork out of sewing
Easy buttonholing and onboard storage
Free arm and dual spool pins
Cons

best laptops under 600

" data-orig-size="343,120" sizes="(max-width: 343px) 100vw, 343px" aperture="aperture" />
Also Worth Mentioning: Brother CS6000i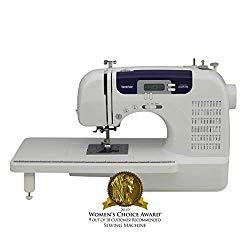 Brother CS6000i is one of the best starter sewing machines
For beginners who want a sewing machine that can also do quilting, the Brother CS6000i is a great choice. The wide table has room for working on quilts, throws, and DIY projects, or remove it and use the free arm for cuffs and hems. It also has an automatic needle threader and easy threading and bobbin winding for beginners.
Furthermore, this beginner sewing machine has a simple LCD display stitch selector, and a stitch diagram printed on the machine to make your work easy. And the display tells you which foot to use with your chosen stitch. It also has an adjustable speed slider, to control your sewing speed up to a maximum of 850 stitches per minute. And hand controls mean that you can sew without a foot pedal. In addition, it has 60 built-in stitches that include 7 styles of buttonholes.
The Brother CS6000i also comes with a quick-start guide and a bilingual English and Spanish operating manual.
Pros
Wide table good for larger projects
Good range of stitches and included presser feet
Automatic threading, bobbin winding, and buttonholes make sewing easy
This easy sewing machine has adjustable speed control
Cons
Quilters will also need a quarter inch foot for piecing
LCD screen is not backlit

best laptops under 600

" data-orig-size="343,120" sizes="(max-width: 343px) 100vw, 343px" aperture="aperture" />
Also Worth Mentioning #2: Singer 7258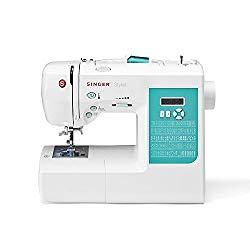 Singer 7258 is one of the best sewing machines for beginners
The small Singer 7258 has a whopping library of 100 stitches. Even better, you can select stitches with just the push of a button, and optimal length, width, and tension are set automatically and displayed on the LCD screen. However, more advanced sewers can customize stitch length and width if they prefer. This machine also has a speed control lever for manual control, and a top drop-in bobbin with a clear cover so you can always see how much bobbin thread you have.
Furthermore, this small sewing machine comes loaded with automatic features, like a built-in needle threader, automatic bobbin winder stop, and 6 different one-step buttonholes. It also has automatic reverse, an auto tie-off for straight stitches, snap-on presser feet, and a jam-proof bobbin. And the bright LED light illuminates your workspace for up to 100,000 hours.
The Singer 7258 also has advanced features to grow with you. It has a programmable needle up/down, depending on your project and preferences. And twin needle capabilities, with 13 needle positions.
This small sewing machine is automated and simple enough to be beginner-friendly, but has all the stitches, feet, and settings to tackle even advanced sewing projects with ease, without taking up unneeded space.
Pros
Large stitch library
Automatic or customizable stitch settings
Hand stitch speed control lets you sew without a foot pedal
Wide range of feet included
Clear bobbin cover provides good visibility
Cons
LCD screen is not backlit
Not a very durable machine

best laptops under 600

" data-orig-size="343,120" sizes="(max-width: 343px) 100vw, 343px" aperture="aperture" />
Also Worth Mentioning #3: Janome 2212
The Janome 2212 Sewing Machine is a good choice for beginners, with simple options and a straightforward operation that makes it easy to learn how to sew. It has 12 built-in stitches, a simple four-step buttonhole process, and dial pattern selection. You can customize zigzag stitch length and width for your needs. And the free arm lets you easily sew cuffs, hems, and other circular projects, while the drop feed allows free motion.
Furthermore, this basic sewing machine comes with accessories including a pack of 10 bobbins and a set of size 14 needles. It also comes with a seam ripper, a screwdriver, and 4 presser feet. Feet include an all-purpose foot, a free motion foot, a buttonhole foot, and a walking foot. Unfortunately, it only has 12 stitches, which is low for a sewing machine in this price range, but most sewers don't need more than that.
Pros
Straightforward and simple to use
Comes with everything you need to start sewing and quilting
Cons
Lacks automatic features like bobbin winding, needle threading, and other conveniences

best laptops under 600

" data-orig-size="343,120" sizes="(max-width: 343px) 100vw, 343px" aperture="aperture" />
Also Worth Mentioning #4: Brother XM2701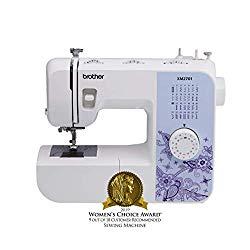 Brother XM2701 is one of the best sewing machines for beginners
The Brother XM2701 is a versatile small sewing machine with an attractive decorative pattern on the surface. It's lightweight and portable, great for beginners and for those who need a simple, portable sewing machine. And it's also the winner of the 2018 Women's Choice Award as a customer recommended sewing machine.
Furthermore, this small sewing machine has an automatic needle threader, a jam-resistant top drop-in bobbin, automatic bobbin winding, and an easy dial switch selector. It also has 27 built-in stitches, including blind hem, decorative, and quilting stitches, with a total of 63 stitch functions.
It also comes with a bilingual English and Spanish user manual and instructional DVD. And it's also one of the most cheap sewing machines on this lists.
Pros
Fast and simple operation, great for beginners or those who need to do quick sewing jobs
This beginning sewing machine is lightweight and portable
Decorative design is nice looking
This easy to use sewing machine has one step buttonholes
Good, basic selection of feet and stitches for most needs
Cons
Tension control can be fussy

best laptops under 600

" data-orig-size="343,120" sizes="(max-width: 343px) 100vw, 343px" aperture="aperture" />
What Do Beginners Need in a Sewing Machine?
Learning to sew is surprisingly complex. Beginners need to gain a lot of mental knowledge about how different fabrics, threads, and presser feet work together to sew well. And they need a lot of hands-on, practical experience that can only be gained through practice and muscle memory, like how to thread their machine, how to control the speed, how it feels when the tension is correct, and so on. Because of these factors, the biggest setback to learning is frustration. Beginners can often have poor results and not understand why or how to fix it. So there are some key things that a beginners sewing machine needs to have.
Simplicity
It's easier to learn on a sewing machine that doesn't have too many settings and options. Over time, as beginners learn and improve, they may find that they need specialized feet, a larger work area, or more features. But in the beginning, too many options may simply be confusing, and make problem-solving more difficult when things don't go right.
Consistency
For a novice to combat frustration, they need to be able to rely on consistent results from their sewing machine. When they are trying to learn new things, experiment with different fabrics, or practice new techniques, they need consistent, reliable results from their machine. If their machine always performs certain, needed tasks correctly, it gives a solid foundation to grow from. However, many inexpensive sewing machines are inconsistent, or stop working correctly after a short period of time, which can lead beginners to doubt their skill instead of the machine.
Support
Modern sewing machines are often computerized and return odd error messages. When that happens, you need to be able to call the company and get meaningful help and support, beyond the suggestion to take it in for service. Lifetime support, as well as active online communities of users, can be incredibly helpful when you're learning.
On-machine diagrams
Rather than spending all your time looking through an instruction manual, it's extremely helpful to have basic information on the sewing machine case itself. It's particularly useful to have threading instructions on the sewing machine, but it's also nice to have a visual guide to your stitches. It's also better to have stitch selection on the case of the sewing machine (rather than on a dial selector), because information printed onto manual controls may wear away over time.
Sewing Machine Nice-to-Haves at Every Skill Level
Essentially, beginners need a solid, reliable, basic sewing machine with good support, and that's well worth paying for to start yourself off on the right foot. But what are some features that are useful for sewers at every skill level?
Automated capabilities
Automated bobbin winding and needle threading are features of many sewing machines, and they are useful for sewers of all skill levels. This feature remove the guesswork for beginners, and save time for experts. Sewing machines that also help streamline and simplify machine threading, stitch width and length, and foot selection allow sewers to spend less time fussing with the machine. And more time sewing.
Overall size and weight
Most people, even accomplished sewers, do not have a dedicated sewing area in their homes. The sewing machine is often temporarily set up on a desk or table, to be used as needed, and put away again. Students, in particular, may need a sewing machine that can travel with them to class or be set up in a dorm room.
While professionals, quilters, and dedicated hobbyists may have a permanent sewing area that can accommodate a large, heavy sewing machine, having something smaller and lighter is preferable for most casual sewers. Keep in mind that the less a sewing machine weighs, the more likely it is to be made mostly of plastic, which reduces the overall lifespan and durability of the machine. The choice between ruggedness and portability depends on the needs of the individual sewer, so make the decision that works best for you.
On-machine speed control
Many modern sewing machines have speed control adjustments on the body of the machine, so they can be operated without a foot pedal. This can be extremely convenient if the sewing machine is often set up and used in temporary spaces not designed for it; it's one less cord to manage, and can make small jobs even faster. It's also an excellent option for sewers with reduced mobility or other physical needs that make precise operation of a foot pedal difficult.
Buttonholes and zippers attachments
Buttonholes and zipper insertions are among the most difficult, exacting sewing tasks, and can be extremely frustrating. And not just for beginners. They are not just required in garments and fashion, but also in common beginner household projects like cushion covers and tote bags. If you anticipate these kinds of projects, look for a sewing machine that comes with the appropriate feet for those tasks, and that has a simple, easy-to-follow process. If possible, look for YouTube tutorials for that specific sewing machine.
Stitches for days
It's amazing what you can get done with just a straight seam and a zigzag, but sewing machines can have as few as 6 stitches, or as many as 300. While a beginner is better off with a few stitches and few options for stitch customization, a more advanced sewer, or a sewer who works on a variety of complex projects, will want a wider range of stitches and more customization options.
For most common purposes, a simple 10 or 12 stitches may be all you ever need. You can always buy more presser feet for a simpler machine, but to expand your stitch library means replacing your sewing machine altogether. We like the machines that automatically set length and width based on stitch, but that allow you to customize them if you wish. Try to anticipate how many stitches you will need, and buy the sewing machine that will grow with you.
Best Sewing Machine For Beginners: Conclusions & Final Words
Brother sewing machines are among the best brands in the market, and my overall top pick for the best beginner sewing machine is the Brother Project Runway CS5055PRW. It's not only lightweight and portable, but it's simple to operate and has many automated features that make it easy for beginners. Simple operation, the intuitive LCD screen, and the on-machine stitch catalog make it perfect for novices to start sewing right out of the box.
But I love that this machine can also grow with you over time. The generous library of stitches, support for free-motion quilting, and big assortment of included feet and accessories mean that this basic sewing machine can tackle all kinds of projects of increasing difficulty and complexity, so it won't be quickly outgrown. And the price simply cannot be beat for a sewing machine with all these features. It's the best choice for an ambitious beginner, and the best sewing machine for the money.
Cheers!
Sara
PS: In closing, I hope my best best sewing machine for beginners review was helpful when you're making your choice. In addition, I recommend that you look around my site to learn about other consumer electronics and hardware. Also, if you have any questions about my best sewing machine for beginners reviews or something else, don't hesitate to send me an e-mail using my contact form.
Who is Kyle?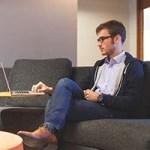 Hi I am Kyle, an engineer and small business owner from Northern California. I am an outgoing creative writer and tech blogger who has a passion for helping people and building creativity in the mind, through outstanding how-to guides, articles and honest reviews.
On Kyle's Hardware you will find solutions to common problems related to software and computers, with practical reviews, tools tips and step-by-step technical guides. You can connect with me on Facebook or Twitter with the buttons below.
Back to Featured Articles on

THE %(site_name)s COMMUNITY