The time has come, NHL fans are getting ready for the new season and it is now time for us to hold our annual NHL Fantasy Drafts.
Last night at 10pm my draft took place and I sat with the 6th overall pick in the 16 team league.
Note: The fantasy sports team name issue is huge and should not be taken lightly. This year I got very lucky and with the help of my co-workers and our affinity for ermahgerd the MAHNTRERL CERNERDERN were born! 
With my 1st pick and the 6th choice overall in the draft I decided that I was going to grab Claude Giroux. And then he got taken with the 5th pick. Sucky. Instead I drafted Daniel Sedin with my 1st round selection.
A 16 team league has a lot of players flying off the shelf really quickly. And with a snaking draft order I didn't pick again until 27th overall where I ended up taking Zach Parise with hopes that he'll earn some of that new money in Minny. My 3rd round pick came up fast and I scooped up Patrick Sharp who I always like.
Rounds 4-9 looked like this: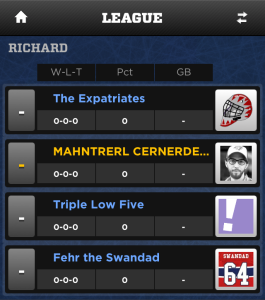 Objective: Win the Richard division!
4. Alexander Edler (needed a defenseman – I hope he scores more than once in a while)
5. Craig Anderson (needed a goalie and had to ignore the divisional rival thing)
6. Jeff Skinner (love the upside, fingers crossed for production)
7. Semyon Varlamov (not the plan at all, but that's the way things go sometimes)
8. Brent Burns (needed another D and was probably a little swayed by his sweet headshot for this season)
9. Justin Williams (good player, hopefully he'll stay healthy and get some run on the 2nd PP unit with the defending champs)
Now, I will fully admit that I feel I did much better in my mock draft earlier in the day than I did in the first half of last night's real deal. Ugh.
However, in the 10th round I got a guy who I think could do some damage: Ales Hemsky! Yes I know he's not RNH or T.Hall, or Eberle – but I think that he's going to benefit from the young legs around him and put points on the board. I hope.
I've got another reclamation project and my 3rd Dman, Sheldon Souray. I'm hoping that he's got something to prove and he'll blast soe beauties from the blueline.
12, 13 & 14 look like this: Paul Stastny, Brendan Smith & Tyler Kennedy. If I get some production and value from those guys, I'll be happy! 
In the 15th round, with the 230th overall pick, I took the lone Montreal Canadien on my team: Rene Bourque. I'm betting on Bourque to get comfortable, hit a couple hot streaks and score a bunch of goals… or take some penalties.
My last 3 bench spots weren't bad when it came to getting the guys I wanted that were still left in the pool. They have a chance to do some damage. And they have a chance to suck it up and provide nothing. Them's the breaks.
16. James van Riemsdyk (I had to get over the Leafs thing)
17. Chris Neil (I had to get over the Sens thing)
18. Dustin Penner (It could work!)
So now I've got a roster of 18 hockey players who may or may not produce and who I may or may not have available for trade right now. Are there things I wish I'd done differently? Sure.
But there's always next year!
Here's hoping that you had success in your NHL fantasy draft and that you have a great season!
Be Awesome!