"By this you will know I am the Lord." -Exodus 7:17
Plague #1: Mayflies in mississippi river valley
Meghan DeMaria reports for TheWeek that every year mayflies leave the Mississippi River after one or two years of incubation, living for up to 36 hours before they return to the water, lay a new crop of eggs, and die.
However, this year's mayfly hatch in the Mississippi River reached Biblical proportions and caused a bow echo on the National Weather Service (NWS) radar.
The La Crosse, Wisconsin branch of the NWS reports that the mayflies caused a three-vehicle car crash as they descended over the town. Two people were injured in the crash, and one was treated at a local hospital.
Below are two horrifying pics taken by Wisconsin residents of the millions and millions of flies:

Plague #2: Antibiotics-resistant Superbugs
Mark Koba reports for CNBC, July 24, 2014, that cases of the contagious and deadly "superbug" known as CRE or Carbapenem-resistant Enterobacteriaceae increased five-fold in community hospitals from 2008 to 2012 in the Southeastern U.S., according to a new study published in the August issue of the medical journal, Infection Control and Hospital Epidemiology.
CRE is known as a "superbug" because the bacterium has a high mortality rate of 50% and because its various strains are mostly resistant to antibiotics. CRE usually strikes people in hospitals, nursing homes and other health centers, transferred from a patient to the hands of a care provider like a doctor or nurse, and from their hands to another patient. An estimated 9,300 people in the U.S. are infected by CRE every year, resulting in around 600 deaths.
Adding to the concern is a recent report by the University of Washington School of Public Health that another antibiotic-resistant superbug, MRSA or Methicillin-resistant Staphylococcus aureus, had been found in firehouses in Washington state.
Researchers /tested 33 firehouses for the presence of MRSA. The bug was found at 19 of those firehouses on ambulances, trucks and on kitchen surfaces. Twelve crews reported having at least one member who had gotten an infection requiring medical care. No deaths have been reported.
MRSA causes a range of illnesses, from skin and wound infections to pneumonia and bloodstream infections that can cause sepsis and death.
Anyone can get MRSA through direct contact with an infected wound or by sharing personal items such as towels or razors that have touched infected skin.
There are more than 80,000 cases of MRSA detected each year in the U.S., with a reported 11,285 deaths.
All in all, there are at least 2 million illnesses reported each year from the various superbugs, resulting in more than 23,000 deaths, according to the Centers of Disease Control and Prevention (CDC).
Medical experts say that the overuse of antibiotics in humans and animals has led to the spread of superbugs. Antibiotics are often used in livestock as a preventive measure. 80% of all the antibiotics sold in the United States are used in livestock production.
Perversely, that overuse is likely to continue in animals after a panel of the U.S. Second Court of Appeals ruled on July 24 that the Food and Drug Administration does not have to consider banning the practice of feeding antibiotics to animals that are not sick.
There are calls for stronger antibiotics to deal with the superbug spread. But Dr. Joshua Thaden, a Boston-based specialist in infectious disease, says that's likely to just continue the vicious cycle of drug resistance because "the bacteria could end up resisting them as well."
Plague #3: airborne pneumonic plague in Colorado
There are three main types of plague:
Septicemic plague occurs when the bacteria proliferates in the bloodstream.
Bubonic plague takes hold underneath the skin.
Pneumonic plague, the most serious, is airborne and can be spread through coughing and sneezing when the bacteria enters the lungs.
Plague in all of its forms usually infects an average of seven people yearly in the U.S., and is found mostly in the western states of Arizona, New Mexico and Colorado, according to the CDC.
Sonali Basak and Jennifer Oldham report for Bloomberg, July 18, 2014, that a week after a Colorado man was found on July 11 to be infected with the deadly pneumonic plague, three more cases were found — the deadliest form of the disease reported in Colorado in a decade. 
All four cases may be linked to the original man's dog, which died from the illness. Health officials suspect the dog might have been exposed to plague-infected fleas from a prairie dog or rabbit, said Jennifer House, a spokeswoman for the Colorado Department of Public Health and Environment department.

While the first victim is still hospitalized, the three subsequent cases were treated with antibiotics, recovered, and are no longer contagious.
Plague #4: Mosquito-borne Chikungunya virus

Meredith Engel reports for the New York Daily News, July 23, 2014, that Chikungunya is a painful virus spread by mosquitoes, for which there is no vaccine or treatment.
The recent Chikungunya epidemic began late last year in the Caribbean, then spread to Florida, then across the United States, with nearly 600 people reported to be infected.
The virus seldom kills its victims. Those infected often come down with a fever and significant joint pain, but heal in about a week.
Chikungunya, discovered in Africa 60 years ago, can't spread human to human. The best way to ward off the disease is to take precautions against mosquito bites by using repellent with DEET, wearing light-colored clothing with long sleeves and pants when venturing outdoors, draining any standing water around the house, and staying indoors at dusk and dawn when mosquitoes are most plentiful.
Plague #5: Worst Drought in a Century in California
The nightmarish multi-year drought in the state of California continues to get even worse.
This week it was reported that 81% of California is now experiencing "extreme drought" or worse. Three months ago, that number was just 68%. Downtown Los Angeles is now the driest it has been since rain records began in 1877.
For more, please see Michael Snyder's article, "20 Signs The Epic Drought In The Western United States Is Starting To Become Apocalyptic" and FOTM's "California to have state-wide mandatory water restrictions Aug. 1."
Plague #6: Wildfires in Western USA
Massive wildfires in Washington, Oregon and western Canada have spread clouds of smoke over vast areas of the northwest United States in recent days.
CNN reports, July 20, 2014, that four wildfires spanning almost 170,000 acres are driving hundreds of people from their homes in Washington state and across the border in Canada. The flames have encroached on towns. An estimated 80 homes were destroyed and cell phone service was knocked out
Plague #7: Swine Virus Killing Millions Of U.S. Pigs
The New York Times reports (via CNBC) that a deadly virus, porcine epidemic diarrhea or PEDv, is estimated to have killed more than 100,000 piglets and young hogs each week since it first showed up in Iowa in May 2013, wreaking havoc on the U.S. pork industry.
PEDv causes acute diarrhea that is virtually 100% lethal for piglets two to three weeks old. Paul Sundberg, vice president for science and technology at the National Pork Board, said, "I've been a vet since 1981, and there is no precedent for this. It is devastatingly virulent."
The swine virus appeared in the United States last spring in Ohio and in weeks had spread to four more states. How it entered the U.S. is unknown, but the suspicion is that the virus came from China.
As a result of the deadly swine virus, the U.S. Agriculture Department says the number of hogs slaughtered this year is down 4.2% to roughly 50 million from more than 52 million in the same period in 2013. That, in turn, drove up the price of bacon by more than 15% and center-cut pork chops by almost 13% in May, compared with the same period a year ago, according to the Bureau of Labor Statistics.
Precisely how many pigs have died from the virus is unknown. The Agriculture Department did not require reporting of the disease until June 5, and it does not collect data on how many pigs the virus has killed, instead referring the question to the hog industry — which does not like to talk about it. The National Pork Producers Council does not have a figure of its own but said it had heard that about 8 million pigs had died of PEDv so far and approximately 100,000 more are dying each week.
Plague #8: Citrus Greening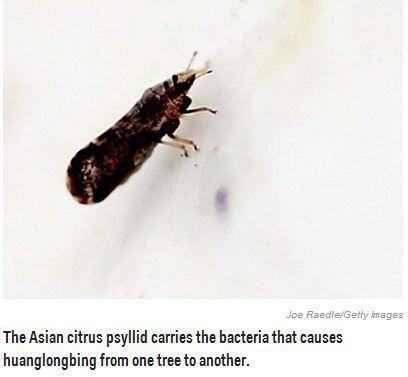 Citrus greening or huanglongbing is a disease spread by an invasive pest, the Asian citrus psyllid, which is sweeping across the citrus-producing regions of the world.
Kevin Loria reports for Business Insider, July 18, 2014, that at least 70% of Florida's citrus trees are already infected by the disease, resulting in Florida's citrus crop this year being the lowest it's been in 30 years. Orange-juice prices are up nearly 20% this year alone and will continue to rise. The disease was a major factor in the lime shortage that made the price of a box of Persian limes jump from $18 to $85 last December. Researchers and growers say that if a cure isn't found, the entire $9 billion Florida citrus industry could be destroyed.
Plague #9: Bananas may go extinct from virulent Fungus

Mark Koba reports for CNBC, April 21, 2014, that the world's supply of bananas is under attack from a fungus called Panama disease or Fusarium wilt that could wipe out the popular variety that Americans eat.
Randy Ploetz, a professor of plant pathology at the University of Florida who in 1989 originally discovered a strain of the Panama disease called TR4, said "It's a very serious situation" that may be growing into a serious threat to U.S. and Latin American banana growers. "There's nothing at this point that really keeps the fungus from spreading."
Bananas are the 8th most important food crop in the world and the 4th most important food crop among the world's poorest countries. Through trade and supply, bananas make up a global $8.9 billion trade industry. Bananas are grown in more than 150 countries, which produce 105 million tons of fruit per year, while employing hundreds of thousands pf people. The U.S. is the top importer of bananas in the world at nearly 4 million tons a year. The largest exporters of the fruit are Ecuador, the Philippines, Costa Rica, Guatemala and Colombia.
Plague #10: Fukushima radioactive water in Pacific ocean

Japan's Fukushima nuclear disaster that began in 2011 is continuing.
Hundreds of tons of radioactive water are being released into the Pacific on a continual basis, and this could potentially affect our oceans and our food chain for generations to come. There is a lot of evidence that it should be taken very seriously in the U.S., but it isn't. In fact, former MSNBC host Cenk Uygur has admitted that while he was at MSNBC he was instructed not to warn the public about the radiation coming from Fukushima. (See "36 Signs the Media is Lying to You About How Radiation From Fukushima is Affecting the West Coast.")
Japanese physician Dr. Shigeru Mita says residents of Tokyo, especially children, are displaying disturbing signs of radiation sickness:
Since December 2011, I have conducted thyroid ultrasound examinations, thyroid function tests, general blood tests and biochemical tests on about 2000 people, mostly families in the Tokyo metropolitan area expressing concerns on the effects of radiation. I have observed that white blood cells, especially neutrophils, are decreasing among children under the age of 10. There are cases of significant decline in the number of neutrophils in 0-1 year-olds born after the earthquake (<1000). In both cases, conditions tend to improve by moving to Western Japan (Neutrophils 0–>4500). Patients report nosebleed, hair loss, lack of energy, subcutaneous bleeding, visible urinary hemorrhage, skin inflammations, coughs and various other non-specific symptoms.
Dr. Mita concludes that "It is clear that Eastern Japan and Metropolitan Tokyo have been contaminated with radiation" and recommends that the entire city of Tokyo be evacuated.
As if the above 10 plagues aren't enough, given the ease of global travel and  porous national borders (see "Illegals bring pneumonia and swine flu to Calif-Texas Navy bases" and "Obama's Brown Shirts threaten health workers who divulge infectious diseases brought by tidal wave of illegals into America"), the following 3 horrific plagues may sooner or later spread to the United States:
Plague #11: MERS mutates into airborne pathogen
Meghan DeMaria reports for TheWeek, July 22, 2014, that the Middle East Respiratory Syndrome (MERS) has claimed at least 288 lives since its appearance in 2012.
Now, researchers at Saudi Arabia's King Fahd Medical Research Center have evidence MERS may be airborne, after air samples from an infected camel barn tested positive for a strain of the viral genome MERS RNA. Reports also found that some infected people had close contacts with other MERS patients.
Plague #12: Bubonic plague
Rachel Rettner reports for Fox News, July 23, 2014, that after a man died last week from bubonic plague, Chinese officials have sealed off an entire city, Yumen, in northwest China, preventing about 30,000 residents from leaving the city.
The man became ill after he handled a dead marmot (a large wild rodent), and died last week from bubonic plague. No other cases of the plague have been reported, according to the Guardian. About 150 people who had contact with the plague victim have been placed under quarantine.
Bubonic plague is an infectious disease known for killing millions of people in Europe in the 1300s, in a pandemic called the Black Death. It is caused by the bacteria Yersinia pestis that is carried by rodents, and can be transmitted to people through flea bites or by direct contact with the tissues or fluids of an animal with plague, according to the CDC.
Bubonic plague causes swelling of the lymph nodes, and it cannot be spread from person to person. However, if the disease spreads to the lungs, the person can develop pneumonic plague (see Plague #3), which can be transmitted from person to person if a sick individual coughs droplets into the air, and another person inhales the droplets. But person-to-person transmission is rare, and usually requires close contact with the infected individual.
Today, bubonic plague is treatable with antibiotics, the CDC says. (See, however, Plague #2: Antibiotics-Resistant Superbugs!) Now there are fewer than 5,000 cases of plague per year worldwide, with most cases occurring in Africa, according to the Mayo Clinic.
Plague #13: Ebola
Ebola is one of the world's deadliest viruses with a high fatality rate of 60% to 90%. There is no vaccine. There is no cure.
First identified in 1976 in the sub-Saharan jungles of Zaire and the Sudan, Ebola was transmitted to humans via the blood or bodily fluids of an infected fruit bat or monkey.
Symptoms typical of an Ebola infection begin 2 days to 3 weeks after contacting the virus — those of fever, throat and muscle pains, and headaches. Then it gets worse, with nausea, vomiting, diarrhea, and decreased functioning of the liver and kidneys. Then it gets even worse. The infected starts hemorrhaging or bleeding from the body's mucous membranes — mouth (gums), nose, gastrointestinal tract, and vagina.
In June 2014, I posted on how the Ebola virus had made the jump from the jungles to West Africa's urban centers. At that time, Dr. Bart Janssens of the charity group Medecins Sans Frontieres (Doctors Without Borders) had said the Ebola epidemic is now "out of control" in West Africa and warned that the epidemic would spread to more countries, unless there's a stronger international response — which there wasn't.
The latest: Sierra Leone's chief Ebola doctor has himself contracted Ebola.
Reuters reports that 39-year-old Sheik Umar Khan, hailed as a "national hero" by Sierra Leone's health ministry, had led the fight to control the Ebola outbreak that has killed 206 people in his country but now has caught the deadline disease that kills up to 90% of those infected and there is no cure or vaccine.
Even worse, yesterday Nigeria's ministry of health said Ebola may have hit Lagos, Nigeria's capital and the most populous city in Africa.
A Liberian man, who had worked and lived in Liberia where Ebola is prevalent, had collapsed at Lagos's airport displaying symptoms of the disease. The Nigeria government has sent the man's blood samples to the World Health Organization to be tested.
H/t ZeroHedge and FOTM's swampygirl, josephbc69, and pnordman.
~Eowyn