Are you tired of listening to suppressed sound from your TV speakers? Well, the speakers in today's flat-panel TVs have continuously been improved and can't be compared to what was there a few years ago. However, the quality of sound of the in-built speakers is no match to even the most basic soundbars on sale. Soundbars are the easiest and most convenient way of getting high-quality audio that complements the cutting edge visuals of your TV!
Before soundbars came to be, soundbases were very popular. Soundbases were generally wider than soundbars and were used as TV pedestals. They were simple to operate, but they were known to distract the TV's remote control signal. Soundbases also didn't have subwoofers, and their sound quality was subpar compared to soundbars. Finally, the changes in TV pillar design from the center to the ends of the screen rendered soundbars obsolete.
And soundbars are surprisingly affordable, and you can easily find an impressive one under $300. So today, we are going to find the best sound bar under 300 dollars, while evaluating different features to help you pick the one that meets your needs.
So, without further introductions, let's dive into it!
Table: Best Soundbar Under 300 Dollars
Note: If you use a small screen you may have to scroll right in order to see all the columns.
ImageNamePriceKyle's Rating

(Kyle's #1 Pick)
Yamaha YAS-207BL $$$$


VIZIO SB3621n-F8M$$


Sound BlasterX Katana$$$$


ZVOX SB380$$$


Polk Audio Command Sound Bar$$$


Sony CT800$$$$


Sony HT-MT300/B$$$


Yamaha YAS-108$$


Samsung HW-N550$$$$$

Reviews of the Best Soundbars Under 300 Dollars
Now, let's have a look at the 10 contenders for best soundbar under 300 dollars in 2019, starting with my top pick from Yamaha:
Top Pick: Yamaha YAS-207BL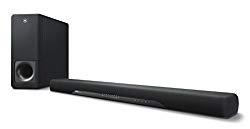 Yamaha YAS-207BL is the best soundbar under 300 dollars
Impeccable Design. The Yamaha YAS-207 is a long, slim black bar with a modest appearance which blends in well with most décor. Its unassertive look allows it to fit perfectly in front of the TV without obstructing the screen. Alternatively, you can mount it on the wall using the hanging brackets on the back. The soundbar has LED lights on the frontal edge that indicates various stats such as the selected input and the volume level. And it also has some touch-sensitive buttons to control power, volume, and input switching.
Furthermore, the Yamaha YAS-207 has a slim, tall, and lean subwoofer that amplifies the audio with the much-needed bass. The size of the subwoofer makes it easy to squeeze it in tight spots.
Enhanced Realism and Immersion. Being the first soundbar with DTS Virtual: X, The YAS-207 boasts of virtualizing immersive 3D surround sound, mimicking sound effects that spread throughout the room. And while DTS Virtual: X produces convincing simulations from immersive object-based content, it also works its magic on multichannel content, creating life-like spacious sound for your favorite TV shows, movies, music, and games.
Multiple Control Options. The YAS-207 can be controlled with a dedicated remote control which features cleanly and logically laid out buttons. You can also use the free app which is available for both Apple iOS and Android users. Finally, if your TV is compatible with HDMI-CEC, you can hook it up to use the existing TV remote to adjust the volume, turn the power on and off, switch inputs, and perform other operations.
Easy Connectivity. The YAS-207 comes with an optical cable that allows for a single cable connection. The soundbar also offers an HDMI input and output which can be used with separately sold HDMI cables for the best performance. And it also supports HDR pass-through and 4K Ultra HD making it compatible with the latest TVs and sources.
Pros:
Crisp, insightful, and vibrant sound experience
Slim and practical design
Spacious and Immersive performance
Multiple control options
Seamless Bluetooth wireless streaming
Cons:
The treble is a little bit unrefined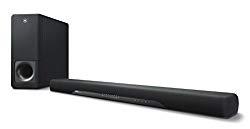 Best Soundbar under 300: Yamaha YAS-207



As the world's first soundbar with DTS Virtual: X, the YAS-207 promises unmatched sound quality. Enjoy enhanced realism and immersion when watching your favorite movie, playing a video game, or listening to music.


best laptops under 600

" data-orig-size="343,120" sizes="(max-width: 343px) 100vw, 343px" aperture="aperture" />
Best Budget Sound Bar: VIZIO SB3621n-F8M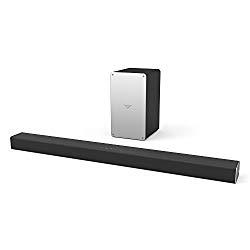 VIZIO SB3621n-F8M is the best cheap soundbar under 300 dollars
Great Design. The best affordable sound bar on my list is the VIZIO SB3621n-F8M, an excellent sound bar that imparts quite a sense of style. With 36-inch width and 2.1-inch height, you can be sure it won't obstruct the remote control from working. The top of the unit features a minimum of controls while the front left corner has the volume level gauge with a series of dots that blink as you regulate the volume. The soundbar also has a premium remote control which is more resourceful as compared to many other brands on the same price range. The external subwoofer doesn't disappoint either. The 5-inch woofer helps the entire system get down to 50Hz which is pretty impressive for a system of this size and price.
Easy Set Up. The VIZIO is a snap to use. It only takes plugging in the optical digital cable from your source and fine-tuning the soundbar/subwoofer balance. The remote control has a tiny display that indicates whatever program you are in for ease of use. For connectivity, the soundbar has two digital inputs, a coaxial and an optical balance, USB, and a 3.5mm jack. You can also use Bluetooth to connect the soundbar to other sources such as a mobile phone, a tablet or a computer.
Excellent Performance. Regardless of SB3621N-E8's 36-inch width, the wall-to-wall sound projection was impressive. The soundbar offers a simulated surround mode which makes watching a movie, playing a video game, or listening to music more enjoyable. And the external subwoofer did a great job complementing the audio with deep bass. The bass definition was decent, the dialog well-articulated, and music felt better even at high volumes.
Pros:
The attractive price makes this product the best inexpensive sound bar on my list
It has excellent build quality and is easy to set up
Enjoy up to 100dB of audio quality with less than 1% total harmonic distortion
Seamless streaming across numerous sources
Enhanced sound technology thanks to Dolby Digital
Enjoy an immersive overhead sound experience- DTS Virtual: X
Cons:
Its WAV- file only supports USB (not ideal)

best laptops under 600

" data-orig-size="343,120" sizes="(max-width: 343px) 100vw, 343px" aperture="aperture" />
Runner Up #1: Sound BlasterX Katana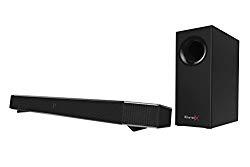 Sound BlasterX Katana is one of the best soundbar under 300 dollars
Sleek, yet powerful design. With a slim profile shorter than 60mm, the Sound BlasterX Katana can be effortlessly tucked under your monitor and TV. The chassis is superbly designed and reinforced with a strong, brushed aluminum panel. This reinforcement reduces vibrations that affect sound clarity. Together with its clean, purposeful lines, the Katana remains a remarkable piece of tech and art.
The Katana incorporates the Aurora Reactive lighting system which includes 49 programmable LED lights. Most importantly, the soundbar allows you to customize the lighting effects to your liking from the 16.8 million color pool. This way toy can create a unique color profile that complements your gaming and movie experience.
With a total output of 150W peak power, 24-bit audio, tri-amplified design, and Virtual 7.1 surround sound, the Katana is undoubtedly very powerful. The soundbar also has a 5-driver design, 2 up-firing midbass drivers, 2 high-excursion tweeters, and a sub-woofer. It has a maximum volume of 50, though I doubt you'll ever get to that- personally, 15 has been my maximum.
Being a gamer, I was eager to try the Virtual 7.1 surround sound. The soundstage is amazing and better than most 2.1 systems on the market. I was able to hear the footsteps and ambient environment in all the games I played with the Katana.
The Katana is versatile and compatible with numerous multimedia devices. Using the optical in, this Dolby Digital certified soundbar delivers realistic sound, giving you the most amazing experience whether you are watching a movie or gaming. Also, take advantage of the USB connection to enjoy 24bit/96kHz high-resolution audio, The Katana's built-in advanced Sound Blaster processor enhances in-game communication through noise reduction and morphing technologies. Finally, the soundbar is Bluetooth enabled, meaning you can enjoy seamless streaming up to a range of 10 meters.
Pros:
Easy set up and use
Exceptional room-filling sound
A sleek, powerful look
Simple, yet functional software
Cons:
RGB lighting missing some obvious patterns

best laptops under 600

" data-orig-size="343,120" sizes="(max-width: 343px) 100vw, 343px" aperture="aperture" />
Runner Up #2: ZVOX SB380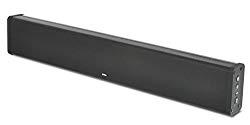 ZVOX SB380 is one of the best soundbar under 300 dollars
At little over 35 inches, the ZVOX SB380 is a sleek, brushed aluminum soundbar. Like most ZVOX products, this is a 3.1-channel system with three 2-inch drivers and a 4-inch bass woofer. The aluminum tube features attractive stoppers, with a bass port on one end and controls on the other. The front of the soundbar is coated in a metal grill which covers an orange four-character display which shows information on volume and input selection.
Great Performance. The SB380 belongs to the category of soundbars that do not attract attention- you can forget you have one as you enjoy your favorite movie or TV show. Even without the AccuVoice, the dialog was crisp and clear, and pushing the feature on only makes it more intelligible and brighter.
I watched some movies with the soundbar during a sound performance test, and I really enjoyed the clarity and sound detail throughout. This digitally controlled soundbar uses complex algorithms to deliver superb sound. And unlike most soundbars in this price range, the SB380 uses high-grade speakers with extremely accurate frequency response.
Easy Setup. Setting up the SB380 was pretty much child's play for me. It takes a few seconds to set up the unit, and with the remote control, you can adjust the volume, turn on the AccuVoice dialog boosting, level output, and other sound features. The large display under the metal grill is very useful as it shows you the volume and input selection.
Pros:
Room-filling 3D sound
The AccuVoice feature uses hearing aid technology to deliver ultra-clear dialog.
The built-in subwoofer uses digital algorithms to create great bass without an external cabinet
Easy set up process
Cons:
Doesn't support Bluetooth

best laptops under 600

" data-orig-size="343,120" sizes="(max-width: 343px) 100vw, 343px" aperture="aperture" />
Runner Up #3: Polk Audio Command Sound Bar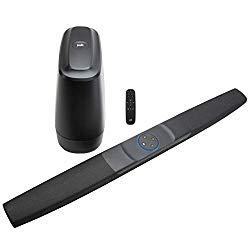 Polk Audio Command Sound Bar is one of the best soundbar under 300 dollars
At 43 x 4 x 2 inches, the Polk Audio Command Bar blends in perfectly with most décor. A black fabric wraps the exterior of the Command Bar, bringing out a modest look that will not attract much attention- until you turn on Alexa. On top of the soundbar is an Echo Dot which features a bright LED circle, and minimum buttons to adjust the volume, mute the microphone and activate Alexa.
On the back of the soundbar, there is an HDMI ARC output, a digital optical output, and a powered USB port. The Polk also comes with a remote control which you can use to adjust the volume, switch modes, and adjust bass and voice levels.
Alexa at Your Service. Another important aspect about the Command Bar is that it allows you to use your voice to control the soundbar. Other than adjusting the volume and switching between sound modes, Alexa will also tell you about the weather, launch a Prime Video on a Fire TV, turn on a Wemo switch, among other things. And because the soundbar doesn't have an on-screen display, the voice feedback is very helpful.
Excellent Sound Quality. The Command Bar offers quality sound, especially for a $300 soundbar. Its length goes a long way in creating a wide sound field while producing resonant dialog and decent rumble which is what you need when watching your favorite movie. When listening to music, the soundbar provides excellent resonance depth clearly articulating the vocals.
Set Up. Setting up the Command Bar is more blissful than you think. First off, I used the HDMI to connect it to my TV, a process that took a few seconds. I had already downloaded the free Polk Connect app to help the unit access my Wi-Fi network. Thereafter I logged in to Amazon to activate Alexa. The Soundbar is also Bluetooth enabled, allowing you to enjoy music from mobile devices.
Pros:
Impressive sound quality
Flexible connectivity
Alexa voice control
3-different sound modes available (Music, Movies, and Sports)
Cons:
No support for multi-room audio

best laptops under 600

" data-orig-size="343,120" sizes="(max-width: 343px) 100vw, 343px" aperture="aperture" />
Runner Up #4: Bose Solo 5

Bose Solo 5 is the best compact soundbar dollars
Other than the Bose logo and status lights, the entire design conforms to the all-black rule. The status lights are configured to light up in different colors and combinations to let you know the current sound mode of the soundbar. The Bose Solo 5 has no control buttons and relies mainly on a universal remote control. The remote control is unique and can be programmed to control other devices using the database of manufacturer IR codes included- it can control your TV, satellite box, DVD player, or Blu-ray player.
Connectivity and Inputs. Setting up the Bose Solo 5 wasn't a problem for me. The connections are very basic with just optical, coaxial, and auxiliary connections available. The soundbar doesn't have HDMI, so make sure any device you want to connect to has an optical out. And though the Bose Solo 5 lacks NFC for quick pairing, you can enjoy wireless Bluetooth streaming up to a range of 10 meters. Through the remote control, you can turn on the dialog mode, which is structured to make speech clearer.
Performance and Sound Quality. I found the sound quality to be pretty good when I was watching a movie. The dialog was crisp and clear, even without having to turn on the dialog mode. The mode will be useful for anyone hard of hearing as it improves intelligibility by decreasing the bass.
The Bose Solo 5 has two speakers which are located towards the middle. Having speakers close to each other greatly affects the soundstage as the sound effects lack direction especially when you are playing a video game or watching a movie. However, the soundbar is resourceful and will surely complement your TV speakers.
Pros:
This compact soundbar is very easy to set up and operate
The universal remote control can be programmed to control several devices at home
The compact size makes this the best small soundbar on my list
Great clarity to dialogue
Cons:
Has a narrow sound field because of the proximity of the speakers

best laptops under 600

" data-orig-size="343,120" sizes="(max-width: 343px) 100vw, 343px" aperture="aperture" />
Runner Up #5: Sony CT800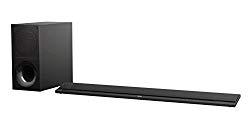 Sony CT800 is one of the best soundbar under 300 dollars
Next on my best soundbar under 300 list is the HT-CT800 featuring a unique and attractive slim frame that blends perfectly with most décor. So, don't worry about messing up with your Home Cinema setup, this soundbar will fit perfectly. You can decide to either place it on the TV stand or mount it on the wall using the wall hanging brackets. The HT-CT800 also comes with a powerful external subwoofer which is wireless meaning you can place it anywhere in the room.
With a 350W rated power output, this soundbar will bring all your music, video games, and movies to life, allocating the volume and dialog clarity they deserve. The HT-CT800 has two drivers at each end which offers precise sound imaging and crisp mid and high frequencies. The wireless subwoofer complements the sound with a low impact bass that adds definition to the overall experience. This soundbar also employs the S-Force PRO Front Surround Technology which emulates Cinema style surround sound making movies and music more enjoyable.
Seamless Streaming. With Bluetooth technology and LDAC, you can wirelessly stream all your favorite playlists. LDAC transmits 3x more data (990kbps) than conventional Bluetooth audio. You can also stream music from the TV to speakers in other rooms for convenience. Finally, through the Sony Music Center app, you can put selected soundbars and wireless speakers together, then stream from an online music service for total convenience.
Pros:
Compatible with 4K HDR stream
Easily add wireless speakers to the unit
Stream music or video sound to different rooms with wireless multi-room listening
Easy streaming via Bluetooth with NFC
Multiple input options including 3 HDMI inputs
Cons:
Set up might be a bit extensive for some people

best laptops under 600

" data-orig-size="343,120" sizes="(max-width: 343px) 100vw, 343px" aperture="aperture" />
Runner Up #6: Sony HT-MT300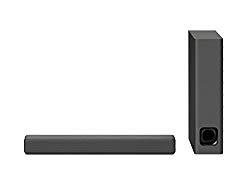 Sony HT-MT300 is one of the best soundbar under 300 dollars
The Sony HT-MT300 comes in two parts; a compact soundbar measuring 50 x 5.4 x 10.3 cm and a sleek subwoofer that you can easily slide under the couch and experience every explosion. The 9.3 x 38.3 x 36.8 cm subwoofer can also be placed next to the unit standing upright. This soundbar is available in black or white colors, making it easy to pick the one that blends well with your décor.
On top of the soundbar, there's capacitive touch-sensitive buttons for regulating the volume, selecting your input, switching on Bluetooth and power. There's also a set of LED lights to tell you what input you've selected and what sound mode is on.
Set Up. Setting up the MT300 was a walk in the park. Simply connect the soundbar to your TV using the optical cable. Plug in the subwoofer and soundbar and pair them with the touch of a button. Finally, set your TV to use the soundbar instead of its built-in speakers. The MT300 also comes with a fantastic remote control that allows you to switch between inputs, adjust the volume, and change sound modes at the comfort of your couch.
If you want to stream music from a mobile device such as your phone or tablet, you can easily do so, thanks to the powerful Bluetooth connection. The soundbar has NFC which makes pairing an Android phone with your unit faster than you thought.
The Sony HT-MT300 soundbar delivers quality sound regardless of the sound mode is active. I watched some action movies, and the results exceeded my expectations. Complete with a powerful subwoofer, the soundbar delivers a mix of well-articulated dialog and a strong bass to complement the sound. I also enjoyed the immersive and wide sound stage when I used the soundbar to listen to music. At 50% volume, my living room was filled with quality sound, and it felt amazing.
Pros:
Stylish, compact design fits a wide variety of spaces
Slim wireless subwoofer with a flexible, 2-way setup
Surround yourself with S-Force PRO Front Surround sound.
Connect and stream music easily via Bluetooth with NFC
Cons:
No HDMI ARC that allows communication back and forth from audio equipment

best laptops under 600

" data-orig-size="343,120" sizes="(max-width: 343px) 100vw, 343px" aperture="aperture" />
Runner Up #7: Yamaha YAS-108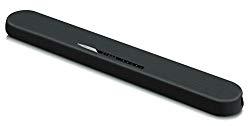 Yamaha YAS-108 is one of the best soundbar under 300 dollars
Design. While Yamaha maintained the size of the predecessor YAS107, the new model features rounded edges. The case is wrapped in a black mesh, bringing out a modest style that complements the aesthetic value of your room. And despite the size, the soundbar delivers clean sound thanks to the two 3-inch woofers and two 1-inch tweeters. The integrated 3-inch subwoofer brings out the bass and attitude of a movie or music video.
With a combination of two woofers, two tweeters, and an in-built sub-woofer, the YAS108 generates enough bass to solidify dialog without rattling the floor. I used the soundbar when playing a car game, and I was surprised by how the sound articulation came out accurately- the tires screeching sound was impeccable as well as coins trickling on the floor. The YAS-108 includes Clear Voice dialogue-enhancement technology which lifts dialog and makes it more articulate.
Excellent Remote Control Options. For an entry-level soundbar, YAS-108's remote control is excellent. It features cleanly and logically laid out buttons and a distinctive dimmer button which cycles between bright, dim, and off. This is helpful, especially for soundbars mounted on the wall as it helps minimize any potential distraction from the LED's. If you enable the HDMI CEC feature on your TV set and the YAS-108, you can use the TV remote to control both.
Pros:
Built-in subwoofers for Deep bass in one slim sound bar
Clear voice for enhanced dialog clarity
DTS Virtual: x Virtual 3D surround sound
Bluetooth streaming that allows easy switching between two devices
The attractive price and excellent quality makes this the best value soundbar on my list
Cons:
The positioning of the indicator lights on top makes it impossible to tell what mode you're in unless the soundbar is mounted on the wall

best laptops under 600

" data-orig-size="343,120" sizes="(max-width: 343px) 100vw, 343px" aperture="aperture" />
Runner Up #8: Samsung HW-N550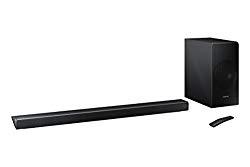 Samsung HW-N550 is one of the best soundbar under 300 dollars
The soundbar measures 41.7 x 3.4 x 2.3 inches allowing it to fit perfectly below the TV without blocking the picture. You can also mount it on the wall using the provided metal bracket. The main bar is wrapped in a matte-black metal grille, with push buttons mounted on the side panel for control. Finally, there's a fluorescent white onboard display on the right front of the grill that indicates basic information such as the volume level, power status, and input connections. The 8.46 x 15.14 x 11.97 inches' wireless subwoofer can be easily tucked in a corner near the unit.
The HW-N550 offers quality sound by bringing clearly defined vocals along with deep bass which is a great thing whether you're watching a movie or listening to music. And though the soundbar offers impeccable sound quality, you can add two optional pair of wireless surround speakers from Samsung to complement your unit.
I watched Black Panther with the soundbar during a sound performance test, and the results amazed me. The explosions and crashes were loud and dynamic. At the same time, the vocals were distinct and clear from the background, and I could literally hear every bit of effect from the movie.
Set Up and Connectivity. The Samsung HW-N550 was a breeze to set up- just connect it to an HDMI link from my UDP-205 Blu-beam player and one out to a Samsung 4K TV. Quite straightforward. Right?
Finally, this is the best soundbar for Samsung TV. You see, it integrated perfectly with my Samsung TV allowing me to enjoy Plug-and-Play connectivity and control both the TV and the TV using one remote. Thanks to the powerful built-in Bluetooth, streaming music from your phone or tablet is much easier than you ever thought.
Pros:
Crystal-clear dialog from a dedicated center Channel
Deep bass from included wireless subwoofer
Bluetooth music streaming
Seamless integration with Samsung TVs
Cons:
The N550 doesn't have Wi-Fi features for streaming media

best laptops under 600

" data-orig-size="343,120" sizes="(max-width: 343px) 100vw, 343px" aperture="aperture" />
What is a Soundbar?
A soundbar is a sleek sound system used to improve the sound quality of your TV's speakers. They are compact and affordable and are a great alternative to the complex and expensive surround sound system found in many homes. These long and thin speakers come in different combinations. They can be Bluetooth enabled, self-powered, and with or without a subwoofer. You can either place them in front of the TV or mount on the wall below your TV (placing the soundbar in front of the TV might block the signal from the remote).
A soundbar amplifies the sound of your TV while making the dialog more articulate. This makes watching a movie, listening to music, or playing your favorite video game more enjoyable. And while there have been massive improvements on modern TV speakers, most remain underpowered. This makes soundbars very useful as an affordable option to enjoy improved sound quality with your TV.
Useful Tips When Buying the Best Soundbar Under 300
Different soundbars will deliver different sound quality. Here are some of the factors you'll need to consider before making the purchase.
Sound Quality: This goes without saying. The sound quality of the soundbar is very important because it is for what you are buying the device for. Nobody wants to spend a dime on a poor quality soundbar that doesn't play its role in the first place- complement your TV speakers by delivering high-quality sound. An ideal soundbar should produce a loud, clear stereo sound that complements the amazing visuals of your TV.
Top notch soundbars provide a deeper and detailed sound output, allowing you to enjoy dialog clarity, background music, and vocals. Most soundbar models also offer different sound settings and modes that help you get the best audio output out of your TV across different contents such as music, movies, and video games.
Ease of Set Up: Different soundbars bear a different degree of easiness of setting up and operating them. The level of easiness of setting up will greatly determine how well you enjoy your new purchase. For some, you only need to plug and play or just a single cable connection, and you are all set. However, some soundbars will require you to go through an extensive manual to figure out what cable to plug in where. Either way, I'd recommend you go for a soundbar that is easy to set up and connect with wireless devices.
Pro Tip: For people who may find using the small display console inconvenient, you can use the TV screen to set up and adjust the functions in some models.
Connectivity: Soundbars come with different input and output methods, and most of them feature a mix of ports and wireless connection options. The HDMI and other ports allow you to connect your soundbar to your TV while the Ethernet Jack makes it possible to connect with your home network. Wireless connection options allow you to enjoy music from various devices such as the phone, tablet, or computer seamlessly.
If your soundbar has a built-in Wi-Fi, you can stream music directly from online music services such as Spotify and stream video content from social network sites or online services. This feature makes your entertainment system more dynamic, especially if your TV doesn't have the feature. So, before you buy a soundbar, makes sure it has the connectivity that matches your TV's ports or any other devices you might want to pair with.
Durability: Durability is one of the most important factors you need to consider before making the purchase decision. Everyone wants to invest in a device that will last long enough. Consider the brand of the soundbar and its credibility in the market. Big brands have to maintain high-quality levels to avoid facing a bad reputation. In the same way, upcoming brands create a competitive advantage to win over customers. So, research about the brand before you buy the soundbar.
Buying a soundbar is an effective way of adding dynamism to your sound system. A good soundbar amplifies the sound of your TV and makes the dialog more articulate, which makes watching movies, listening to music, and playing video games more fun. For this reason, I have compiled this guide to help you look at the best soundbar under 300 dollars. Surprisingly, there is a good number on the market, and I hope that you will find one that matches your needs.
Best Soundbar under 300 Dollars: Conclusions
Regardless of the price, the primary function of any soundbar is to improve the sound quality of your TV. And while this is the case, more features are being introduced to make soundbars more dynamic and powerful. This is why I have compiled this guide to help you choose a soundbar that not only surpasses your TV's in-built speakers but also adds definition and realism to your entertainment experience.
Surprisingly, there are numerous best soundbars under 300 dollars on the market that boast of superior sound quality, including deep bass, Bluetooth compatibility, top-notch audio coding technology, among other features. These soundbars come with various settings and sound modes that create the perfect environment to either watch a movie, listen to music, or play a video game.
Soundbars also come with amazing control options giving you utmost control over the experience. From a dedicated remote control, touch- sensitive buttons, and free Android and iOS apps, the options are endless. Some of the soundbars also come with HDMI-CEC which allows you to control both the soundbar and the TV using your TV remote control.
All the soundbars in the guide will offer you an amazing entertainment experience, and the only difference is the features included. Have a look at the description of each of them, and choose the one that meets your needs. Enjoy a sleek and stylish addition to your entertainment unit without hurting your wallet.
Cheers!
Kyle
PS: In closing, I hope my best soundbar under 300 review was helpful when you're making your choice. In addition, I recommend that you look around my site to learn about other consumer electronics and computer hardware. Also, if you have any questions about my best soundbar under 300 reviews or something else, don't hesitate to send me an e-mail using my contact form.
Who is Kyle?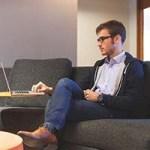 Hi I am Kyle, an engineer and small business owner from Northern California. I am an outgoing creative writer and tech blogger who has a passion for helping people and building creativity in the mind, through outstanding how-to guides, articles and honest reviews.
On Kyle's Hardware you will find solutions to common problems related to software and computers, with practical reviews, tools tips and step-by-step technical guides. Read my complete biography here, or connect with me on Facebook or Twitter with the buttons below.
Back to Featured Articles on

THE %(site_name)s COMMUNITY