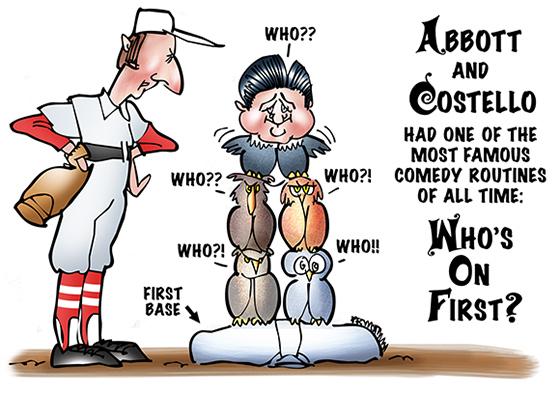 Abbott and Costello were a little before my time, but I grew up watching their old movies, and they still make me laugh today (OK, I'm easily entertained).
I consider Who's On First? to be comedic lunacy at its finest. The routine is brilliantly constructed, and I was intrigued to learn that its roots go back to burlesque.
I have a very slight personal connection to the routine. I grew up in Cooperstown, NY, which is home to the Baseball Hall Of Fame. A gold record of Who's On First? was added to the Hall Of Fame Museum in 1956. Am I in the Hall Of Fame myself? No– but
I should be.  : )
Here's a closeup of the Abbott and Costello caricatures.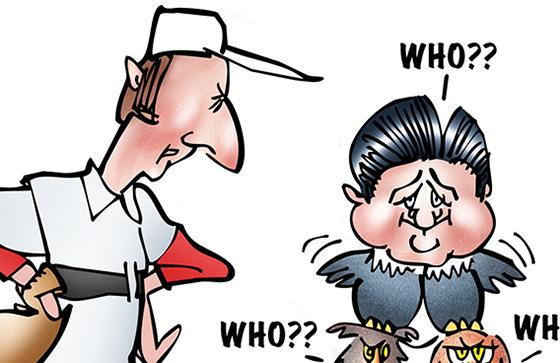 Here's the famous routine itself, as performed by Abbott and Costello in their 1945 film, The Naughty Nineties.
You don't really need to understand the American game of baseball to enjoy the routine. All you need to know is this:
Each team has nine players, and they play these nine fielding positions: first base, second base, third base, pitcher, catcher, left field, center field, right field, and shortstop.
The humor derives from the fielders' names: Who plays first base, What plays second base, I Don't Know plays third base, etc.



Questions For You:

1. Are you an Abbott and Costello fan?
2. Do you have a favorite comedy routine or skit? (e.g., Monty Python doing "Spam")
3. Ever visited the Baseball Hall Of Fame in Cooperstown, NY, USA?
Hope you'll leave a comment.


If you enjoyed the post and would like to let me know, click the Like button below.
Think others might enjoy it? Click Tweet or StumbleUpon or one of the other Share buttons.
I also invite you to get updates. Just click the Get Updates button in the sidebar below the Portfolio Thumbnails, or click + Follow in the blog menu bar.