Hello everyone.  Sorry for the delay in posting.  I underestimated how tiring it was to fly the red eye and adjust to jet lag.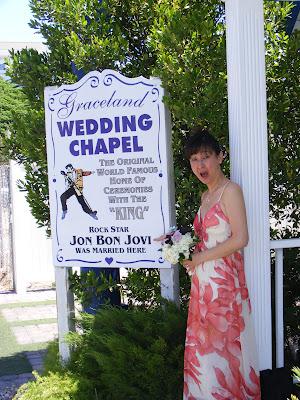 We're here!
We got back from our crazy trip to Las Vegas. Husband and I can both agree that the best part for us was renewing our vows.  We couldn't have dreamed that it would go so well.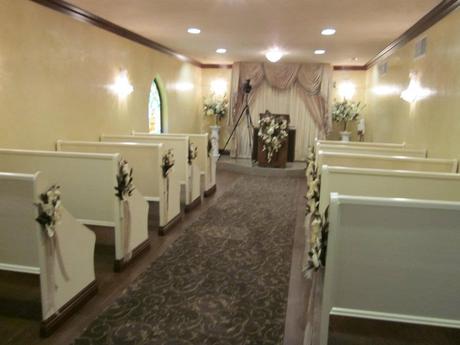 The Chapel was so professional, location was wonderfully cheesy and intimate and Elvis himself, risen from the dead, walked me up the aisle while singing one of my favourites "Can't Help Falling In Love".  I was practically swooning from his charm and his stunningly retro powder blue suit!
(Photo property of Graceland Chapel)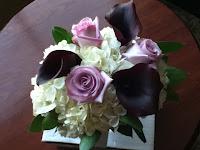 We were especially touched by the amazing thoughtfulness of Veronica and her boyfriend Alex.  They secretly went out the morning of the wedding and got me a beautiful bouquet and boutonniere for Husband.  This arrangement was more beautiful than anything I had ever seen out of a Martha Stewart magazine. 
This whole retro experience is a dream realised, one item checked off my bucket list.  I am especially happy and grateful that Husband loved it too and that our good friends (Julianna, Veronica and Alex) could attend.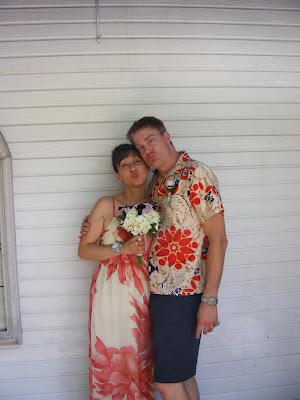 The cheesy newlyweds (again) in a graphic maxi dress and
 vintage Hawaiian shirt, courtesy of Some Like It Vintage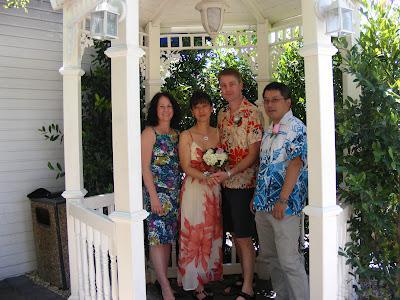 Here we are again with beautiful Veronica and Alex, who is sporting
 another vintage Hawaiian shirt, courtesy of Some Like It Vintage
Carol