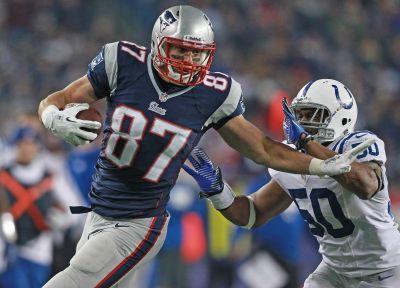 Ok, this week has been hectic. To make it up to all of you, here is a Thanksgiving Special: Wednesday Night Prediction Pick'Em Cornerback. That's right, all in one special with all the fixings. So, here are the ten things I think I think about the NFL from Week 11 and my Week 12 picks. News team, assemble!
I think the injury to Rob Gronkowski1 is going to change the entire Patriots' offense. Yes, Aaron Hernandez is coming back, but he thrives because he is the yang to Gronk's ying. He isn't the same type of player as Gronk. He can't block as well, so their run game is going to suffer. He isn't the red zone threat that Gronk is: for the 2010 and 2011 seasons, Brady's completion percentage to Gronk in throws into the end zone was 87.5%. In that same time frame, Brady's completion percentage to Hernandez on throws into the end zone was 66.7%. This is still very good, but far from the elite, record-breaking performance we have seen from Brady and Gronkowski. So, to assume that the Patriots' offense can simply insert Hernandez and not miss a beat is blasphemy. They are going to have their problems, especially with the short week. I wouldn't be surprised if the Jets-Patriots game is a very tight contest.
I think Matt Ryan threw himself out of the MVP race. To throw 5 INTs in a game is one thing, but to throw 5 INTs and 0 TDs is something else. He was all-world bad last week. Despite that, though, the Falcons still won. The game was at home, and further proves just how important home-field is to the Falcons. They are a different team on the road, but when they are home they are a very good team. If they had been playing someone other than the offensively maligned Cardinals, they would have lost. So, I think the Falcons are a lot worse than their record shows, but they are still a contender in the NFC. They aren't on the level of the Packers, 49ers, or Giants, but they are still a very good team. Even if Matt Ryan hadn't imploded last week, he would be the front-runner for MVP because…
I think Peyton Manning is a cyborg. He is the MVP through the first 11 weeks of the season. What he has done is incredible. Yes, Adrian Peterson's comeback is miraculous, but Peyton Manning didn't play a single snap last year. Not one. Then, he steps back behind center and after a couple weeks, looks like he hasn't missed a beat. Peyton Manning has football in his DNA. His stats since the Week 5 loss to the Patriots, which also happens to be the Broncos last loss: 13 TDs, 4 INTs, 1476 yards, 71.4% completion percentage. Just unreal. He has the Broncos as a division leader, and if he keeps playing the way he is down the stretch, the Broncos are a legitimate contender in the weak AFC.
I think I'm surprised that Colin Kaepernick is now the 49ers starting quarterback.Yes, John Harbaugh is a great coach, but Colin Kaepernick has played one game. That's it. That's his NFL experience. Alex Smith has had a great season, showing that last season wasn't just a fluke. The game before last week when he got hurt, he threw 19 passes and completed 18 of them. It's crazy to think that he will just be thrown to the end of the bench. He wasn't playing bad, and I don't think the 49ers are that much better with Kaepernick.
I think this is one of the worst draft classes in a while. There are no top QB prospects. No elite pass rushers. No game-breaking receivers. The top pick might be an inside linebacker. Tough year to be a bad team. Sorry, Chiefs and Jaguars fans.
I think the Steelers have lost their chance to take the division. The Ravens have righted themselves, if only at the moment, but it seems an almost certainty at this point that they will win the division. It's between the Patriots, Broncos, Ravens, and Texans for first-round byes, and with injuries the Patriots and Ravens need it more than anyone. The head-to-heads that remains important Texans @ Patriots during Week 14 and Broncos @ Ravens during Week 15. Other than that, the four teams won't meet again until the playoffs.
I think that it took 11 Weeks, but the Packers are finally in first place in the NFC North. With the Jay Cutler injury, they will probably stay there the rest of the season. The Bears can't block anybody, and it takes a great QB to get their offense to go. Cutler has his ups and downs, but he is the key to the Bears offense. Jason Campbell is a back-up and that's about it. He won't win you any games by himself. The Bears played a bad all-around game. They will need to be better as a whole, with or without Cutler.
I think the Tampa Bay Buccaneers are going to make the playoffs. They are as hot as the Broncos and the Packers right now, and Josh Freeman is a dark horse MVP candidate. After three straight losses in Weeks 2 through 4, Freeman stats for Week 5 through 11: 16 TDs, 3 INTs, 1715 yards, 57.5% completion percentage. This has been a quick turnaround for the Bucs after what was a terrible start under new coach Greg Schiano. Now, they look like they'll be able to sneak into the playoffs.
I think the Colts are going to make the playoffs this year. Yes, Andrew Luck had a bad game against a bad secondary, but the Colts are in a weak division, and they win big games. Their defense looked bad, but so does everyone else against the Patriots. I think that Andrew Luck won't play two bad games in a row, and the Colts will ride an easy schedule down the stretch to sneak into the playoffs at 9-7.
I think everyone should eat so much tomorrow that they puke. Seriously, eat so much it hurts. Watch some football. Fall asleep on the couch. It's a great day tomorrow. Enjoy it, and be thankful for everything you have.
I think, I made one pick this week, and it's pathetic. Yeah, I suck.
This week: 0-1
Overall: 79-52-1
I think the Top Ten Teams are:
Texans
49ers
Packers
Giants
Falcons
Bears
Broncos
Ravens
Patriots
Buccaneers
So, now here are my picks for Week 12 with commentary on games I think are interesting:
Texans @ Lions-
Pick: Texans
Redskins @ Cowboys-
I think the Cowboys and Redskins are on the fringe of the playoff hunt. The winner of this game keeps their slime hope alive with a victory, and the loser pretty much is eliminated. If the Giants lose their game the division looks in play the winner of this game, too. So, who's it going to be? The Cowboys have been up and down all year, only playing one good game (their win over the Giants to open the year). The Redskins have a hot QB, and they just seem to have the momentum. I think the Redskins come in and ruin Jerry Jones' Thanksgiving.
Pick: Redskins
Patriots @ Jets-
The Patriots offense is in limbo, and the short week leaves little preparation time to get things together. You know what, though, if any coach can do it, I believe it's Bill Belichick. The Jets have stunk all year, and even on an off day the Patriots can put up points in a hurry.
Pick: Patriots
Titans @ Jaguars-
Pick: Titans
Bills @ Colts-
Pick: Colts
Steelers @ Browns-
Pick: Steelers
Raiders @ Bengals-
Pick: Bengals
Broncos @ Chiefs-
Pick: Broncos
Seahawks @ Dolphins-
Pick: Seahawks
Falcons @ Buccaneers-
The Falcons are a different team on the road, and the Buccaneers are hot and on a winning streak. These two teams have quarterbacks headed in the opposite direction. I think the Bucs continue their march to the playoffs here.
Pick: Buccaneers
Vikings @ Bears-
As long as Jason Campbell is the quarterback, the Bears need to play great to win. I think the Vikings keep their playoff hopes alive.
Pick: Vikings
Ravens @ Chargers-
Pick: Ravens
Rams @ Cardinals-
Pick: Rams
49ers @ Saints-
New quarterback, same defense, same coach. I think the 49ers are still one of the best teams in the NFL, but I don't think they are that better with Colin Kaepernick. Second career start, in a tough away stadium. I'll take the home team.
Pick: Saints
Packers @ Giants-
The Giants are in the territory of where they drop a bunch of easy games so we don't believe in them. Then they come back to win a tough game and remind everyone that they are one of the top teams. Of guess what? They are coming off a bye-week, too. Yeah, I haven't forgotten.
Pick: Giants
Panthers @ Eagles-
Pick: Panthers
That's all for the NFL this week. Have a great day tomorrow, and travel safe.
Damn right we're starting with the Patriots. My column, I do what I want. Come at me bro! No matter how much I want to blame someone for Gronk's injury I can't. It was just a fluke. My bet is that it wasn't even broken on that play. I'm guessing it was broken or weakened over time and that freak play just tweaked it enough to put it over the "breaking point." So, the Patriots will get him back hopefully 100% for the playoffs. If they don't have him, they need to play perfect to get past the Texans, Ravens, or Broncos in the AFC, let alone the Super Bowl.